From "on fleek" to the "yee haw agenda," Black digital content creators deserve more credit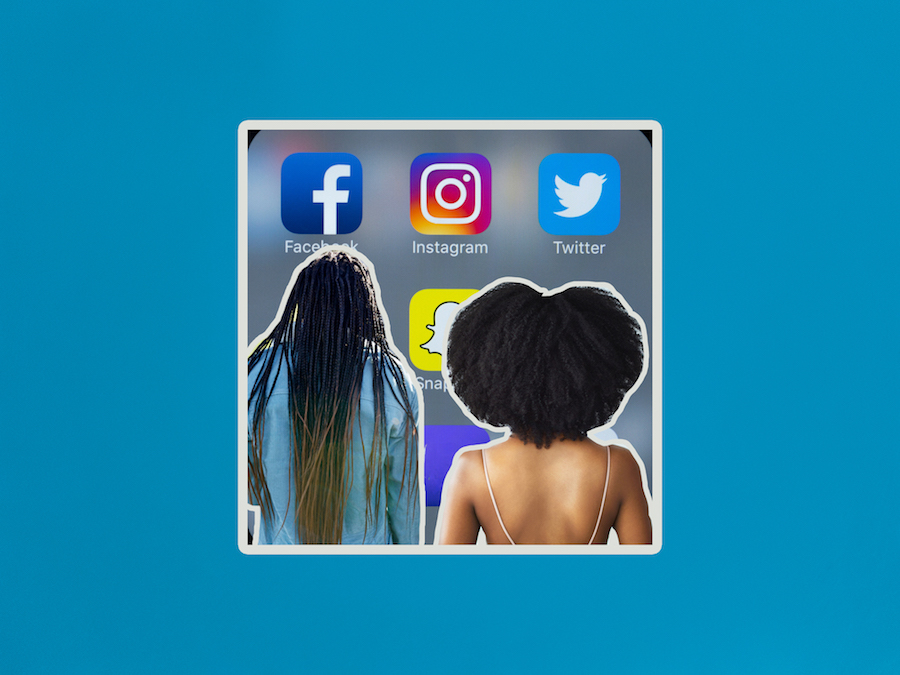 Let's wrap up Black History Month, a time dedicated to celebrating the Black experience, by saying that Black content creators deserve more. Like, way more. Think about it—how many times have you seen the phrase "on fleek" without seeing the phrase's creator connected to it? Countless times, I'm sure—rapper Offset dropped a song called "On Fleek" just last week. You may not even know that a young Black woman named Peaches Monroee coined the term. And the Kermit meme? That was the work of a Black web developer.
This is the culture we exist in. There are Black folks who spend their time creating, archiving, and sharing pertinent information, and there are others who capitalize off of this labor without ever stopping to acknowledge (or pay) the creators.
Here's an example of our trends that quickly go viral. Search "yee haw agenda" on Twitter. You'll see tons of pictures connected to the phrase, including screenshots of Grammy winner Cardi B wearing a bandana-print hat with a matching fringe-jacket and sweatpants-style chaps. Other artists like Solange Knowles and Megan Thee Stallion have embraced their southern roots and unconsciously aided the yee haw agenda. There is some discrepancy about who originated the concept, but Bri Malandro, a pop culture analyst and YouTuber, confirmed to HelloGiggles that she coined the phrase.
"I think I was saying 'The yee haw look' at first," says Malandro. "'Agenda' came from those 'gay agenda' tweets when everyone was making memes in retaliation to conservatives being upset that a lot of gay [storylines] were happening in television and film."
Malandro's desire to shift perceptions of western wear, and of cowboys in general, is historically sound. In 2013, BBC reported that many of the cowboys of the old days were in fact Black. In the article, a then 88-year-old Black cowboy named Cleveland Walters talked about the racism he faced as a Black cowboy. "I hate to think of the racism I went through. When it was branding time, they'd put 20 cows in the pen and I was the one who had to catch them and hold them down. The brander was white—so in other words all the hard, dirty work was done by the Black cowboys."
Malandro's content is a form of reclamation, but as the phrase spreads across the internet, its origins are lost.
---
Malandro has also defended fashion archivist Rashida Ward, whose work has been stolen and recycled dozens of times. Ward shares her research on Twitter and Tumblr, where she posts screenshots, behind the scenes images, and professional photos of moments in fashion, music, and film while providing historical context like year, subject, and fashion designer. Ward works hard on curating a coherent blend of images, and it is disheartening to see her screenshots reposted without the details she has researched.
The internet was not Ward's introduction to the fashion world. In her younger years, Ward was inspired by her surroundings at a Black beauty shop. "I grew up in a beauty salon and we got all of the Black magazines…I used to spend hours looking at the runway pictures…in Ebony magazine and the fashion editorials in Vibe, which led me to seek out magazines like French Vogue and i-D later on,." Ward told me in an email. "I would research fashion history…in the library during school," Ward continued. "Back then, Style.com had all of the W Magazine features, as well as the Vogue ones, available to read."
Ward developed her focus on Black models and their history after noticing the lack of knowledge around them. "I started archiving things on Tumblr because I noticed no one posted about anyone Black in fashion. No one knew any of the Black models names if they weren't Naomi Campbell or Alek Wek…[So] I started posting everything with the correct information so that people would be aware of my faves."
Many of the people who frequently use Ward's work without giving credit are referred to as "Cherry Emoji Twitter." The internet clique is known for their dreamy lust, their use of the cherry emoji (obviously), their interest in '90s, grunge, and vintage fashion, and their undying love for the movie Jennifer's Body (actually, for Megan Fox, period). There are levels to Cherry Emoji Twitter's content theft—their posts are a blend of Ward's work and a concept they've lifted from two Black women, Jessica Fant and the late Taylor Crenshaw (Nicole Milfie), called "Hoe Twitter." Hoe Twitter was a loose, mass squad of cheeky millennial women (including members like Shia LaCunt) and it helped circulate juicy stories like the infamous and massively viral Zolarmoon saga that has been adapted into an upcoming A24 feature film, Zola.
false
While some Twitter users honor Taylor by putting cherry emojis in their Twitter names (Taylor used the emoji frequently), the appropriation of the emoji by users wholly unaware of Hoe Twitter exemplifies the nature of the internet.
Hoe Twitter was reality-based. It came from the hearts and minds of young Black women and women of color who wanted to speak honestly about themselves. They were their own advocates and narrative sharers, because why let someone start a rumor about you when you could just tell your truth from the beginning? When I interviewed Milfie in 2015 before her passing, she told me, "Hoe Twitter is a community of young women and girls who are very vocal and expressive about their sexual being. I think community is the best way to describe it. I mean, it really is like a little club, isn't it?"
Co-founder Fant recently wrote to me, "I didn't tweet about what I had for breakfast. I tweeted about men. I tweeted about my experiences with men. I tweeted 'racy' pictures because I was proud of my body and I wanted to show it off. The stories I told were raw. My experiences were real, but this was a time when women weren't comfortable tweeting about sex or men." Shia LaCunt described Hoe Twitter as "attitude, shade,…pop culture debates, and sexuality." 
"In a lot of ways, it was cultivating your confidence through fearlessness," Shia continued. "There were stories of everything you can imagine, and in a lot of ways it intersected with activism…Above all there was genuine raw creativity…Hoe Twitter introduced the world to a good portion of [the] social media influencers, artists, writers, and musicians [of] today." During a phone call, Fant told me that she and Milfie masterminded all of their viral success.
"We planned this shit. We planned [creating all of this content]. And I feel like people forgot about us."
---
Sadly, people often ignore or forget digital creatives because it's easier to regurgitate other people's thoughts than to properly give innovators credit. Being alive in the age of the internet is a difficult blessing. On one hand, you can take complete control of your image and work without any external assistance or influence. On the other, it's so easy for people—especially those with large platforms—to take from you and capitalize off your wit and creativity. But your ideas matter. Speak up for yourself and get your due credit. Don't sit idly by while someone else eats and enjoys a blue check because of what you built.