Blac Chyna revealed her pregnancy weight and due date, because she couldn't care less about her haters
Admittedly, we've been nosy AF when it comes to Rob Kardashian and Blac Chyna's baby updates. Thankfully Chyna's been pretty forthcoming about her pregnancy so, we know the couple's expecting a baby girl and now we know the baby's due date, thanks to the Rob & Chyna star's recent Snapchat sesh.
According to E!, the next member of the reality TV brood will make her way into the world next month, just before Thanksgiving. "Four weeks after Sunday she will be here," Chyna captioned a Snapchat photo that included her current pregnancy weight, adding, "Nov. 16." false
OK, so our celebrity baby fever just intensified times a million. We're totally in agreement with the fans who cooed over pics of the baby's sonogram on Instagram: She's sure to be the cutest, sassiest bundle ever.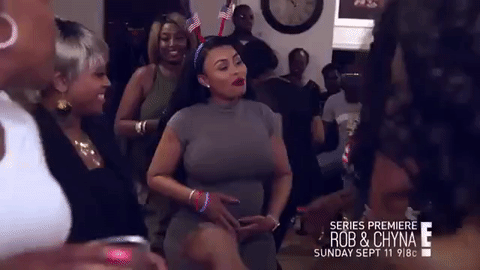 Chyna has yet to reveal her baby's name other than assuring us that she won't continue the trend of Kardashian/Jenner first names that begin with the letter K.
So, that does it for the roundup of The Latest Stuff We Know About Rob & Chyna's Baby. Whew, y'all. We've gotten so good at tracking these baby developments that we could easily come in second to Chyna's bestie and roommate Paige on the list of honorary godparents.