The most bizarre things Trump said during his post-midterms press conference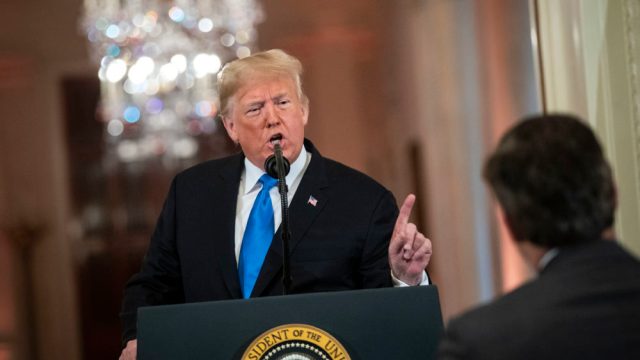 With the 2018 midterm elections officially over, politicians across the country are formulating their plans for what to do next. The November 6th elections were a mixed success for Democrats, who managed to take back the House of Representatives but lost seats in the Senate. Today, November 7th, President Donald Trump held a press conference in the wake of the election results—and, well, it didn't go smoothly.
Because the more you know, here are all the times today's press conference went off the rails.
1 When he called CNN's Jim Acosta a "rude, terrible person."
As CNN White House correspondent Jim Acosta attempted to ask Trump about his stance on the migrant caravan headed to the U.S. and the ongoing Russia investigation, the president attempted to deflect the questions, often talking over Acosta. After a White House aide wrested the microphone from Acosta, Trump verbally attacked him.
"CNN should be ashamed of itself having you work for them," the president said, wagging his finger. "You are a rude, terrible person. You shouldn't be working for CNN."
2 When he went on to attack a journalist defending Acosta.
CNBC notes that after NBC News reporter Peter Alexander retorted by calling Acosta "a diligent reporter," the president lashed out at him.
"I'm not a big fan of yours, either to be honest," Trump told Alexander. "You aren't the best."
Before Alexander could finish asking his question, Trump testily ordered him to sit down.
3 When he called a question about his nationalism "racist."
According to Newsweek, Yamich Alcindor, a black journalist who works for PBS NewsHour, asked the president whether or not he felt he had emboldened white supremacists when he called himself a nationalist during a recent rally. The president interrupted Alcindor to call her question "racist."
"I don't know why you would say that," he said. "That is such a racist question."
4 When he said he could fire everyone attached to the Russia investigation.
The Hillreports that the president said he could end Special Counsel Robert Mueller's investigation into Russian meddling—but that he didn't want to. "I could fire everybody right now, but I don't want to stop it because politically I don't like stopping it," he said during the conference. Trump went on to repeatedly call the investigation a "disgrace" and an "embarrassment to our country," echoing his previous claims that the investigation is a "witch hunt."
Needless to say, none of the above seems appropriate for the leader of the free world. Beyoncé, can you step in?