Ariel is totally pre-ordering *this* mermaid-inspired highlighter palette, and so are we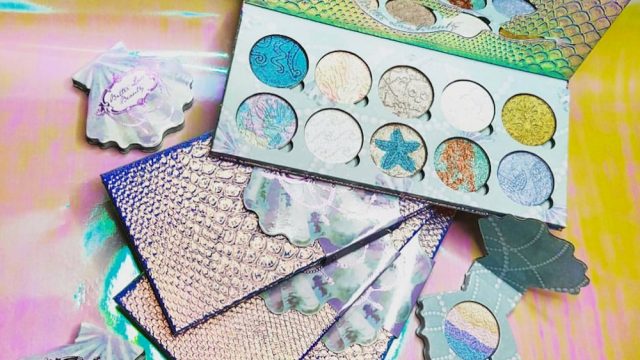 We're practically obsessed with anything mermaids. Whether it be cozy mermaid-tail blankets or yummy mermaid-toast, we can't stop liking it on Instagram. So when Bitter Lace Beauty announced their Mermaid Dreams collection, you bet we were all over this one for sure. But now that the super rad collection is available for pre-order, we're more excited than ever.
We were all for Bitter Lace Beauty's rainbow highlighter, as it really was an ingenious highlighting breakthrough we can't stop raving about. And now the infamous highlighter brand totally wows us again with the Mermaid Dreams collection, which contains new dreamy highlighters, and one killer shellfish compact.
And, of course, our eyes are definitely on the Mermaid Dreams palette, as it boasts amazing holographic packaging (check out the Ariel-esque mirror) with even more gorgeous shades.
Featuring 1o new holographic shades, each gorgeous highlighter inside the Mermaid Dreams collection features clever mermaid-inspired names such as Poor Unfortunate Souls and Shell Me About It. Like all Bitter Lace Beauty products, each highlighter inside the collection is handmade, cruelty-free, and made with vegan ingredients. We'll clap our fins to that!
In even more awesome news, each Mermaid Dreams palette is completely customizable, meaning you can choose exactly the shades you want.
You can pre-order the bundle for $214, which contains the entire collection (including the palette and the shell compact), or you can order them individually — the shellfish compact is $8, the palette is $35, while the highlighters run from $18 to $22 each.
The Bitter Lace Beauty Mermaid Dreams collection is now available for pre-order on the Bitter Lace Beauty brand website.