Seeing bisexual Latinx characters on TV teaches me that my sexuality and culture can coexist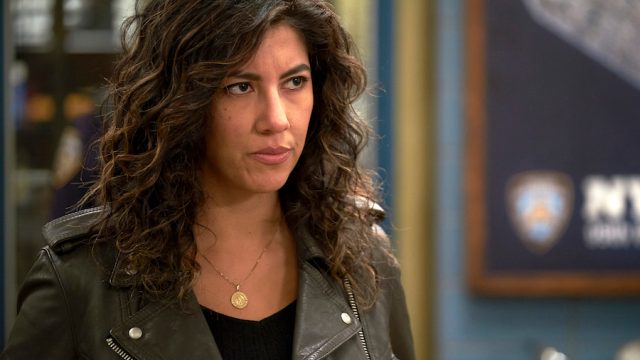 June is Pride Month.
When Officer Rosa Diaz came out to her co-worker Charles Boyle on Brooklyn Nine-Nine, I was casually watching the show with my mother only a few days after I'd come out to her as bisexual myself. I gasped from excitement. I had never heard a Latina woman on TV say, "I'm dating a woman. I'm bi." My mom was less excited and asked what the big deal was: So, she's bisexual, why does that matter?
Straight people don't always get what it's like to see queer characters on screen because they think we want our sexualities to be treated like heterosexuality, as the norm. Straightness in media is so normalized that, to someone who isn't queer, it's barely even noticeable anymore. It's understandable why one would assume that queer people don't want our sexualities to be discussed as "special" either. But our sexualities aren't "normal" yet. The word "couple" usually means a man and a woman, unless specified by the character. In the media generally, speculation around who celebrities are dating is always coded in heterosexuality. On TV, it's still a surprise to some when a character is dating someone of the same sex.
The fact is that we are not on screen as often as straight people, and that demands queer characters to name their sexuality, so that viewers see themselves represented whenever possible. Visibility is a step toward normalization so that we don't feel so alone.
Bisexuality (and other non-monosexual sexualities like pansexuality and fluidity) is specifically in need of visibility in media. If we have the privilege of seeing a queer character on television, they're usually gay or lesbian. Even in shows where being queer is normalized and celebrated (looking at you, Grace and Frankie!), the spectrum of sexuality represented doesn't recognize bisexuality.
This is why the surge of contemporary Latinx TV shows that feature bisexual representation — or that recognize bisexuality as something that exists — feels so important to me as a bisexual Latina woman.
I'd never seen media depict how coming out to a Latinx family is extremely complicated. Familial relationships are so deep, and traditionally conservative beliefs are passed down from generation to generation; your family and heritage are part of your individual identity, and coming out as queer can disturb that in a terrifying way. When I came out to my family, I was scared. Part of me knew I would be okay, but another part feared that it would change my close relationship with them. If I lost that bond, I lost one of my few sources to my own culture; one of the ways Latinx people in Anglo countries keep our heritage alive is through family tradition. That's why it can be difficult to separate fulfilling heritage practices from harmful beliefs that prevent us from living our truths as queer people.
Thankfully, when I came out, my parents assured me that they loved me no matter my sexuality. But my fear of their reaction delayed my coming out for a long time, and caused some very intense tears when I finally did.
First, Rosa avoids the conversation with her family because she knows that older Latinx generations struggle to understand and accept same-sex relationships. And she is right — when Rosa (portrayed by the bisexual-in-real-life actress Stephanie Beatriz) finally does come out, her family doesn't respond well. By the end of the episode, though, Rosa is glad to still be invited to her family's traditional game night the next evening. All her character wants is to feel that her family, her culture, and her bisexuality can live alongside each other.
https://www.youtube.com/watch?v=hftIXc3B8qw?feature=oembed
And it's not just Brooklyn Nine-Nine that effectively tells these stories.
On Netflix's One Day at a Time, when the character Elena comes out to her mother Penelope, she hopes that nothing will change in her Cuban-American family. While Elena later identifies as a lesbian, she does initially disclose that she's trying to figure out if she's into boys as well as girls (which feels like a nod to bisexuality to me). Penelope, who considered herself to be a progressive mom, really struggles to come to terms with her daughter's queerness. Through communication, she eventually overcomes her reservations.
Jane The Virgin is another Latinx program that represents bisexuality realistically. In season 4 of the series, Jane dates a bisexual man and she struggles to get used to the idea that he is queer. By honestly speaking to each other about their experiences, Jane understands his sexuality and they become closer. I have previously had partners misunderstand — or just straight up ignore — my bisexuality, so it was impactful and lovely to see these prejudices and misconceptions worked out through healthy conversation. In the most recent season, one of the main characters, Petra, realizes she is bisexual through a turbulent love affair with JR, played by Rosario Dawson.
Jane The Virgin shows its audience two different bisexual experiences: a male bisexual character (which is a very underrepresented identity in media) and a female bisexual character who discovers her sexuality late into her 30s, after having two children and leaving a failed marriage. And this is all normalized through conversations filled with questions, understanding, and love.
All of these programs show me that I'm not alone in my experience. They reveal emotional difficulties that we don't often discuss in my culture, while simultaneously presenting healthy ways to overcome them.
They give queer people like me confidence to believe that my family and heritage still matter, even if it feels like my queerness is at odds with my origins.
These shows help me come to terms with bisexuality and my queerness through communication and understanding. This is a Latinx way to progress, and I'm proud of it.