Why 'Birds of Prey' having a "female gaze" is so revolutionary, according to its stars
A woman-centered superhero movie is rare enough as it is. So when an R-rated comic book film revolving around five female stars—each a bit more anti than super in their heroic pursuits—hits the screens, it's a big deal. But aside from the number of women kicking ass on-screen, the thing that makes Birds of Prey unique is how involved women were in nearly every decision behind the scenes, from directing to writing to producing.
"It has such a female gaze," Mary Elizabeth Winstead, who plays mafia-daughter-turned-vengeful-killer Huntress, tells HelloGiggles. In a space where women characters are so often over-sexualized and underdeveloped for a straight male audience, the ladies of Birds of Prey actually feel like real women, because they were designed by real women. The film was written by Christina Hodson, directed by Cathy Yan, and co-produced by Margot Robbie, who also stars as the infamous Harley Quinn. As the colorful drama of Harley's post-Joker life unfolds, female DC comic characters, including expert martial artist Black Canary, detective Renee Montoya, young pickpocket Cassandra Cain, and aforementioned badass Huntress, all get wrapped up in the chaos to form an unlikely girl gang.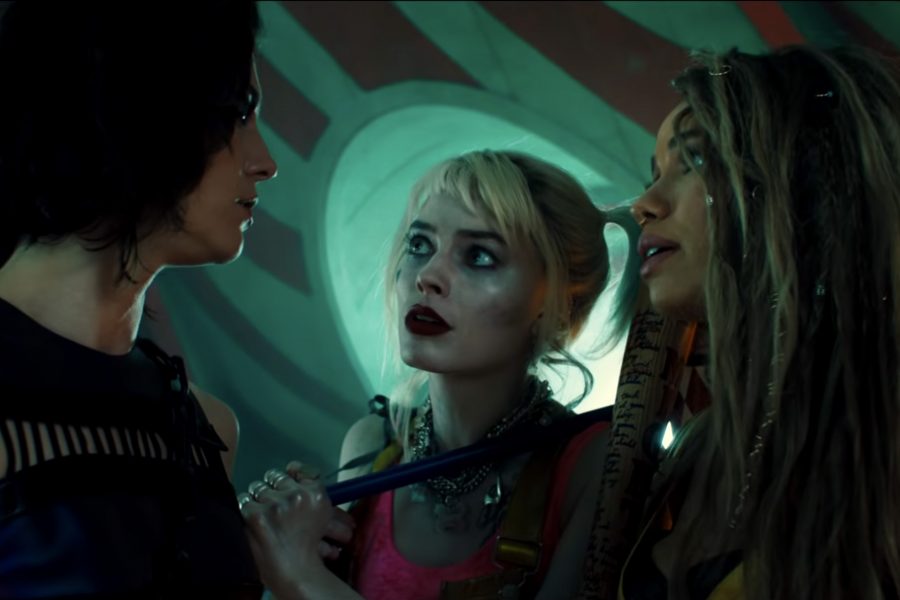 Winstead says the movie's female stars were a big part of the conversation regarding the characters' portrayals, weighing in on everything from the costumes and makeup, to their backstories and how they would present their emotions. Huntress's wardrobe, in particular, was designed with killer intentions in mind.
"My character is thinking she wants to be able to take people down," Winstead explains. "She wants to be efficient. She's skilled, she's all about the hunt. So it should be tactical, it should be functional. And she also wants to be scary."
What Huntress's wardrobe isn't concerned with is whether or not audience members find her sexy.
"There's nothing about [Huntress's appearance] that should be sexualized because that's not where she's coming from," Winstead says. "And it certainly wasn't where I was coming from in playing the role."
The characters have the kind of relatability of women you'd want to hang out with in real life, even if they do own pet hyenas and make some morally questionable choices. However, the girl gang isn't exactly the secret-sharing, sleepover-having group of besties we sometimes see on-screen—most of the time, they're just independent badasses trying to get through life on their own. But there are still a few moments that represent authentic women-to-women relationships. After Huntress slaughters one of the bad guys then uses him as a dead-man surfboard to ride down the slide—this is not the relatable part—Margot Robbie's character Harley Quinn pauses and tells her, "You're so cool." Later on mid-fight scene, Harley Quinn offers up some more support to Jurnee Smollett-Bell's character, Black Canary, only this time it's in the form of a hair tie. Because honestly, no real shero would ever choose to fight crime with her hair blowing in the wind.
At the end, there's another scene that feels particularly familiar for anyone who's been in the women's restroom at a bar on a Friday night. It's a scene where the gang is bouncing compliments off each other over some shared tacos—and Winstead reveals it was almost entirely ad-libbed.
"That's something I haven't been a part of very often on-screen, nor have I seen very often on-screen, is women being interested in one another for what they bring to the table and women complimenting one another for their skills and for who they are," Winstead says.
Another scene touches on another, more unfortunate shared experience for many women. When a group of men attempt to abduct and presumably sexually assault an intoxicated Harley Quinn, Black Canary happens to be in the right place at the right time to help her friend. She also happens to be highly trained in martial arts.
"That definitely was a very personal [scene] for me, channeling what it would be like to have the ability to save so many that I love from being attacked," Smollett-Bell says. "Trust me, it was quite personal. And even when I was shooting it, one of my stunt coordinators came to me and said, 'Whoa, you're pulling from a place of rage.' And, definitely, I found out that I had a lot of rage inside of me, but it was very cathartic."
Over the years, Smollett-Bell, who began her career as a child actor on Full House, has been an active voice in the Time's Up movement, sharing her own experiences with harassment and advocating for more visibility around the disproportionate experiences of women of color and trans women. Though there's much more work ahead, the movement has made a loud push for gender parity within the entertainment industry, and Smollett-Bell has already seen its impact on films like Birds of Prey where more women are in decision-making positions. "I don't think a film like this could have gotten made even a decade ago or even a few years ago for that matter," the actress says.
She's right. Robbie first pitched the idea for the film nearly half a decade ago when working on 2016's Suicide Squad (when movie audiences first met the beloved Harley Quinn), but it didn't get the green light right away. Speaking to Nerdist, Robbie explained that an R-rated, female-led action film was seen as a "risk" at the time, especially since Wonder Woman hadn't come out yet. But she stuck to it, started developing the script with Yan, and eventually got Warner Bros.' approval in 2018.
Now, Smollett-Bell finds hope in the fact that the world is finally ready for the film, and she says it goes to show that filmmakers and moviegoers alike are "hungry for a shift."
"It's so refreshing to be a part of this new wave in cinema in which there are so many storytellers who are not just waiting for a seat at the table. They're building their own table," Smollett-Bell says.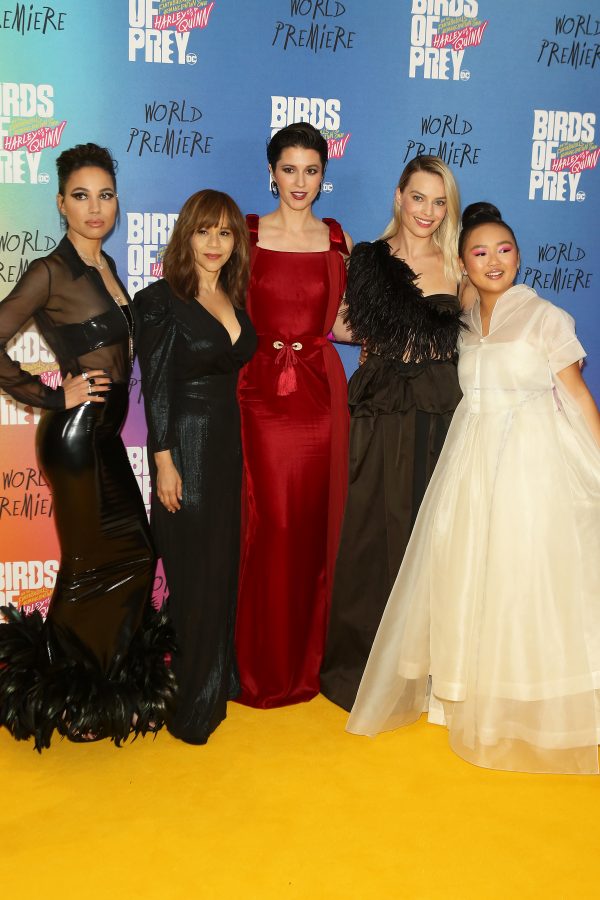 Winstead also notes how her experience on the set of Birds of Prey opened her eyes to how much this shift in representation was needed.
"I've never worked with so many women on a film with this kind of budget behind it," she says. "And I didn't realize until I walked onto this set just how hard that had been for me to never have that experience before, to so often be in the very lonely position of being the only woman or one of the only women on set."
Both Winstead and Smollett-Bell agree that the filming environment was overwhelmingly positive and uplifting. Smollett-Bell, who says she tends to be hard on herself and rarely feels satisfied with her work, says the Birds of Prey cast was a community of constant encouragement. "Oh my gosh, the cast was incredibly supportive," she recalls. "We were cheerleaders for each other." That compliment-fest taco scene in the movie? It was an extension of how the cast interacted off-screen.
"It was really easy for all of us to look at each other and go, 'Wow, I'm so thankful to be here next to you and to be supporting you and to be your friend,'" Winstead adds.
We don't know exactly what's next for Black Canary, Huntress and the rest of these give-no-Fs characters, but we do know that we're ready for a whole lot more women supporting women, both on and off the big screen.
Birds of Prey comes out February 7th.