This facial oil is the only one that doesn't make me break out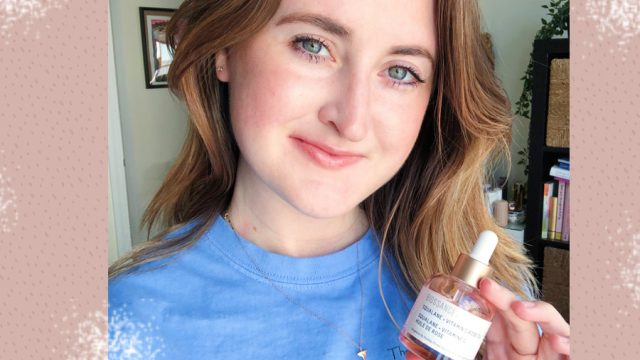 Welcome to Game Changers, a weekly series where we talk about the holy grail beauty products we're loving now—the ones that saved our hair, cleared our skin, and, in some way, changed our lives. This month, Daley Quinn, a Boston-based writer, reviews the Biossance Squalane + Vitamin C Rose Oil and shares that it's the only face oil that hasn't made her acne-prone skin break out. 
You probably wouldn't be able to tell now, but I've been fighting a battle against my hormones since I was a tween. Hormonal acne has become part of my everyday skin struggle, and I've tried almost every acne-fighting treatment other than Accutane to calm the inflamed, painful cysts on my chin.
While I occasionally get a zit or two around my period each month, my birth control has been an absolute godsend in terms of controlling my acne. Since I am a beauty editor and try out new products from time to time, I do break out occasionally from foreign-to-my-skin formulations.
The K-beauty craze has brought a lot of incredible products and practices to the U.S. market, but for those with acne-prone skin, the Korean obsession with using oils as cleansers and moisturizers might not be ideal.
From luxe oil-based cleansers to beautiful glass skin, K-beauty has definitely popularized the need for more moisturizing, and I've fallen into the fixation on facial oil, too. From jojoba to grapeseed, argan to marula, I've tried every oil out there in the hopes of glowy skin and a trendy shelfie. Most of these facial oils have caused a mild breakout, except for one.
I discovered the Biossance Squalane + Vitamin C Rose Oil five months ago while on a work trip with Caroline Hadfield, former president of Biossance. During the trip, we took a tour of the Amyris labs, where the hero ingredient is produced. I learned that squalane is the shelf-stable version of squalene, a hydrator that can be found naturally in our skin.
"Squalene is a major component of our skin's sebum and, because of its emollient properties, squalene has been incorporated into many skincare products," explains Joshua Zeichner, M.D., a board-certified dermatologist in New York City. "Squalene is not desirable to use in skincare in its natural form because it's unstable and easily oxidized, and it's sourced from shark livers, raising the question of whether its use is ethical."
Thankfully, the squalane that Amyris creates comes from 100% plant-based renewable sugar cane, which is then bio-fermented to produce a super moisturizing oil.
Although I'm usually extra cautious about using any facial oils on my skin (I've been let down by too many), I decided to give this one a go after learning that squalene is naturally found in the body. My skin felt exceptionally dry after hopping on eight flights that month and I thought my skin could use a boost. That first night, after the oil had soaked into my parched skin, I ran to my hotel room bathroom to see how many pimples had formed overnight. To my surprise, all I found was hydrated, calm skin. I continued to use the oil with trepidation every evening, waiting for those small whiteheads to pop up, but they never came. Five months later and I have yet to break out from the Biossance oil.
I use this oil almost daily and love how moisturized it makes my skin feel. Although it's pretty lightweight, I'll be honest and say that it can feel a bit greasy if you use too much of it. I like to pump some of my moisturizer into my fingertips, then add just a drop or two of the oil to the moisturizer, mix them around on my fingers, and then apply all over my face. If my skin is feeling extra dry that day, I like to add two to three drops to my fingers, apply all over my face and neck, and then apply my moisturizer on top to seal it all in.
Biossance offers a 100% Squalane Oil (which I have yet to test out) as well as the Squalane + Vitamin C Rose Oil, which is the product I've been obsessed with for months. I like this product because not only does it include squalane to help hydrate, it also contains rose extract to help boost overall radiance and vitamin C to help diminish discoloration, too.
If you're someone who really wants to get into facial oils but breaks out like crazy from all of them, I highly recommend reaching for Biossance. The brand has renewed my faith in facial oils and makes me feel like I can expand outside of my boring moisturizer when my skin needs some extra TLC.