Here's how many hours it will take you to binge your favorite shows this Thanksgiving
The holidays are officially here, meaning long travels home, quality time with the family, and the perfect opportunity to binge that show you keep promising you'll watch. Committing to a new series can be really scary — the idea of having to catch up on 300 episodes of Grey's Anatomy is giving us a headache, too — but there is absolutely *nothing* worse than being the only person in the room caught up on Game of Thrones.
Seriously, someone is going to bring up GoT during dessert and you don't want to be the person still talking about Joffrey.
Luckily, our friends over at Roku has done us all a favor and has calculated how long it'll take you to binge watch some of the most popular shows, like The Handmaid's Tale and Stranger Things, as well as classics like The Wire and The West Wing — and it won't take you as long as you think. That is, barring that you keep bathroom breaks to a minimum and come armed with *plenty* of snacks.
If you're looking for something to hold you over that holiday travel home, settle in for a few shows that aren't *too* far in their runs like The Handmaid's Tale, which can be binged in a solid eight hours, or Stranger Things, which can be easily crushed during that fourteen hour ride home.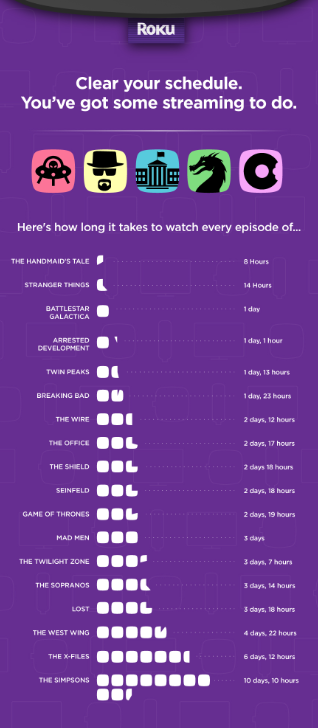 But if you're looking to really commit to *finally* watching that long-running show, catch the seven seasons of Game of Thrones that have already airedin a mere two days and 19 hours. And if you have a lot of time to kill, plow through Lost in three days and 18 hours.
By the end, your brain might be hurting a little bit but hey, at least you'll be feeling accomplished.
Settle up with some warm pie, a glass of wine, and get binging!