Bindi beautifully pays tribute to her dad on this "Steve Irwin Day"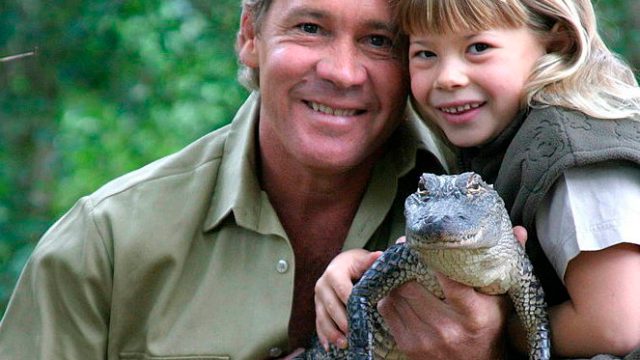 It's been just over 10 years since the world lost one of the greatest and most caring humans ever to have lived. We're referring to Steve Irwin, who left behind a massive legacy — and his daughter Bindi is a huge part of that. To celebrate her father on this Steve Irwin Day, Bindi dedicated a heartfelt tribute to the beloved Crocodile Hunter.
Irwin tragically died back in 2006 after he was pierced in the chest by a stingray barb while filming an underwater documentary called Ocean's Deadliest. And to honor this wonderful man November 15th has been dubbed the annual Steve Irwin Day, an international event honoring the life and legacy of everyone's favorite crocodile hunter.
To contribute her own words of love on this day, Bindi posted a beautiful tribute to her dad on Instagram, encouraging her followers to keep her dad's spirit and mission to love all wildlife alive.
"Celebrating Dad's life and legacy with Steve Irwin Day this November 15th @australiazoo 🐊," she wrote. "Encouraging everyone to wear a touch of khaki on this amazing day to remember all that Dad did for our world, inspiring us all to love wildlife and wild places. Thank you."
Bindi won the 21st season of Dancing with the Stars along with her partner with Dereck Hough. Her former dancing partner dedicated his own heartfelt tribute to Bindi and her dad for the same cause.
"Since it's November 15th in Australia I wanted to wish everyone a wonderful Steve Irwin day," Hough captioned the photo. "I was always a fan of his passion and love for the world. His legacy lives on. It was such an honor and privilege to get to know and work with his beautiful daughter. Such a special soul. Choreographing and creating with her, helping to tell her story will always be a highlight in my career. This image was taken at the end of our final dance which was a tribute to her super hero. Her Dad. Steve Irwin."
On the 10th anniversary of Irwin's death, Bindi posted a picture and message on Instagram that broke everyone's collective hearts.
"You'll be my hero for my entire existence," she wrote. "I love you more than words can describe."
Sending so much love to Bindi and her family, now and always.