Steve Irwin's Hollywood star was unveiled, and Bindi's speech will make you cry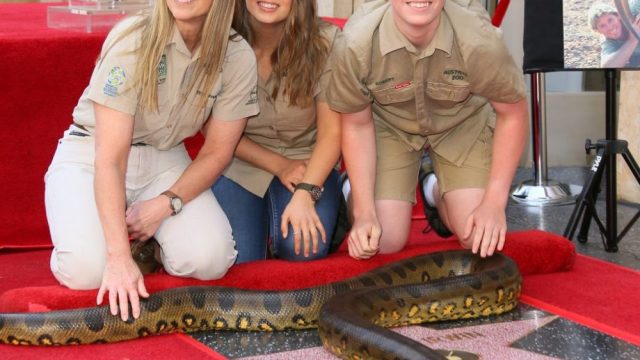 It's been 12 years since Steve Irwin tragically passed away at the age of 44, but his legacy continues to live on. Yesterday, April 26th, the late Crocodile Hunter legend was even posthumously awarded his own star on the Hollywood Walk of Fame. And Steve Irwin's daughter, Bindi Irwin, spoke at the ceremony, giving a moving tribute to her father.
Bindi, along with her mother, Terri Irwin, and her brother, Robert Irwin, attended the unveiling of the Hollywood star. In true Irwin fashion, the family wore their best khaki and even brought an anaconda along for the ride. In her speech, the 19-year-old thanked her family's supporters and discussed her desire to continue her father's legacy.
"I'm going to get a little bit emotional because it's such a special day," Bindi said, blinking back tears. "I have to tell you that I, never in my wildest dreams, imagined that this would become a reality, and this is such an honor as a family to continue in dad's footsteps … So thank you for being here today and supporting us."
Robert and Terri honored the late conservationist with speeches as well. Robert described his father as "the best and most incredible conservationist on the planet, but also the best dad." Terri, meanwhile, said that she felt "so privileged to have had the biggest adventure with Steve."
You can watch Bindi's emotional speech in full below.
After the ceremony, Bindi tweeted photos of the star's dedication, writing, "I'll remember today forever."
With the Irwin family announcing in October that they will be creating a new Animal Planet show similar to The Crocodile Hunter, it's clear that they will keep honoring Steve Irwin's love of wildlife and conservationism. And the family has also continued to work together to run the Australia Zoo in Brisbane.
Steve Irwin's star on the Hollywood Walk of Fame — and Bindi's touching speech — are moving tributes to the Crocodile Hunter. We will always remember Steve Irwin, and we're glad to see his family dedicated to preserving wildlife.