Billy Ray Cyrus gushes over Miley Cryus' new outlook and musical comeback, says "she's firing on all cylinders"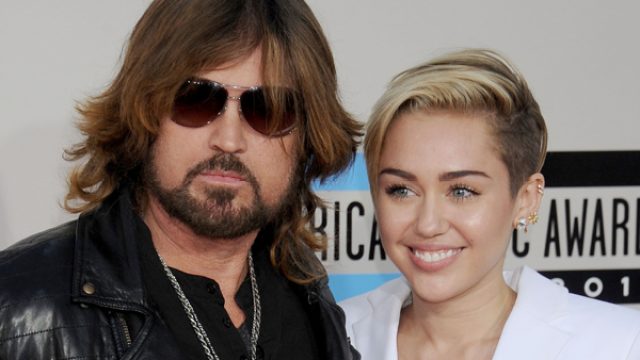 File this under "adorable father-daughter moments!" Billy Ray Cyrus gushes over Miley Cyrus's newfound happiness and music, and it's SO cute.
On Monday, Cyrus revealed he is one proud father during a celebration interview of the 25th anniversary of his song, "Achy Breaky Heart." The singer sat down with Entertainment Tonight to talk about his career but ended up gushing about his daughter instead.
The former Voice coach recently announced new music was on its way and her new look and vibe is definitely more old-school Miley. That change is something that her father is really happy about because his daughter's joy brings him joy.
Cue the "awws," now!
https://www.instagram.com/p/BOTAQbhACDf
"As a dad, I see Miley really just functioning on, like, a figure and a joy for life," Cyrus told Entertainment Tonight.
"I don't know how to break it down more than just the fact that I see a joy in her spirit and something coming from within that is just pure beauty, if you will."
"I think she just found…she's firing on all cylinders. Her thoughts, her instincts, everything is at the top of its game," he continued. "Sometimes you have to clear out the junk. And then you realize what's most important. Whatever is going on, it's working for her."
https://www.instagram.com/p/BTrXwuSh7b4
While fans can tell that the 24-year-old singer looks different, it's her overall presence that Cyrus notices.
"You know what I like about the way she looks [now?]. She's happy," the Still the King actor said. "A month or two [ago] she sent me a picture and I said, 'You look so happy.' I'm here [as her dad], and she's beaming with happiness. That means more to me than anything. That's what I want Miley to look like — happy."
https://www.instagram.com/p/BTrVr1plwWJ
If that's not enough of a total dad move, the 55-year-old singer also talked about his daughter's new track, "Malibu."
"I'm so excited about this album. Miley really leaned into her roots with this new album, 'Malibu' in particular," he said like a true proud papa.
https://www.instagram.com/p/BT676D3Bohs
He revealed sounds of Lynyrd Skynyrd, Dolly Parton, and Hank Cochran amongst others as influences for this new album. "I think Miley absorbed a lot of those sounds and a lot of that conversation," he said.
If nothing else comes from this new album, we're happy this father-daughter duo is alive and well.
Billy Ray and Miley have always been close and clearly, their musical roots have them growing even closer.
PS: if you can't wait to hear Miley's new track, it drops on May 11 (aka tomorrow!).