Billy Porter had the best response to trolls who are angry about his dress on Sesame Street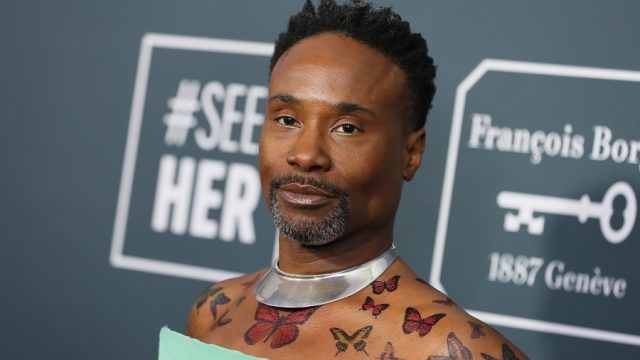 Having woven issues like drug addiction, HIV, and dealing with grief into prior seasons, Sesame Street aims to further educate the youth on acceptance as it enters into its 51st season. It seems, though, that maybe more parents need to watch to learn about acceptance. Pose star and LGBTQ+ activist Billy Porter, who has become an icon for his gender-fluid red carpet looks, is slated to appear on an upcoming Sesame Street episode. However, some adults are seemingly upset that Sesame Street would "expose" their kids to "alternative lifestyle propaganda," and Porter has a few things to say to the naysayers.
"@theebillyporter bringing those fierce vibes to Sesame Street for #Season51," the Sesame Street official Instagram account captioned its January 30th preview pic.
In the photo, Porter wears his custom Christian Siriano tuxedo gown, which he made famous at the 2019 Academy Awards.
"Guess I'm not showing my kid Sesame Street anymore," one upset parent commented. Another wrote, "So sad to see this on Sesame Street…this is not about acceptance or love. This is trying to force someone's lifestyle onto our children, this is confusing and dangerous."
And someone else piped up, "Remember when Sesame Street was just about childhood innocence and devoid of any alternative lifestyle propaganda disguised as 'inclusivity'? Let kids be kids. It's hard enough out there and they'll soon learn all the things the media wants to shove down their throats."
As Page Six reports, a petition even started making its way around social media, urging Sesame Street to pull the episode due to the fact that Billy Porter's guest appearance "sexualize[s] children using drag queens."
"If you don't like it, don't watch it," Porter responded via Page Six.
Porter then stated that it's bizarre for people to link him wearing a dress to "perverted demon sex." He went on, "Like, what about me singing with a penguin [on the show] has anything to do with what I'm doing in my bedroom?"
"The really interesting thing for me is that that's what it's all about when it comes to LGBTQ people—the first thing everyone wants to talk about is how we are having sex. Stay out of my bedroom and you will be fine—that is none of your business."
Comments like the ones made on the Sesame Street Instagram post show how important it is for Porter and others who may express themselves differently from the families watching to appear on the show. They help show kids that it's normal and important to present yourself in a way that makes you happy.
We're so excited to see what Porter does in his episode to teach children that it's cool to do you. And TBH, we're just excited that Porter's tuxedo dress has been given another moment to shine.