How self-described "workaholic" Billy Porter is learning to prioritize self-care even when it's hard
Billy Porter is an expert at many things: Shutting down red carpets, taking Broadway by storm, POSE-ing like royalty, serving realness of every variety—the list goes on. But underneath all the 24K gold feathers, statement hats, and luxury capes, there's a body and a mind that need rest, and Porter admits his relationship with self-care is still a work in progress. The multihyphenate recently partnered up with Clorox Scentiva for a "Spring Queening" campaign that's all about showing how the act of cleaning can be a form of self-care, so I sat down with Porter to discuss what this wellness buzzword means to him. And in our conversation, there was one sentiment he kept repeating: "I'm still figuring it out."
"The self-care thing is new for me as a workaholic, as a person who's just always like work, work, work, work, working," Porter tells HelloGiggles. "I would not say that I'm an expert, but I would say that having this partnership come along at this juncture in my life has really been encouraging for me and has really put [self-care] in the forefront of my mind and has been helping me try to make sure that I figure it out."
That goes for the whole cleaning thing, too. As someone who's always busy filming, performing, and making appearances, Porter understandably doesn't have time to be scrubbing his house, so he calls in reinforcements for the heavy-duty stuff. He does, however, believe that the benefits of a clean space are more than just physical, noting that when he's experiencing a creative block—especially when writing—it's generally because the area isn't tidied. So he'll take matters into his own hands.
"I get up, declutter the space, breathe, and then I can get to it, because decluttering the space frees up my mind," Porter explains.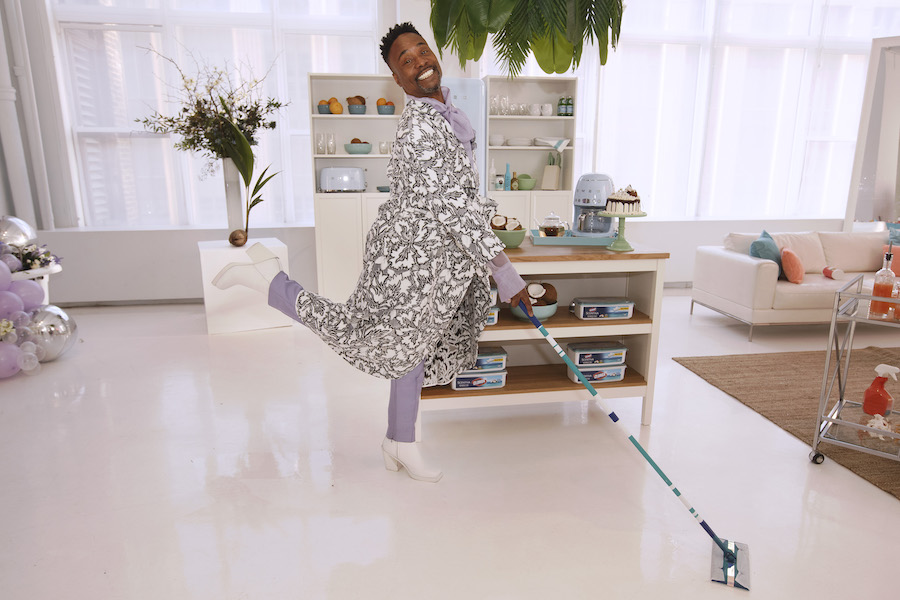 When imagining the fashion icon's home space, it's impossible not to picture an overflowing closet. As such, the idea of "decluttering" honestly feels a bit cruel for such major pieces of clothing. Not to worry, though—Porter explains how it all goes down. The red carpet pieces are given special treatment, either staying safely with him or the designers in case they're requested to go into museum exhibits—and he says a lot of them already have been. But as far as the rest of his closet goes, he has another method for clearing things out.
"With my own clothing, the rule is: If I don't wear it for a year, I give it away, no matter how much I love it," Porter says. "And I do that about 80 to 85 percent of the time. I'm pretty good at it now, but there's still that 15% where I don't do it yet, but I'm working on it."
Porter's voice goes up a passionate octave as he goes on to deliver some easier-said-than-done motherly advice: "The thing is: You're not using it! You're not wearing it! So give it away!"
The star reveals that he usually donates the clothing that meets his over-a-year rule to Housing Works, a NYC-based non-profit and chain of thrift shops that supports efforts to end AIDS and homelessness. He says that he likes what the organization stands for, who they represent, and in summary, "the LGBTQ-ness of it all."
Aside from cleaning out his space to free up the storage in his mind, Porter relies on alone time to recharge his batteries. "There is a requirement for solitude," he explains, although unsurprisingly, that's hard for him to find these days. While some people might assume that the star spends his quiet time in his 2020 Grammys hat with the remote-controlled crystal fringe curtains shutting over his face, in reality, his routine is much more drama-free.
"I meditate, listen to music, write," Porter says.
Meditation is a newer part of his relationship to self-care. Porter explains that because he hasn't mastered doing it on his own just yet, he'll sit on the floor, put on his headphones, and have someone take him through it. He mostly listens to guided meditations by Tara Brach, a guide who his husband, Adam Smith, recommended.
Porter's self-care practices aren't just about decompressing from the busy nature of his life, but also about finding a way to process the emotional labor his work often requires. Working on a show like POSE that juxtaposes extreme joy and beauty with intense trauma and acts of hate means that the actor has to find ways to take care of his mental health both when he's on and off the clock.
"You know, it gets dark on that set sometimes, because of the story that we're telling," Porter says. "I try to lift myself out of it—by meditation, by my music, by a walk in the park. I love to sit at the pier when it's nice outside, very often just breathing in fresh air is very useful. I'm not perfect at it. Like I said, yet, I'm not perfect at it yet, but I try, I try. It's all you can do."
And that's Porter's advice for anyone else who is in the process of figuring it all out, too.
"Take the perfectionism out of it," he says. "One must allow themselves to forgive themselves for not getting it right, for not being perfect. I'm so bad at that, you know? That is another thing that I'm learning, that I'm not perfect. Nobody's perfect. And you know, you get it wrong until you get it right. But you don't stop trying."