Billy Porter's blue eyeshadow at the 2020 Grammys is our makeup goals
There isn't a red carpet that Billy Porter doesn't slay. There's his now-iconic tuxedo gown at the 2019 Oscars, his 2020 Critics Choice Awards look that gave us (literal) butterflies, his all-white, feather-filled 2020 Golden Globes look, and his vibrant gold makeup at the 2019 Met Gala, among so many other moments. So while we'd forgive him a night off from giving every red carpet his all, he again came to play at the 2020 Grammys.
Without even seeing his face amid all the chandelier fringe, we knew that the person rocking the boldest Grammys red carpet look we've seen yet just had to be Billy Porter. The Pose star, who will present at the awards ceremony, rocked a glittering, Tiffany-blue bodysuit, a matching cropped jacket, a matching *motorized* blue hat with the aforementioned chandelier fringe, and glittering silver accessories. About that hat, though: Porter's stylist Sammy Ratelle told E! on the red carpet that he controlled the mechanical device embedded in the hat to make it turn to show or not show Porter's face.
And when that motorized hat did reveal his face, what truly made us gasp with love was his throwback blue eyeshadow.
Porter is taking one of the most throwback '80s makeup trends and making it WORK for 2020. The blue eyeshadow is matchy-matchy with his whole look. It starts all the way at the bridge of his nose, covers up to his browline, and wings out. (Of course, Billy knows how to get a perfect winged eye, right?) It's all outlined in glittering silver. Bottom line: It's bold makeup #goals.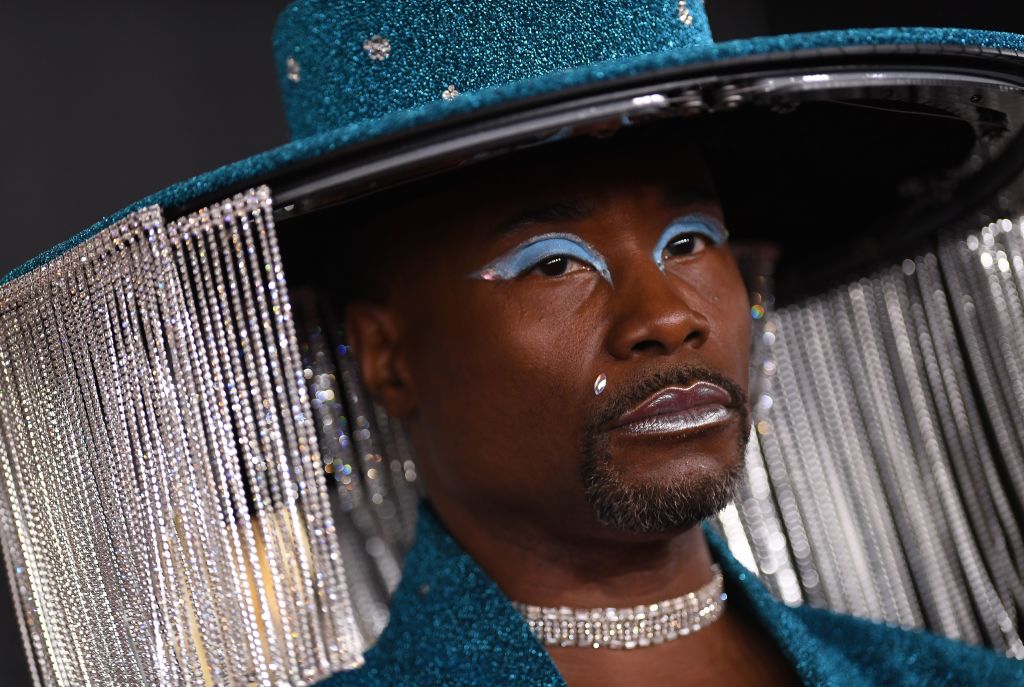 Clearly, everyone in the social media universe agrees:
Men wearing makeup was a major trend at the 2020 Golden Globes, and we're ready for so many more people taking Billy's lead and going bigger to make statements on the red carpet.