Billy Bush just confirmed the "Access Hollywood" tape of Donald Trump is real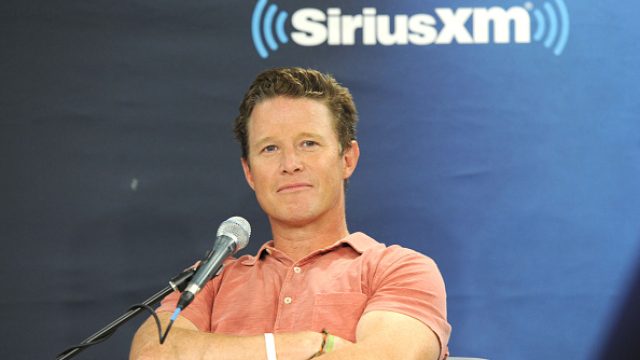 After reports surfaced that Donald Trump denied the legitimacy of the now-infamous tape in which he brags about kissing and grabbing women without their consent, people are clapping back. Among those is Billy Bush, who confirmed the Trump Access Hollywoodtape is 100% authentic in an op-ed for The New York Times.
Bush opened the piece, published on December 3rd, by saying that, yes, Donald Trump did say, "Grab 'em by the pussy." He also said that he and other Access Hollywood staff didn't take Trump seriously enough at the time.
"Along with Donald Trump and me, there were seven other guys present on the bus at the time, and every single one of us assumed we were listening to a crass standup act," Bush wrote. "He was performing. Surely, none of this was real."
Bush wrote that he believes the women who have come forward against the president, and acknowledged that he was "acting in self-interest" when he laughed along with Trump as opposed to calling him out in the moment.
"None of us were guilty of knowingly enabling our future president," Bush wrote. "But all of us were guilty of sacrificing a bit of ourselves in the name of success."
Although Trump has recently claimed he is not sure that his voice is the one in the tape, his claim has been met with overwhelming skepticism. A week ago, on November 27th, current Access Hollywood host Natalie Morales also confirmed that the tape was "very real" during the morning broadcast of the show. Bush is the second member of the show to verify the tape's authenticity.
During the presidential campaign, Trump himself acknowledged the tape and claimed responsibility for the words he said. He even apologized in a statement posted on his social media accounts in October 2016.
https://twitter.com/udfredirect/status/784609194234306560
It's a mystery why Trump would deny his voice on the recording when there is so much evidence to the contrary. And Bush's op-ed is just the latest confirmation of what we already know. Ultimately, we hope that others will take a cue from Bush and stand up for those who have come forward about sexual misconduct — no matter who the accused may be.