Brigette Lundy-Paine and Samara Weaving on the Exciting "Genderlessness" of Their 'Bill & Ted' Characters
"I was really taken with... the lack of insistence on their defining themselves in terms of sexuality."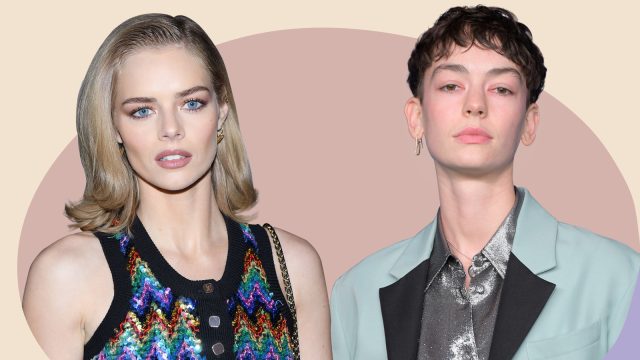 In the final moments of 1991's Bill & Ted's Bogus Journey, our slacker heroes (Alex Winter and Keanu Reeves) play a massive rock show with two little fans strapped to their backs in BABYBJÖRNs. With the babies introduced to us as "Little Bill" and "Little Ted," you might have assumed that the iconic characters were passing their love of music and each other onto their sons. But 19 years later, Bill & Ted Face the Music—the long-gestating third installment of the franchise—is finally reaching audiences, and we know now that their heirs are actually two daughters. Speaking to HelloGiggles over the phone ahead of the film's Aug. 28 digital release, the actors behind the now-adult offspring, Brigette Lundy-Paine (Billie) and Samara Weaving (Thea) explain why their characters were so refreshing to play.
"I was really taken with the sort of genderlessness and the lack of insistence on their defining themselves in terms of sexuality," says Lundy-Paine, who is nonbinary and best known for starring on Netflix's Atypical. "They're so fun and exciting to me."
From the clothes they wear (fun and functional — perfect for time travel) to the way they interact with other characters (no one, at any point, comments on their appearance; there isn't a love interest in sight), Billie and Thea (or B and T) are totally free of the gendering that usually puts an asterisk on adventuring characters who aren't men, even in family-friendly throwback flicks. And their dear old dads don't treat them any differently than they would if they'd raised boys.
"I think it's kind of just the world of Bill and Ted," Weaving (who starred in 2019's Ready or Not) explains. "It's all very all-inclusive and they love everyone and everything and see the good in everyone, and I think we all need a little more of that sort of open-mindedness."
That said, the decision to make the characters female didn't come without a bit of controversy. Last summer, after the movie's plot was announced, co-writer Ed Solomon responded to a Twitter critic who, per MovieWeb, called the characters of Billie and Thea an example of "forced diversity." (The tweet has since been deleted.) In response, Solomon shot back that giving Bill and Ted daughters was "a creative choice" that would keep the story from being "boring and derivative."
"Plus: the world has seen enough boy buddy movies," he added. "We are adults now. Bill & Ted are adults. We can deal with it, so can you."
Amen. Yet, the movie doesn't force the feminine onto Billie and Thea, instead keeping a neutral tone regarding gender, like its stars note. For one thing, Bill & Ted Face the Music sees the young women having adopted many of their dads' mannerisms, including a slouchy, So-Cal ease that's nonetheless given to enthusiastic peels of air guitar. Getting "the physicality of Bill and Ted," Weaving says, was key to "capturing the essence" of the characters. "Their body language is just a language," adds Lundy-Paine. Anyone who's perfected their Bill and Ted impression over the years would agree.
Another way the women follow in their dads' footsteps is that, just like those characters, Billie and Thea are joined-at-the-hip best friends. Lundy-Paine and Weaving say they had no problem finding bonding opportunities when they were filming the movie in New Orleans. 
"It's the perfect place to make friends, because you walk outside and you're immediately handed a drink," Lundy-Paine recalls. "There were several daiquiri runs early on that cemented the friendship."
After all, the actors had a pretty epic bond to live up to. Part of the reason original stars Reeves and Winter were so keen to make another Bill and Ted movie two decades after the fact is that they've remained incredibly close. Weaving describes her costars as "brothers" and "best friends," who "banter and bicker" on set like people who've known each other forever. "I think on screen you can see their really deep bond of friendship come through," she says.
Amid a global pandemic, an upcoming election, and a racial awakening, the aspirational simplicity of the Bill and Ted universe may seem naive. But Weaving and Lundy-Paine say they believe the movies provide a sense of optimism that's in short supply these days.
"I think that Bill and Ted's message is that community and friendship and cooperation and compromise are the pillars of a society that works and that takes care of itself," Lundy-Paine says. Plus, they add, "It's just pure fun."