Billie Lourd and Taylor Lautner are evidently not afraid to wear a matching couples' outfit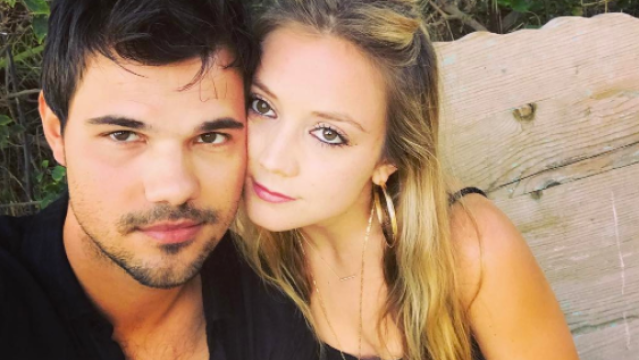 Do you ever look at a picture and your throat closes up because the pic is so freaking cute? Well that's what happened to us when we took a gander at Billie Lourd's latest Instagram post. Lourd and her boyfriend, Taylor Lautner, are wearing matching outfits and sunglasses and we just need to step outside for a quick second.
The hoodies, the black pants, the sunglasses, the facial expression — it's all too much. Lourd and Lautner are even holding white things in their left hands! Cut it out, you two! It's so cute that we might have to report it.
And then there are the hashtags.
Lourd captioned the picutre, "🕶🇬🇧🕶 #fashun#thelondonlook #sunsoutbunsout#sunglasswithclass #mateswhoelevate." K, bye!
https://www.instagram.com/p/BRJQvmuA3AW
Lautner posted the same picture in black and white on his Instagram account.
He captioned it, "Do we have to be in Paris to participate in fashion week?"
Honestly, can we get an answer to this question?
https://www.instagram.com/p/BRJTfrlBO9-
We've been a fan of this celebrity couple since their fellow Scream Queens costar, Keke Palmer, posted a picture to her Snapchat showing the two making out one fateful evening. And ever since that night, the two have pretty much been inseparable.
https://www.instagram.com/p/BJRJ6wOgJXO
And when Lourd lost her mother, Carrie Fisher, and grandmother, Debbie Reynolds, just before the New Year, Lautner shared his love for Lourd's strength through it all.
We've been getting our fair share of their relationship via Instagram pictures and we have three words for the cutest couple of 2017: Keep 'em coming! You guys are #goals and we need some more inspiration for our dream boards!