Billie Lourd has released an emotional statement following the release of her mother's updated cause of death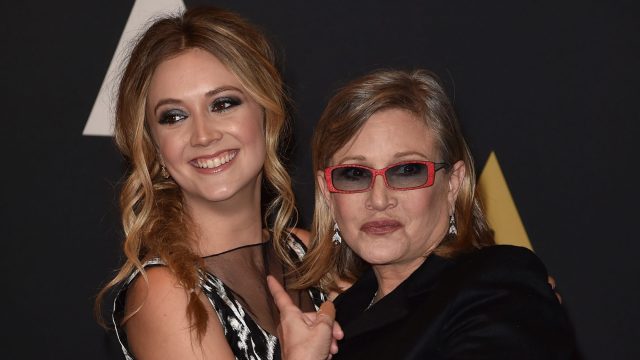 Six months after her sudden passing, Carrie Fisher's official cause of death has been updated. While it's still listed that she died from a cardiac arrest, there are a few other factors that contributed to her death. Friday afternoon, a Los Angeles county coroner released a report stating that Carrie died from "sleep apnea and a combination of other factors," one of the other factors being drugs.
Yes, drugs were found in her system at the time of her passing; however, it's still unclear if any of the directly contributed to her death. Because of this updated report and new information, Carrie's official cause of death has been listed as "undetermined."
Now that it's been revealed that Carrie showed signs of drug use, her daughter, Billie Lourd, has released a heartfelt statement directly addressing this new information. It's well documented that Carrie had problems with drugs all throughout her life; it's also well documented that Carrie was a huge advocate for fighting addiction and all around mental health issues.
"My mom battled drug addiction and mental illness her entire life," Billie explained in a statement to People. "She ultimately died of it.  She was purposefully open in all of her work about the social stigmas surrounding these diseases." "She talked about the shame that torments people and their families confronted by these diseases. I know my Mom, she'd want her death to encourage people to be open about their struggles. Seek help, fight for government funding for mental health programs. Shame and those social stigmas are the enemies of progress to solutions and ultimately a cure. Love you Momby.
It's a beautiful, concise statement made so eloquently by Billie. It also makes us miss Carrie so, so much more. Carrie would want us to learn from her life and help others — and ourselves — fight the inner demons and refuse to let them win.
As always, so much love to Billie and all of Carrie's friends and family.