Billie Lourd shared a sweet and silly Instagram to mark Debbie Reynolds' birthday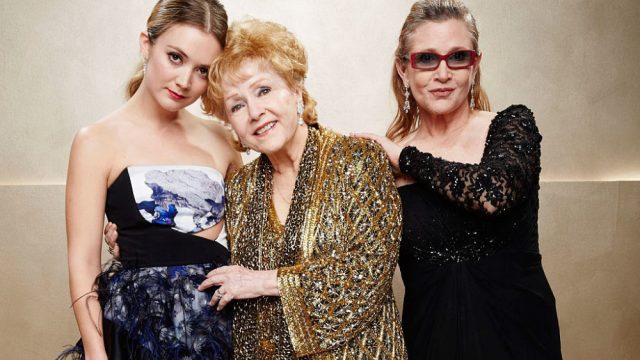 It's been a few months since the passing of Debbie Reynolds and Carrie Fisher, and it's still hard to believe that they're gone. Just yesterday, Billie Lourd posted a birthday tribute to Debbie Reynolds on Instagram, and it reminded us just how close they all were to one another. Debbie was dressed in all green, and appeared to be getting ready to hit the town with her daughter Carrie Fisher and granddaughter Billie.
Billie made the post to commemorate the entertainer's 85th birthday, and the caption was the sweetest ever. And from the looks of the green heart and four-leaf clover emojis, we're thinking that Billie might have pulled the picture from her St. Patty's Day memory vault.
Debbie Reynolds was one stylish queen, and this Instagram post totally proves that to be true.
We can only imagine that when these three got together, there was nothing but laughter.
And in case you're unfamiliar, when using "Abadaba," Billie is referencing her grandmother's 1951 Billboard Chart hit Aba Daba Honeymoon. It's also what Billie called her grandma, because "granny just wasn't hip enough."
The song was originally written by Arthur Fields and Walter Donovan in 1914. But, it was covered by Debbie and Carleton Carpenter in the classic '50s film Two Weeks with Love.
Let's just say that Aba Daba Honeymoon is one of Debbie's many wonderful contributions to the industry. From Singin' in the Rain to Charlotte's Web, Debbie Reynolds has had a huge impact on entertainment.
It's nice to see Billie honoring her grandmother and mother. We can bet that digging in the archives for these memories is tough. But, it seems like doing so also brings her joy. It's no secret how much Billie's grandmother and mother meant to her. So, we're totally here for any nostalgic moments she chooses to share with us.