Billie Lourd wished boyfriend Taylor Lautner happy birthday with a pic of them in matching onsesies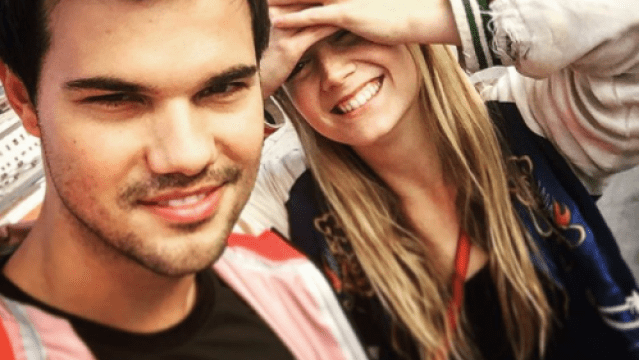 After a truly horrible end to 2016, it looks like 2017 is shaping up nicely for Billie Lourd. The Scream Queens actress is on a hit show, and has a doting and adorable boyfriend by her side. Taylor Lautner has been a source of support and stability for Lourd during rough times, most notably when she lost her mother Carrie Fisher and grandmother Debbie Reynolds within the space of a few days just a few short months ago.
But now Lautner and Lourd are celebrating happier times — namely, Lautner's 25th birthday — with sweet silliness to spare.
Lautner and Lourd have been linked since late last year, when rumors circulated that the two were getting cozy. A video of the couple kissing at the Scream Queens wrap party seemed to confirm the relationship. But while Lourd personally thanked Lautner for his support during her tough times on Instagram (not to mention some adorable photos of the two on vacation), the duo has remained quite low-key about their status.
So what better way to share your love with the world than with a wonderfully snuggly birthday photo?
https://www.instagram.com/p/BQYjBNelX_n
The criminally cute photo, complete with a punny message, features the two actors looking cozy and happy in hilarious sheep onesies. Lourd's message is silly but sincere, wishing a happy birthday to the man she's hashtagged as her #numberonesie. Although the couple has remained discrete in their courtship, sweet little moments like this are proof that the two are going strong — and have the sheep onesies to prove it.