Billie Eilish claps back at everyone who has body-shamed her in this short film—watch it here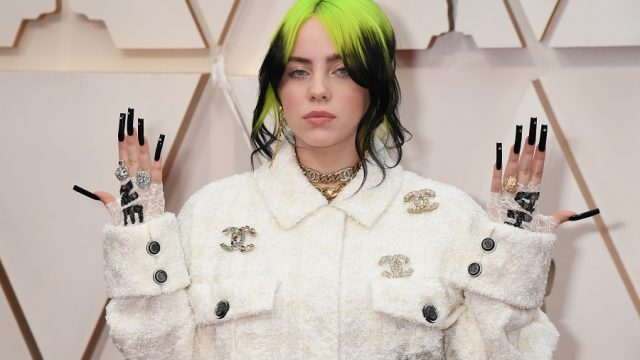 Update, May 27th, 2020, 3:04 p.m. ET: This post has been updated to include Billie Eilish's May Instagram post about her short film.
Billie Eilish became known for her music first—and she has five Grammys and Billboard No. 1 hit to show for it. But as her fame has grown, Eilish's signature style of oversized clothing has become part of her story, too. The 18-year-old singer has shared a couple of reasons for her fashion choices in the past, but during her concert tour, she threw everything into question to make a bigger point. On March 9th, the first night of Eilish's tour opened with a message about body-shaming that addressed her own body, as well as the way people's bodies are unfairly judged overall. Now, on May 26th, Eilish shared the full short film for everyone who didn't attend her tour.
As reported by BuzzFeed (and documented by many fans on Twitter), the Miami concert featured an interlude during which a video of Eilish appeared and was accompanied by a voiceover from the singer. The video showed Eilish removing clothing to emphasize her message. According to BuzzFeed, the voiceover began:
"You have opinions about my opinions, about my music, about my clothes, about my body. Some people hate what I wear. Some people praise it. Some people use it to shame others. Some people use it to shame me. But I feel you watching, always, and nothing I do goes unseen. So while I feel your stares, your disapproval, or your sigh of relief, if I lived by them, I'd never be able to move."
Eilish then questioned whether she should be "…smaller? Weaker? Softer? Taller?" before explaining that her large, boxy clothes can be seen as making her "not a woman," but if she wore less, she'd be seen as a "slut."
Eilish's video message concluded with two questions: "Is my value based only on your perception? Or is your opinion of me not my responsibility?"
In an Instagram post yesterday, she shared for the first time the full video for herself. She seemed to title the film "Not My Responsibility" in the caption.
The video hits on a couple of things that Eilish has mentioned in the past when it comes to her style. The part about people using her choices to shame others mirrors something she told Elle back in September. The "Bad Guy" artist shared that parents thank her for wearing clothes that cover much of her body because it encourages their daughters to do the same.
"The point is not: Hey, let's go slut-shame all these girls for not dressing like Billie Eilish," she said. "It makes me mad. I have to wear a big shirt for you not to feel uncomfortable about my boobs!"
In the same interview, Eilish also pondered what would happen if she ever wanted to show more of her body or "make a video where I wanna look desirable." She explained, "I know people will say, 'I've lost all respect for her.'"
Eilish recognizes that her choices—all of them—are going to lead to shaming and hate from some and praise and love from others. That's what her concert video is all about: Finding the confidence in herself to hear this judgment and choose to keep things moving—while connecting with her many fans who can relate, of course.
This post was originally published on March 11th, 2020.
Lia Beck is a writer living in Richmond, Virginia. In addition to Best Life, she has written for Refinery29, Bustle, Hello Giggles, InStyle, and more.
Read more