13 of Billie Eilish's Most Memorable Outfits, from Burberry Beekeeper to Gucci Glam
We can't wait to see what she wears for the 2021 Grammys on Sunday.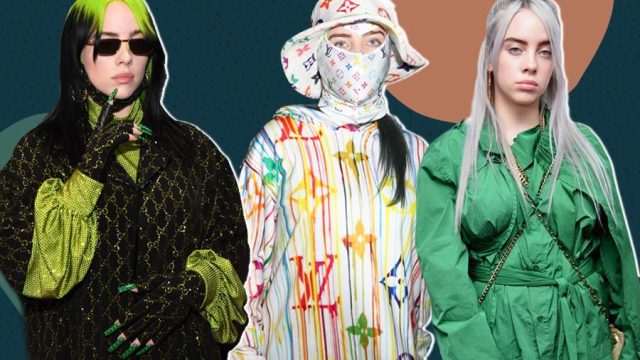 When we hear the name Billie Eilish, we hear a whispery voice and trippy beats while images of oversized clothing, bold patterns, and yes, slime green tones, flash before our eyes. The 19-year-old singer is perhaps as well known for her signature style as she is for her unconventional music. Any time the five-time Grammy Award-winner makes an appearance, we know we're in for a unique look.
Eilish's style is completely unorthodox when it comes to female celebrities: When the majority choose fitted, Billie chooses oversized, and when they choose elegant, Billie chooses edgy. That being said, we're so damn curious to see what Eilish has in store for her 2021 Grammys look this Sunday, March 14th. If we had to take a guess, we'd say she's going to stick to her singular style, and we wouldn't want it any other way.
In honor of the 2021 Grammy Awards, we're looking back on Eilish's most noteworthy red carpet looks so far, because if there's anything Billie Eilish's style is, it's memorable.
1. Head-to-toe Louis Vuitton
Eilish's most worn brand is by far Louis Vuitton, and this rainbow look was definitely one of her most out-of-the-box outfits. The white sweatshirt and sweatpants painted with colorful streaks were memorable enough, but the bucket hat and muzzle took it to a whole other level. These unconventional accessories allowed Eilish's piercing blue eyes to take center stage.
2. Gucci fringes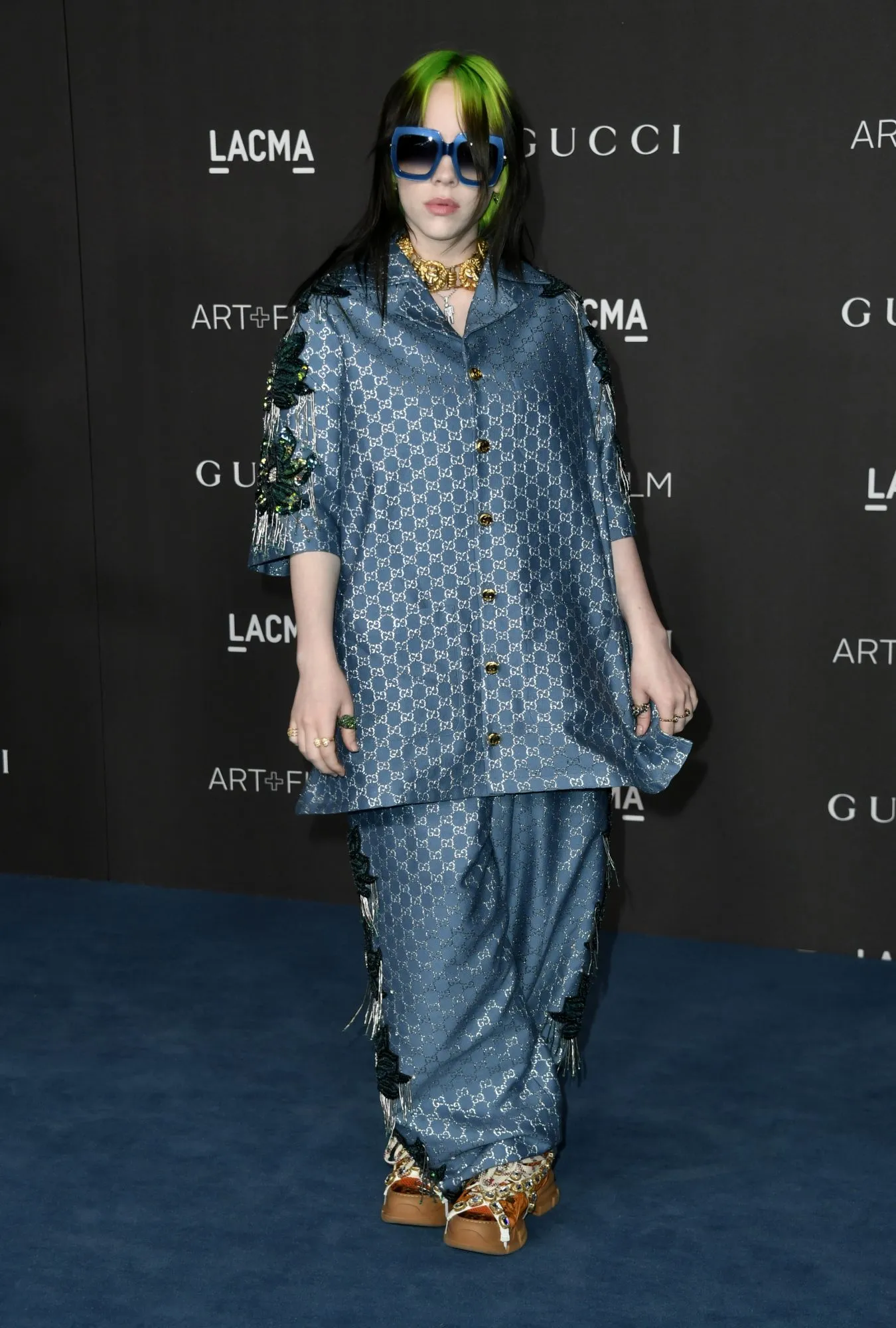 Billie opted for a pajama-esque pair of Gucci pants and matching button-up short sleeve shirt for the 2019 LACMA Art + Film Gala. The best part of her look in our opinion? The sequin flowers and silver fringe trailing the sides of her pants and her back.
3. Green toga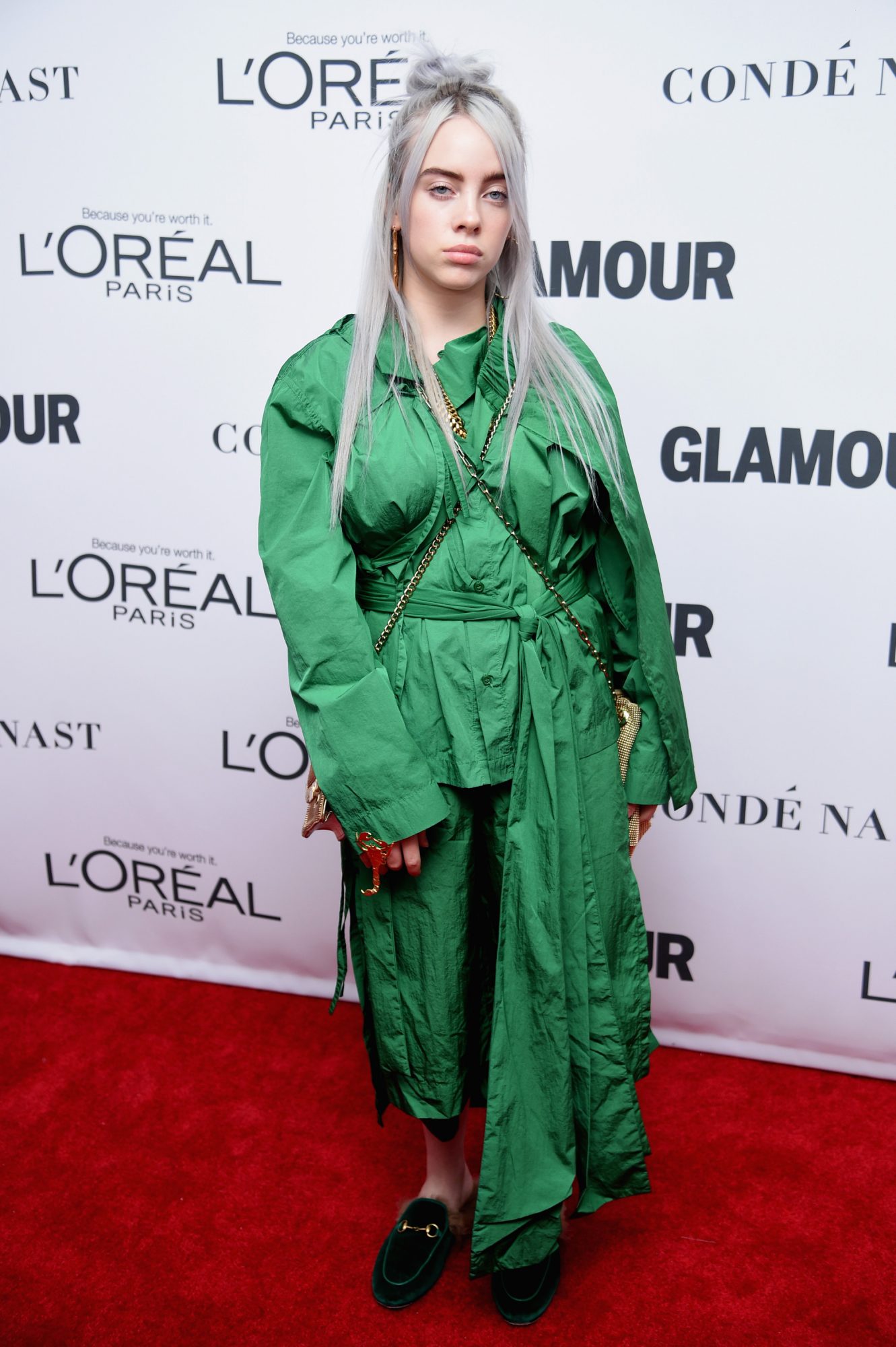 Back in 2017, Billie had yet to sport her signature black and neon green hair, but green was still a fave color of hers. The contrast between her icy silver hair and green outfit was stunning.
4. Neon Louis Vuitton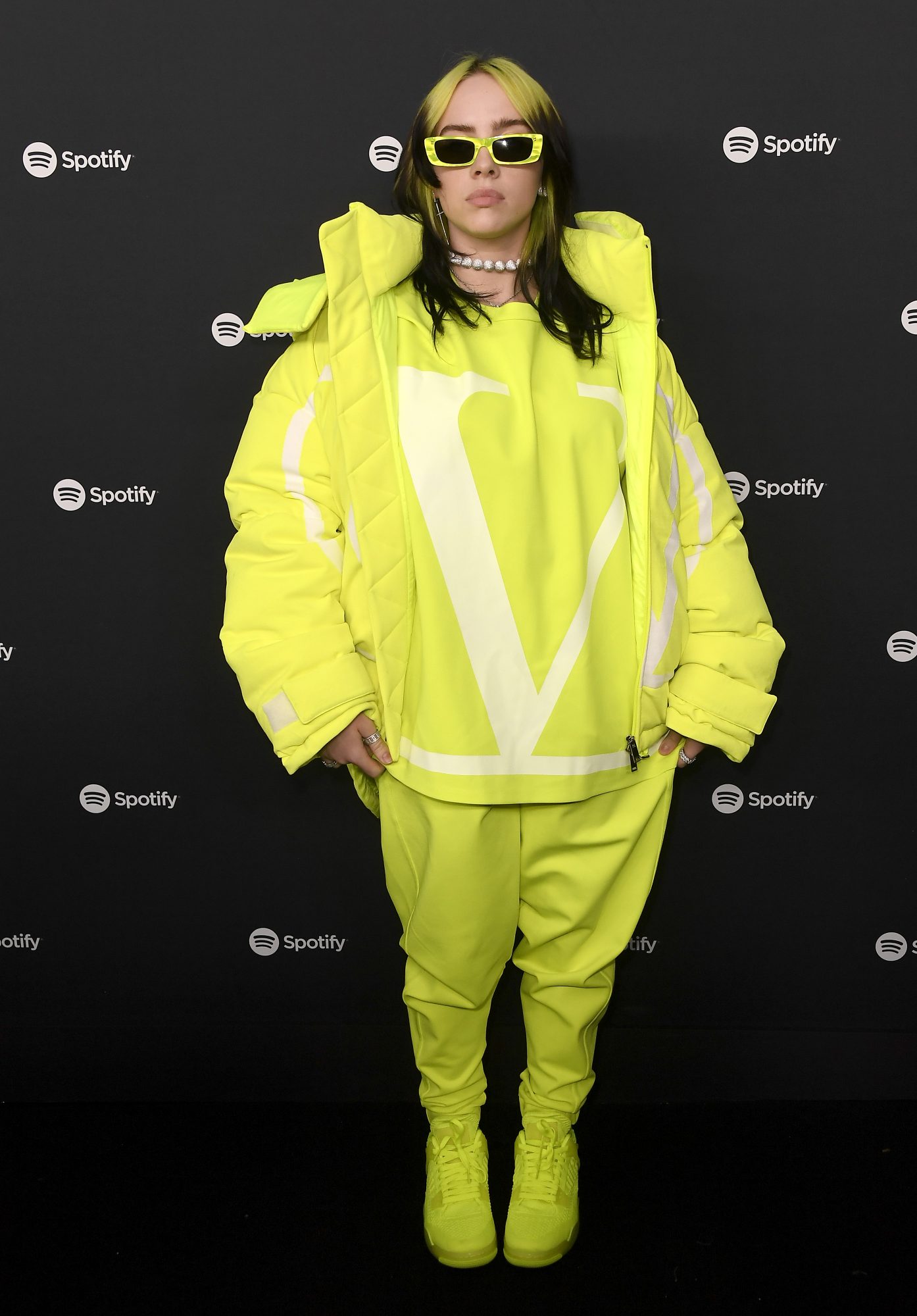 Billie Eilish was honored at Spotify's 2020 Best New Artist party, and she was also the best-dressed artist of the night, in our opinion. Swapping neon green for yellow, the singer sported a giant V on her chest, repping Louis Vuitton once again.
5. Khaki twins
For her debut Saturday Night Live performance, Billie and her brother Finneas matched in khaki Gucci outfits. Notice the custom cover on Billie's boot—she had a broken foot during the performance, so of course, her boot was dripping Gucci, too.
6. Bedazzled Burberry beekeeper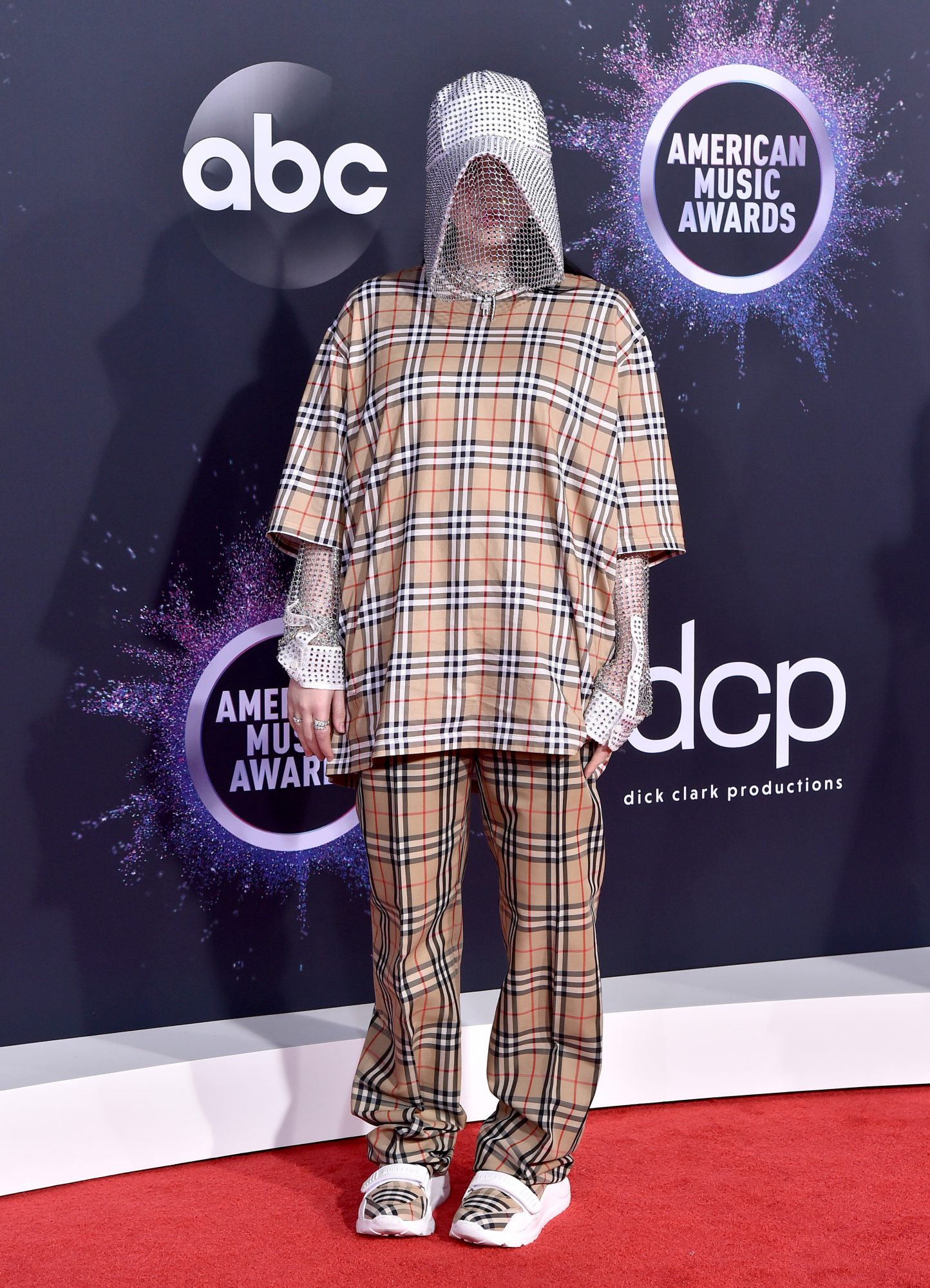 Eilish's 2019 American Music Awards red carpet look served glitzy beekeeper vibes. Her custom Burberry look was classic Billie—boxy shirt, pants, and matching shoes—with a touch of sparkly glam.
7. Retro denim Louis Vuitton
For her 2019 Coachella performance, Billie sported her tried and true brand, Louis Vuitton, again. But this time, she opted for a more casual look—a custom denim jacket and pants paired with an anime-themed T-shirt. The bug-eyed white sunglasses round out the retro look.
8. Construction worker chic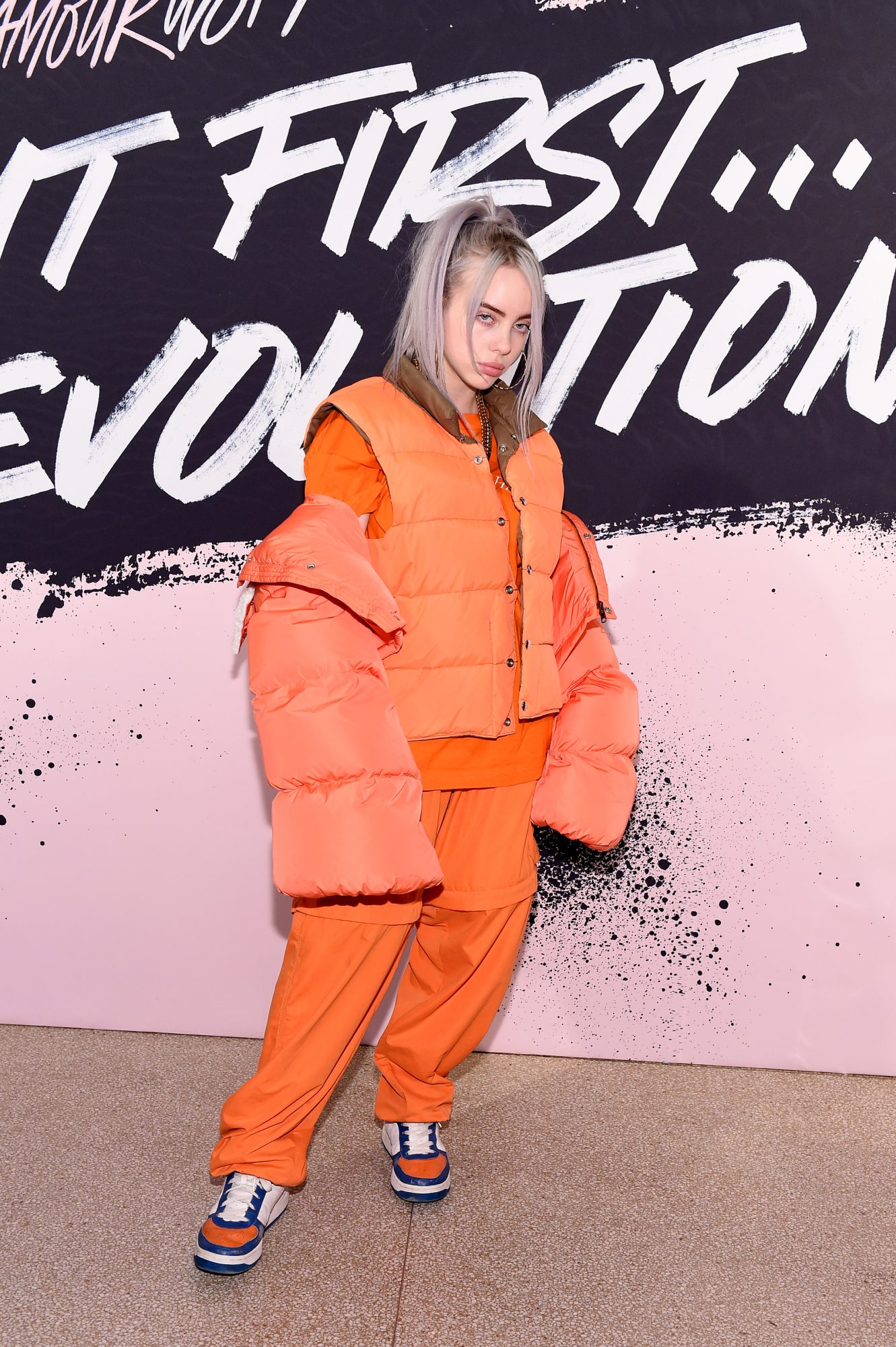 We like to call this look "construction-worker chic" as Billie is slaying that neon orange nylon. Her high pony is also killer, and we think she should bring that hairstyle back into her arsenal.
9. Gucci green everything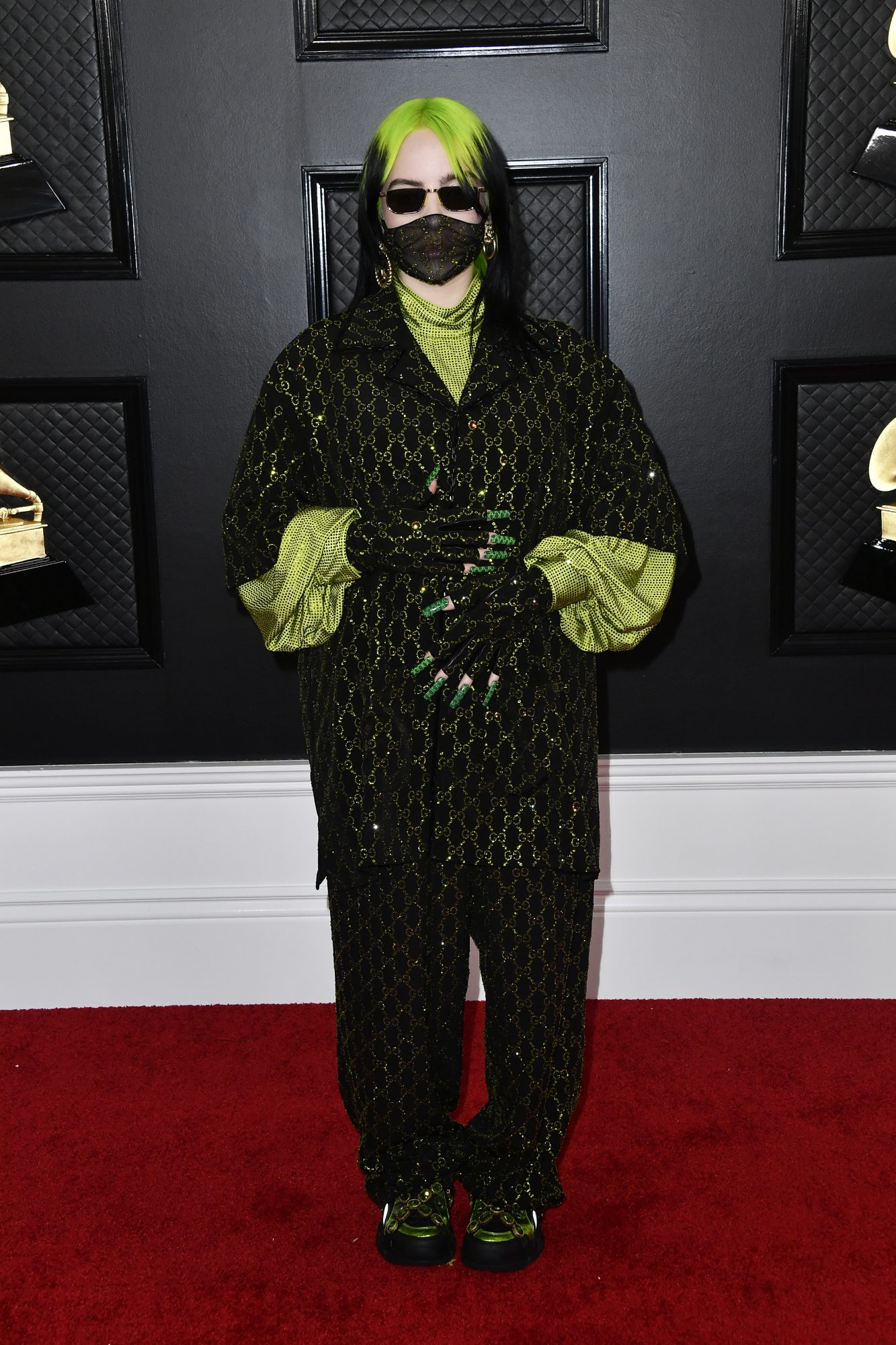 We're sure you saw Eilish's 2020 Grammys look because she was accepting awards on that stage basically all night long. She struck again with another custom Gucci look, this time with fifty shades of green. Every last detail was meticulously designed, from her nails (which took four hours to paint, btw) to the jewels on her shoes.
10. '70s floral
The couch-like floral print paired with orange sunglasses is serving major '70s vibes—it turns out that it's an era that suits Eilish.
11. Major fur
Yet again, Billie rocked Louis Vuitton, this time in the form of a vest. But the real star of this look is her navy fur pants with a leather inseam. They seriously might be the best pants we've ever seen.
12. Classy Chanel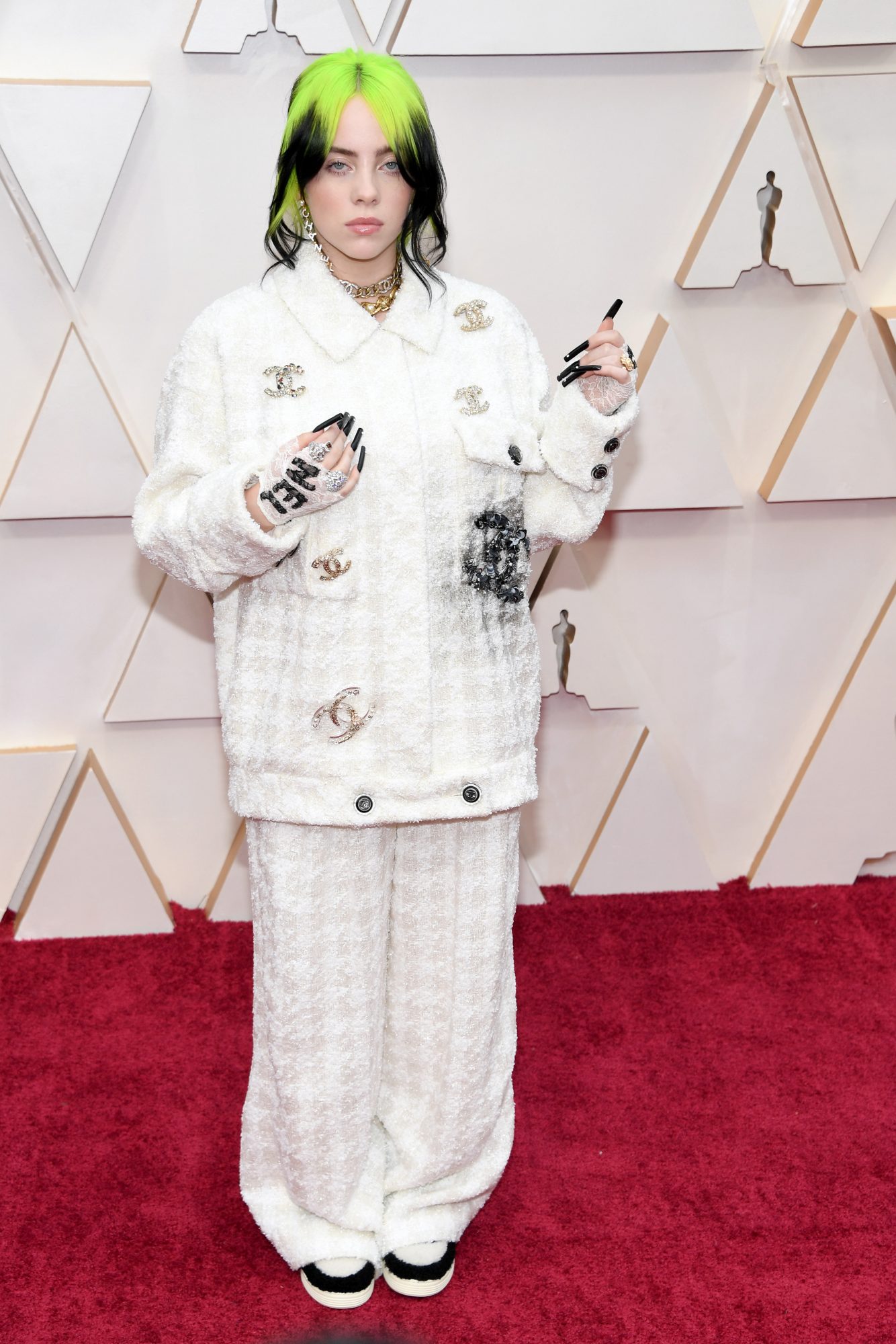 For the 2020 Oscars, where Eilish performed her James Bond song, "No Time To Die", she opted for a Chanel ensemble. The singer looked elegant and sophisticated in an ivory set decorated with the Chanel logo and earrings spelling out the brand. Plus, can we talk about those delicate lace gloves? Showstoppers.
13. Silky Gucci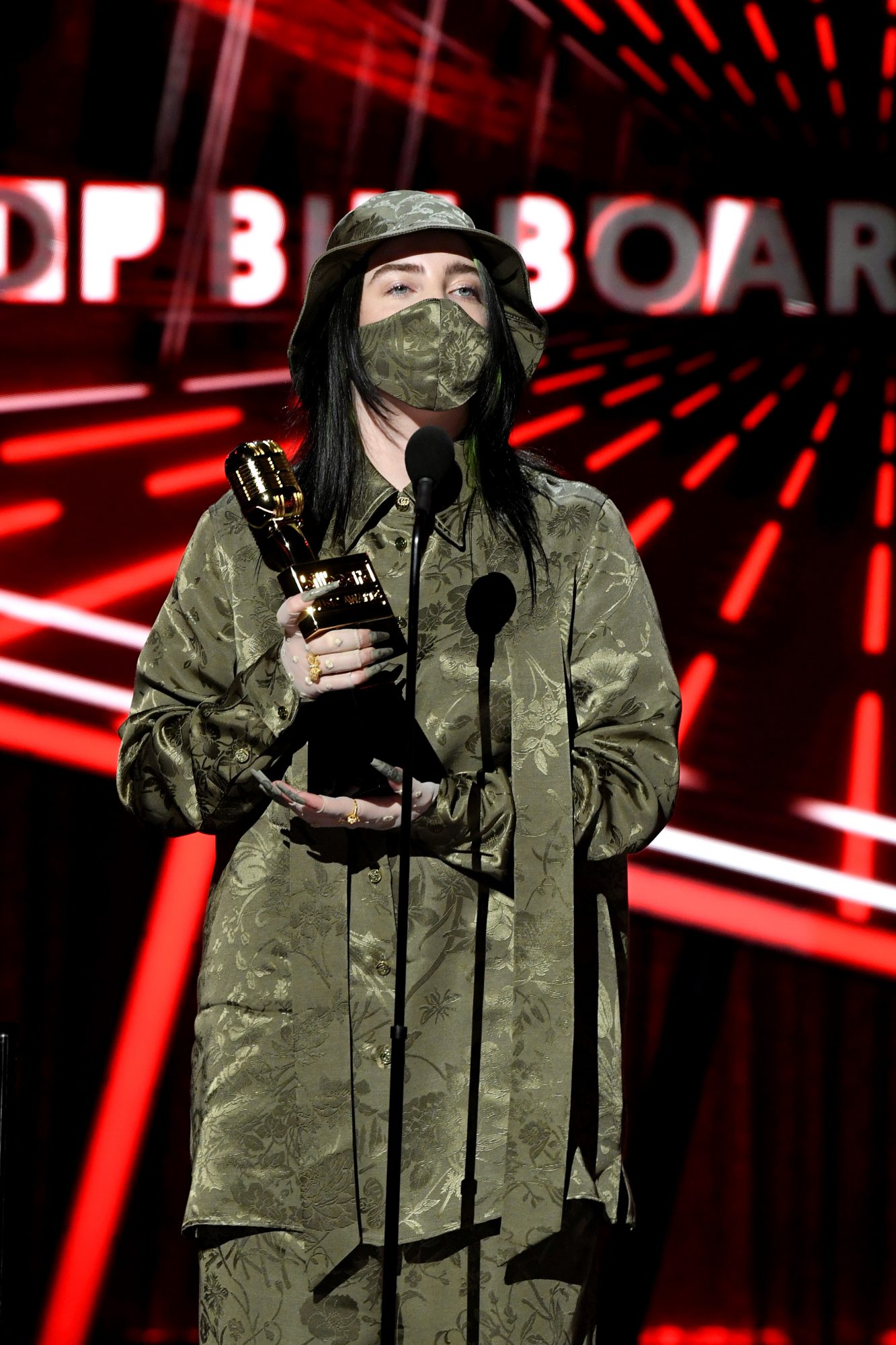 When she took home three 2020 Billboard Music Awards, Billie wore head-to-toe Gucci, yet again. The look was subtler than the singer typically wears in terms of color: an earthy green silk fabric made up her top, bottoms, bucket hat, and face mask, of course.