And now, here's Bill Murray singing "Take Me Out To The Ballgame" because this is something you need to see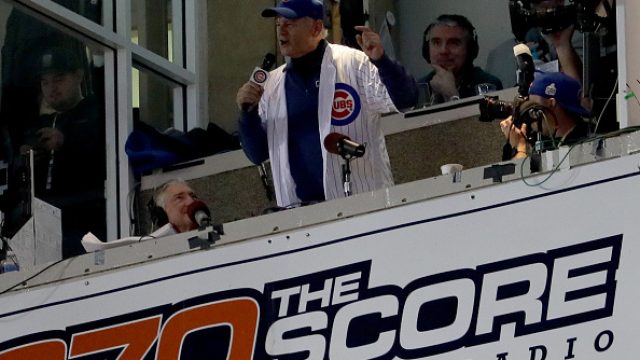 Bill Murray has been on fire recently. First, he crashed a White House press briefing to hilarious effect, and now he's leading the crowd in singing Wrigley Field's first World Series rendition of  "Take Me Out to the Ballgame" since 1945.
It's no secret that Bill Murray is a huge fan of the Cubs. He began his solo by screaming to a stunned and simultaneously electrified crowd:
"It's the bottom of the 7th inning, the last chance to order beer. But we didn't come here to drink beer; we came here to win this ballgame!"
But Murray had some caveats:
 "In order to sing the right lyric – 'Take me out to the crowd' – you need to sing it like our greatest American entertainer, Mr. Daffy Duck. So I want you to spray it and don't say it."
And sing it they did:
https://www.youtube.com/watch?v=eItTJehqMIQ?feature=oembed
"Let's get some runs, suckers!" Murray hollered after the singing had ended.
Sadly, Bill Murray's song did not help the Cubs, who lost their first World Series game played at Wrigley Field in 25,952 days (according to philly.com) to the Cleveland Indians. Cleveland leads the series 2-1, but there's still a chance! They play again tonight at Wrigley Field, and we're betting Bill Murray will be somewhere in that crowd, singing or otherwise!