Bill Murray helped a couple make their gender reveal announcement in the most Bill Murray way possible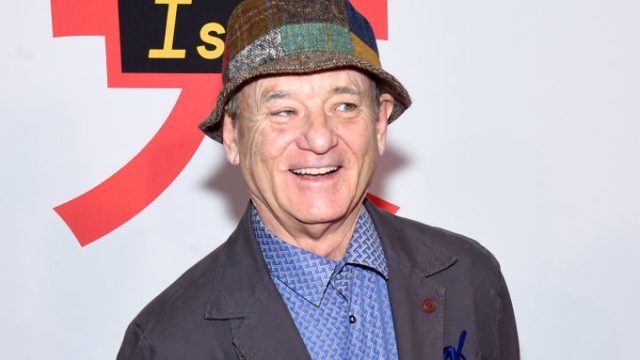 Obviously, we already know that Bill Murray is legendary. The actor, who has a history of appearing at random times and crashing parties, has cultivated a mythical reputation that includes bartending at SXSW and photobombing engagement photoshoots. The latest? He helped a couple make their gender reveal announcement, and it's totally amazing.
The epic gender reveal announcement took place on April 26th during Murray's annual Murray Bros. Caddyshack Golf Tournament in St. Augustine, Florida. In the video, which was shared by the Daytona Beach News-Journal, we can see Bill Murray teeing off in front of the gathered crowd. After he takes a swing, the ball explodes into a cloud of blue upon impact. Cheers erupt, and everyone starts shouting, "It's a boy!"
The expecting couple, Jacqueline and Michael Davis, planned the big reveal to happen during the tournament. But they didn't know Murray himself would be involved.
"My husband was in one of the foursomes [in the tournament]," Jacqueline told the Daytona Beach News-Journal. "While we were there, we thought we would have my husband hit the ball."
However, when they ran into John Resig, president and co-owner of The Chive, they asked him to do the reveal and he said yes. Then, Resig was the one who asked Murray to do it as a surprise.
After Murray revealed that they were having a boy, he congratulated the couple and gave them the driver, which they're going to have framed.
"Do we have to name him Bill now?" Michael teases Murray in the video.
While at the tournament, Murray also posed for selfies and danced to Taylor Swift.
Yes, really. Scroll through below to see the video for yourself.
This isn't the first time Murray has popped up unexpectedly, and we hope it won't be the last.
From crashing the White House to singing at Wrigley Field, it's pretty obvious that Bill Murray is living his best life. Now, if he wants to miraculously appear somewhere near us, that would be pretty cool. We're always down to hang out!