Bill Hader and James McAvoy might join the It sequel, and we absolutely *need* to see them fight Pennywise together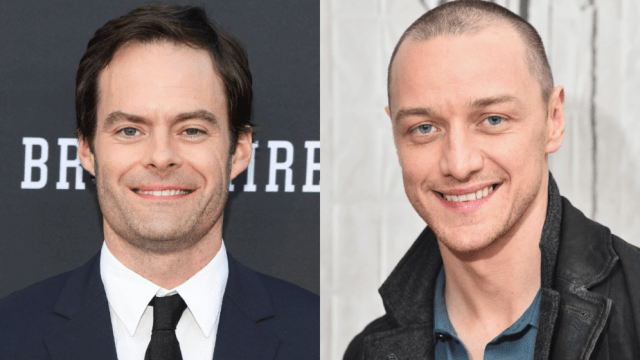 There was one movie this past fall that had just about everyone talking: the latest adaptation of the hit Stephen King novel, It. The film was terrifying, sure, but it was also beautifully made and told a startlingly accurate coming of age story. You know, coming of age in a time when a demonic clown hunts you and your friends down in an attempt to murder you. But, whatever, it was good, and it shattered a lot of records. And we're expecting the sequel to do the same, especially because some of our faves — Bill Hader and James McAvoy — might sign on!
With the sequel becoming more and more real, the fact that Bill Hader and James McAvoy are in talks for It: Chapter 2 is honestly just what fans needed to hear right now.
The It sequel is expected to begin filming this summer, and as Jessica Chastain is already set to play Adult Beverly, the production company behind the film is looking to fill in the rest of the beloved "Losers Club" with their adult counterparts. And according to Deadline, both Bill Hader and James McAvoy are strong contenders for some pretty big roles: "McAvoy is in talks to play Bill, who was played by Jaeden Lieberher in the film last fall, and Hader will portray Richie, who was played by Finn Wolfhard," the outlet writes.
https://www.youtube.com/watch?v=xKJmEC5ieOk?feature=oembed
Now, in case you're wondering why there are adults in the second film when there are children in the first, the answer is actually pretty simple.
Basically, at the end of the first movie, the "Losers Club" promises to come back to their hometown of Derry, Maine, in 30 years in order to fight the evil Pennywise once again. So the second movie will follow the adults of the "Losers Club" as they reunite to take on the evil presence of Pennywise and all that he entails.
Of course, nothing is set in stone just yet, and a Variety sourcestressed that "negotiations are early and that the script is still being worked on," but it's definitely a big possibility that Hader and McAvoy will join the cast for round two. And we couldn't be more excited have the living daylights scared out of us.