This is what happens when Bill Gates is your Secret Santa on Reddit
Each year during the holidays, Reddit users participate in the site's Secret Santa exchange. One notable participant is Microsoft creator Bill Gates, who annually leaves all other Secret Santas in the dust with his over-the-top gifts. Many hope and pray to get Bill Gates as a secret Secret Santa. But only one Redditor prevails. This year, VietteLLC was the chosen one and she was rewarded with a 30lb. Pusheen.
VietteLLC was presented with her Bill Gates haul on December 20th. After an awkward exchange with the FedEx man, who arrived to her door with a refrigerator-sized box, VietteLLC scrambled to find out what was inside the enormous package.
She wrote on RedditGifts that she immediately recognized "the big grey blob shape and 2 tail stripes" of the Pusheen plushie. Being a huge cat fanatic, VietteLLC was so happy that her Secret Santa understood her feline-loving soul.
"I've done the Reddit gift exchange for years now," she wrote. "I love all the silly little gifts. I always check out the Bill Gates post and laugh at how crazy it must have been for that person, never for a second even considering it a possibility for me. HA!!"
It admittedly took her a bit to understand that Gates was behind the wild gift.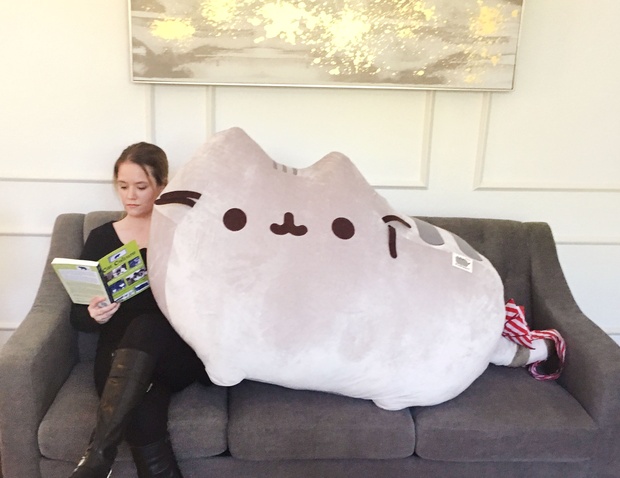 "As Pusheen was being released from his box," VietteLLC continued, "I picked up a letter with a picture, and thought it was SUPER weird that someone was so obsessed with Bill Gates as to send me a photo of him."
But then it hit her. Her Secret Santa wasn't obsessed with Bill Gates. Her Secret Santa was Bill Gates.
"Knowing that at some point during my workweek, I was drinking coffee, writing a boring email, and Bill Gates was somewhere having a professional photo taken with a jumbo Pusheen and writing me notes about cats," VietteLLC wrote.
We would have paid big bucks to be behind-the-scenes at this photoshoot.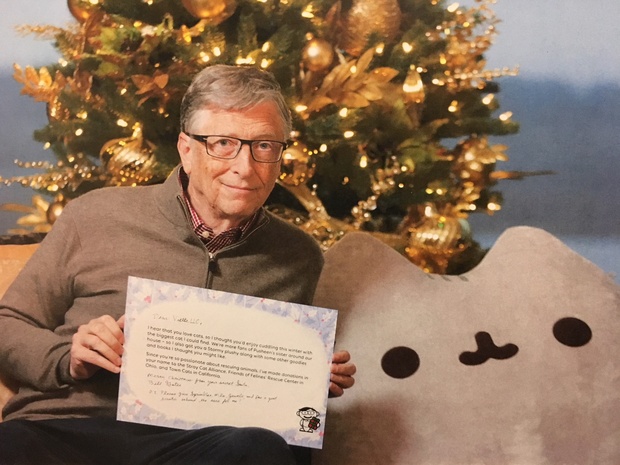 On top of the Pusheen, Gates sent VietteLLC an entire box of other cat-related gifts. He also made three separate $250 donations to three of the VietteLLC's favorite chat shelters — The FFRC, The Stray Cat Alliance, and Town Cats.
https://www.youtube.com/watch?v=R3rJlqUSGiw?feature=oembed
Oh, Bill — you're truly the best Secret Santa ever.