The #MeToo movement's most vocal celebrity supporters react to the Bill Cosby verdict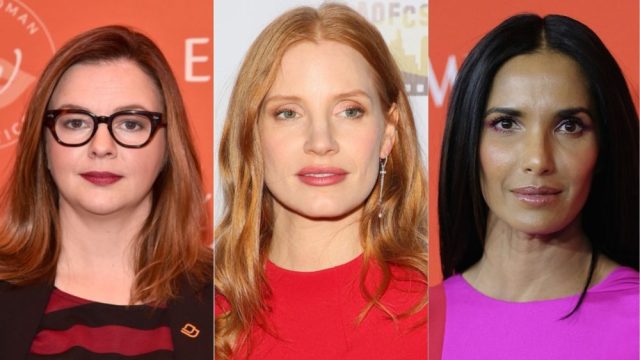 After a lengthy and public trial in both the court of opinion and the halls of justice, Bill Cosby has been convicted of drugging and sexually assaulting Andrea Constand 14 years ago. While this case concerned one woman, the collective feeling is that this verdict is also a triumph for the dozens of women who have accused Cosby of sexual assault over the years but were not given their day in court. It's important to point out that this is the first celebrity trial since the #MeToo movement began, and many famous women who led the conversations and are still vocal in #MeToo and #TimesUp have chimed in with their reactions to the Cosby verdict.
Jessica Chastain tweeted, "Just because you're rich and powerful doesn't mean another person's body is automatically available for sex. Consent must be given." She followed up that tweet with examples of consent.
Elizabeth Banks offered up a sincere, "Finally some justice for Bill Cosby's victims. May they find a little #peace today."
Amber Tamblyn wrote, " Justice for women I know who you've hurt and those I've never met."
Rose McGowan said, "Cosby is guilty. I'm sorry if you loved a lie. His victims can now exhale. Thank you judge and jury. Thank you society for waking up."
https://twitter.com/udfredirect/status/989581163663626241
https://twitter.com/udfredirect/status/989576032196939776
false
In the aftermath of the verdict, many are wondering if Cosby will serve time in jail. He faces a 10-year sentence for each of his three charges, for a total of 30 years, though the judge could rule that he'll serve those sentences concurrently, meaning a max of 10 years in prison. Cosby will await his sentencing hearing at his home under house arrest.
We're certain his victims and their supporters stand in the knowledge that today's verdict was a huge step forward for the movement and for victims of sexual assault everywhere.