A topless protester was arrested for lunging at Bill Cosby outside his trial
After the #MeToo and Time's Up movements took off last year, it seems as if we're in the midst of a cultural reckoning. And against this backdrop of calling out predatory men, Bill Cosby is set to face another trial after several women have accused him of drugging and raping them. Crowds of protesters have shown up outside the courthouse where the trial will take place beginning today, April 9th, speaking up for Cosby's accusers. And among those advocating for Cosby's imprisonment, one topless protester in particular is making headlines.
Nicolle Rochelle appeared outside the Norristown, Pennsylvania courthouse this morning, April 9th, wearing nothing but a pair of black pants. On her bare torso, she painted the phrase "Women's Lives Matter" in red ink and the names of Cosby's accusers in black ink. The 39-year-old topless protester was arrested for disorderly conduct after she jumped over a barricade and lunged at Cosby chanting, "Hey, hey, hey, women's lives matter."
After being led away from the scene in handcuffs, Rochelle was later released without charges. The activist said that she had not intended to harm Cosby, but rather to make him feel uneasy.
"The main goal was to make Cosby uncomfortable because that is exactly what he has been doing for decades to women," Rochelle told reporters after her arrest.
Warning: the following image is not safe for work.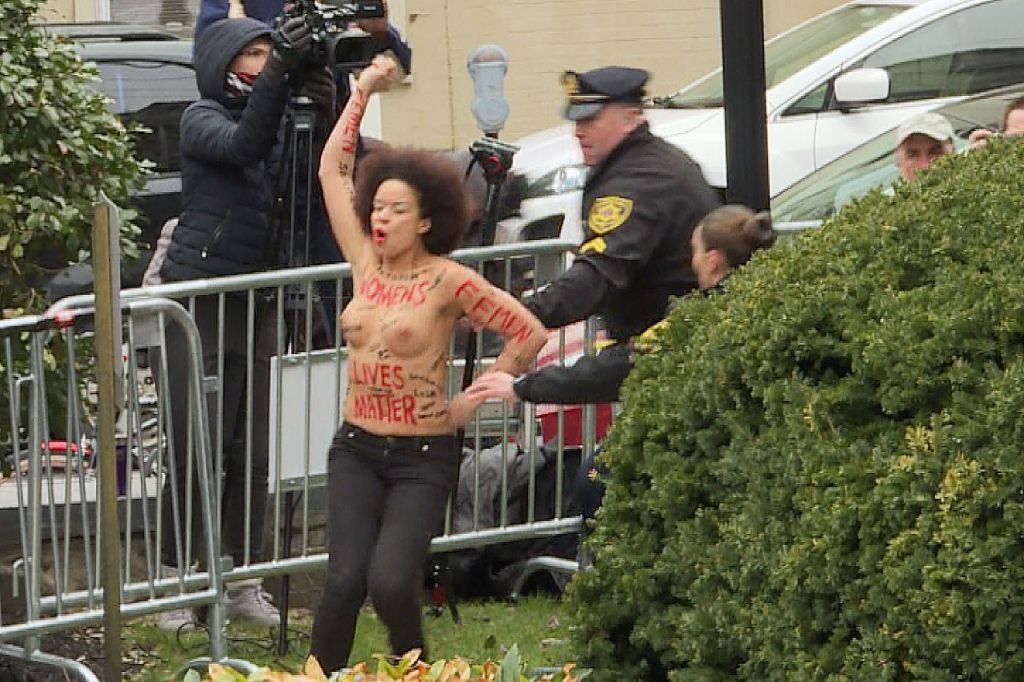 Rochelle revealed that she appeared in several episodes of the Cosby Show in the '90s when she was 12 years old. She said that Cosby had not behaved inappropriately toward her during her time on the show, but that she was "horrified" to hear of the comedian's alleged crimes.
Cosby's retrial is set to begin today. His initial trial in 2017 ended with the jury unable to make a decision, forcing another trial. After the first trial, at least one juror told the Philadelphia Inquirer that the plaintiff, Andrea Constand, seemed untrustworthy for reasons that included Constand's decision to wear crop tops. In 2005, Constand was the first woman to bring accusations of rape against Cosby, but since then, dozens of others have alleged that the comedian assaulted or raped them.
As Cosby faces a retrial, we hope that his accusers will find the justice they deserve. We stand by Rochelle, Constand, and all of those speaking out against sexual harassment or assault.