Here's how to do the Bill Clinton album challenge on Instagram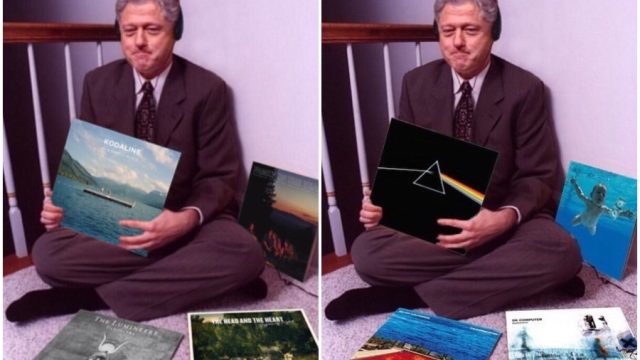 By now, you've seen it: the Bill Clinton swag album challenge on Instagram. Over the past few days, your Instagram Stories have likely been flooded with the same image: Bill Clinton sitting cross-legged in a suit, holding an album with old-school headphones on, grinning cheekily. So, where did this photo come from, and how are people swapping Clinton's favorite albums for their own so seamlessly? We have all of the deets on the Bill Clinton swag album challenge, so you (er, Bill) can show off your music taste to your Instagram followers.
What is the Bill Clinton record thing?
During quarantine, countless memes have gone viral. Out of sheer boredom, users have been posting images to their Instagram stories, nominating friends to share the meme, and then the quarantine game spreads like wildfire.
The image of Bill Clinton holding albums has been undoubtedly one of the biggest hits among Instagram users. The original photo was created for a 1999 article for The Onion, titled "Clinton Writes Fan Letter to Joan Jett," according to Know Your Meme. In the original photo, the four records surrounding Clinton were all by punk artist Joan Jett. However, in the challenge, Instagrammers are swapping in their favorite albums instead.
How to do the Bill Clinton swag album challenge:
While you might have assumed that people were brushing up on their Photoshop skills during quarantine, the more memes you saw, you probably realized that there's a simple way to pull this off.
First thing's first: You'll need to download the Bill Clinton swag generator. It was created by an Instagram account called @bill_holding_your_fav_albums back in 2012. It's unclear why the meme has suddenly gone viral (other than the fact that people are bored as hell right now). In the account's bio, there's a link to Bill Clinton Swag. Click on this. At this link, you'll see the Bill Clinton template, and the Photoshop fun begins.
On this website, you simply click each album slot in the picture, type an album or artist name into the search bar, and click your chosen album to generate its cover art. Honestly, choosing your favorite albums is the hardest part of using the Bill Clinton generator. Once you've agonized over your decision and finally chosen your top four albums, click "generate swag." The black-and-white photo will transform into a color photo, and you'll see Bill Clinton holding albums of your choice. Easy-peasy.
Next, save the photo to your phone and post it on your Instagram Story (or feed). Tag several friends you want to nominate to try the Bill Clinton swag album challenge and let the games continue.
The best Bill Clinton swag album challenge memes:
There are countless memes of Bill Clinton holding albums flooding social media—he's giving Chandler Bing a run for his money—but we rounded up our favorite ones below.
https://www.instagram.com/p/B_LC4GegAo7
Yep, we whole-heartedly agree with these four picks for the Bill Clinton swag meme.
https://www.instagram.com/p/B_STLPqnhS7
This Instagram user knows our favorite pop stars.
https://www.instagram.com/p/B_SEzjrjCsF
If you're a mega-fan of one artist, choose all four of their albums, like this James Bay fan did.
https://www.instagram.com/p/B_QdbH-jMhA
This one's for the Broadway-loving meme-makers out there.
https://www.instagram.com/p/B_ScB3jFzlx
A Bill Clinton swag meme for those who are missing Christmastime.
Join in the fun and try this meme challenge for yourself.