This bikini competitor's before and after photos post-cancer treatment will break your heart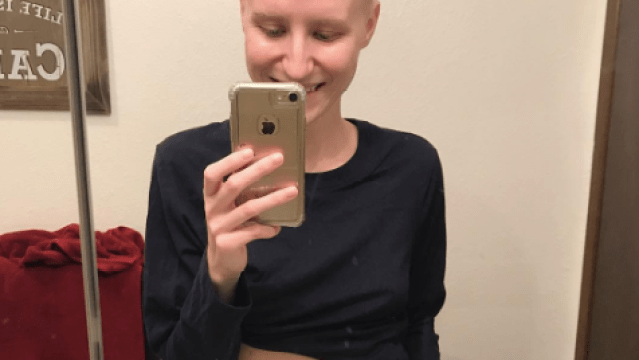 2016 has been a whirlwind of a year for Cheyann Shaw, a 23-year-old from Seattle who was diagnosed with stage 4 ovarian cancer in August. Prior to this devastating diagnosis, she was prepping her body for bikini competitions by working out consistently, gaining muscle, and tracking her progress. Things have been different, though, since the diagnosis, and she's had to endure surgery and treatment that have significantly changed her body.
She was 130 lbs. when she started fighting ovarian cancer, and now she's down to 102 lbs. In October 2016, she survived a five and a half hour surgery, in which they had to perform a hysterectomy, and remove her spleen, appendix, and some of her colon. She had to use a colostomy bag for a little while.
But Cheyann is an incredible young woman who wasn't going to let the cancer win. Even though she reminisces about what her body looked like before the cancer, she keeps things in perspective. She tells PEOPLE:
"I will never stop fighting. I will never lose my faith. I will never let cancer win. Today has been a rough day for me mentally, but that's okay. I know tomorrow will be much better and I'm thankful to be alive and to see another day."
"I have a hard time looking at myself in the mirror but I'm learning to love myself again and I know this is only temporary. Once I get the clear light to workout, I'll be in the gym banging those weights," Cheyann adds.
She tells PEOPLE that she was scared at first, but she knew she had to be strong if she wanted to survive. "I wasn't going to let cancer win. I also knew that my husband and family need me and there is no way I am leaving them. So that is when I put my boxing gloves on and got in the ring to knock cancer out," she says.
Cheyann admits that it was "tough for me to see my old pictures when I was fit and had a ton of muscle," but she knows looks don't define you, and that she'll be back in the gym as soon as she can.
"I still have a lot of recovering to do, but I feel stronger and stronger each day."
We think she's just as INCREDIBLE as ever, and the whole country is cheering her on as she recovers slowly but surely.