How to pull off the biker shorts trend, five different ways
Fashion is a fickle beast, with new trends cropping up more often than you change your daily contact lenses. We know how hard it can be to keep up and even harder to figure out how to pull it off. With our series Try the Trend, we show you five different ways to make a current fashion craze work for you.
I wear yoga pants all the time—to the grocery store, days when I work from my local coffee shop, and to actual yoga classes—but there's something about their shorter counterpart that feels intimidating as hell. I'm of course talking about the elusive and super trendy biker short. They're basically yoga pants cut in half, which should make Lycra lovers like myself jump for joy, but really, they have me running for the hills.
However, being the fashion girl that I am, I've learned that you can't knock a seemingly difficult-to-pull-off trend until you try it for yourself. And while the biker-short trend seems to be bringing back the worst of the '80s ( we're a stone's throw away from shoulder pads, aren't we?), it seems every retailer is co-signing on the stretchy style for the second summer in a row.
The good news is if athleisure isn't your jam, you don't have to style the trend with sneakers and a hype-bae hoodie (although, I grew to love this pairing after giving it a chance). You can wear it with heels à la Kim Kardashian, or pair it with a blazer like Karl Lagerfeld did for Chanel's spring 2019 runway show. I set out to prove that with the right styling, the right attitude, and the right pair, these body-con bottoms are a truly viable option to wear outside of the gym. And no, it's not a look reserved only for the Kardashian-Jenners and Hadids of the world. Here, five ways to style the biker-shorts trend for every event on your agenda from brunch to prom. The biker shorts I chose to style were these $30 pair from Akira.
Speaking of picking the right pair, be sure to look for one that's fitted but not too tight, hits that perfect point right above the knee as to not feel revealing or look too dowdy, and is definitely not see-through.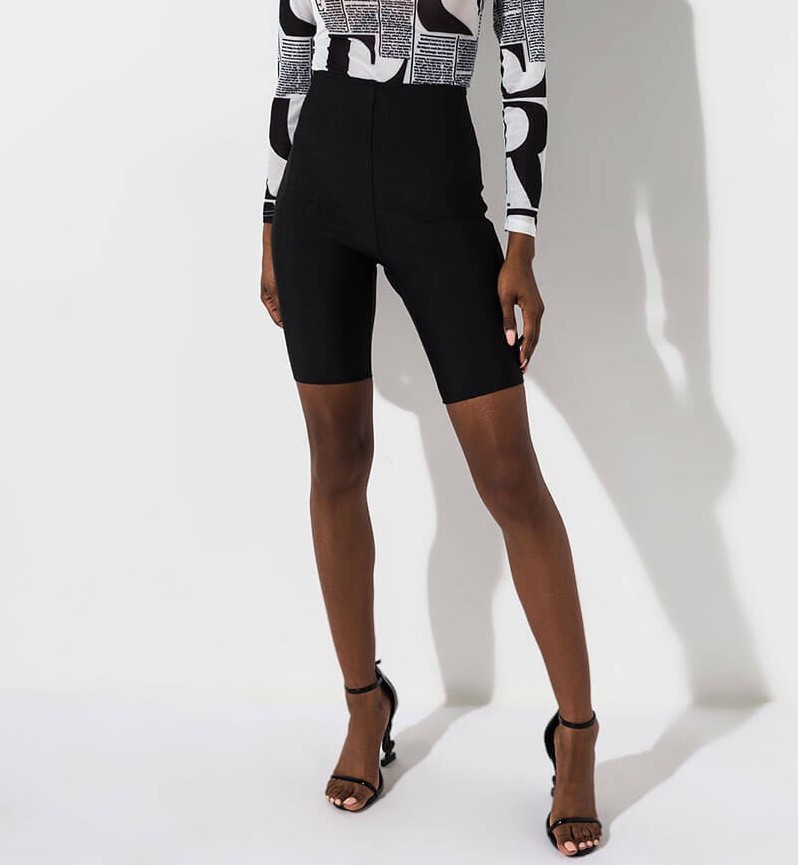 Here's how I styled biker shorts for every occasion.
1. Brunch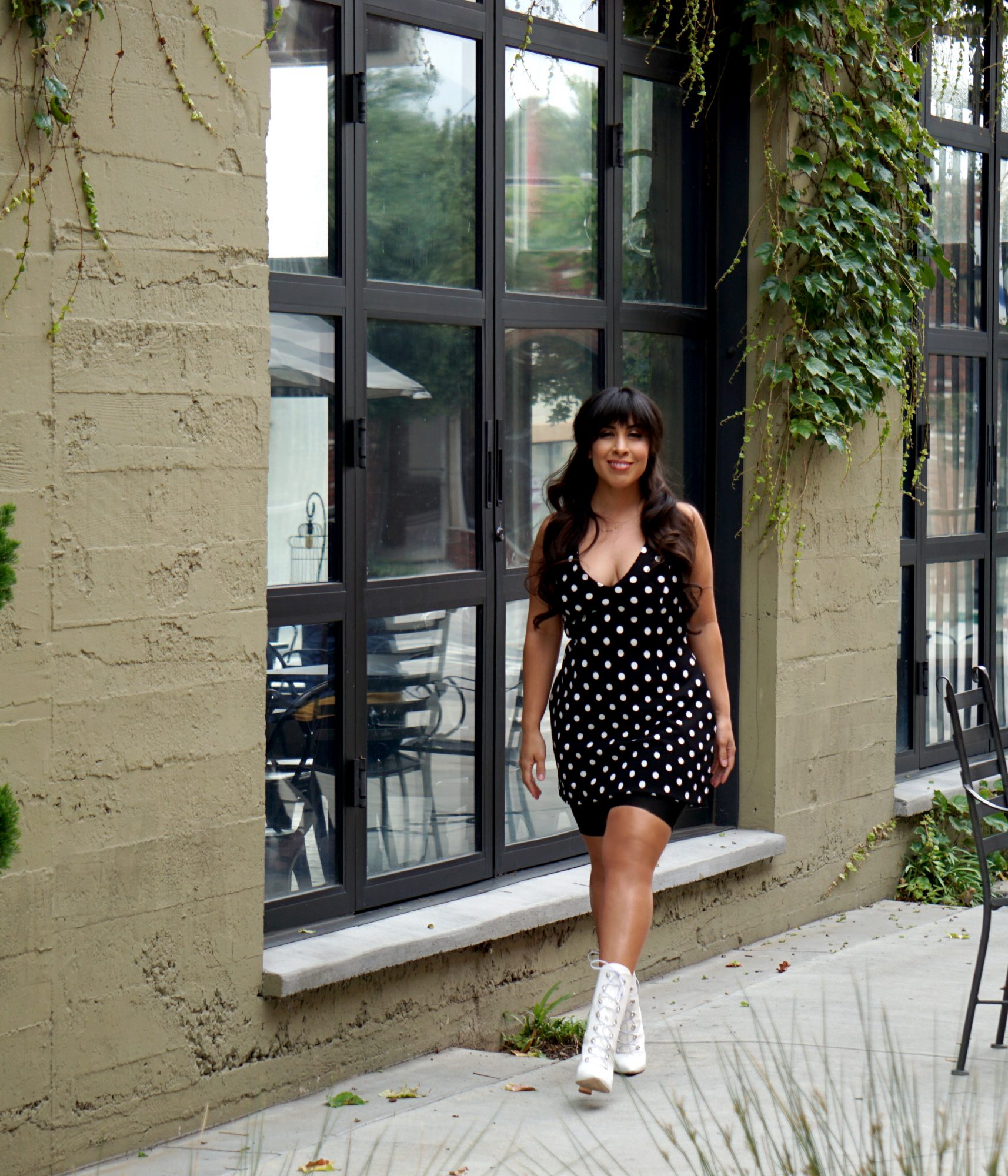 When I grab brunch with my girls, I have two outfit goals in mind: look cute (because photos will be involved) and wear something that eliminates all risk of wardrobe malfunctions (because, mimosas). We all have that dress at the back of our closet that's too short for every-day wear, but too cute to let it go to waste. Letting a pair of biker shorts peek out from under a super short mini dress not only adds an element of modesty for daytime wear, it creates the illusion of an adorable two-piece, which also happens to be trendy right now. You can find this polka-dot mini dress from Akira and white lace-up booties from Fashion Nova.
2. Running Errands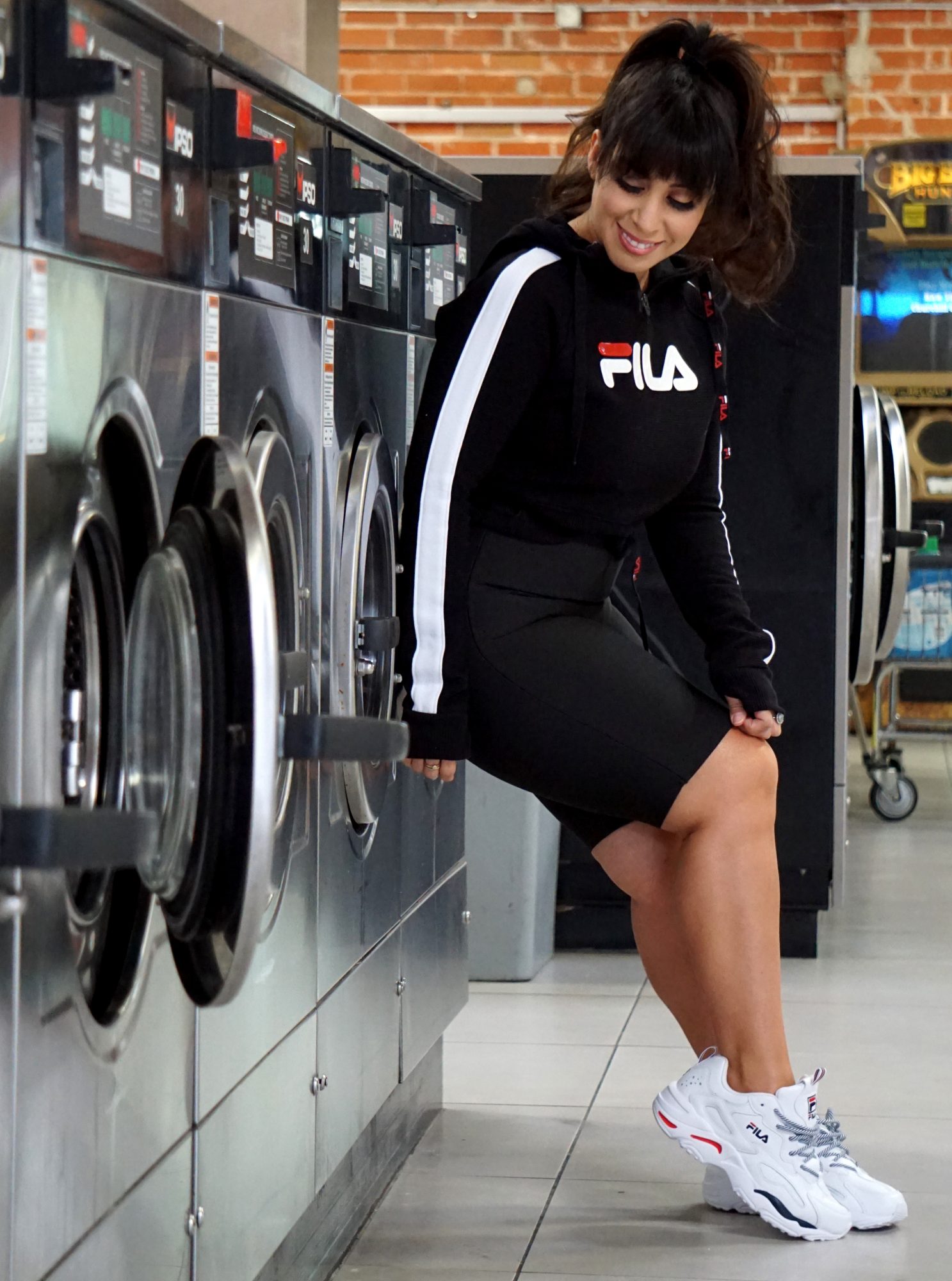 This would normally be one of the cases I bust out my yoga pants. On Saturdays I usually do my grocery shopping, laundry, get my car washed, stuff like that, and I need an outfit that's comfortable and allows for speed walking up and down the fruit and vegetable aisles. A simple swap of my go-to leggings for these high-waisted biker shorts elevated my outfit and made me feel much cooler. To copy my look, pair your stretchy shorts with this cropped hoodie and classic sporty sneakers from FILA.
3. Work
If the thought of wearing skin-tight shorts in front of your boss feels eerily similar to your recurring nightmare of showing up to work naked, just hear me out. A pair of not-too-short biker shorts can actually feel boardroom-ready when paired with a silky came and blazer. Just be sure to pick a jacket style that's long enough to cover your butt (it's more professional that way). A structured bag and block heels add an element of work-friendly style, especially when you shop them in contrasting prints. Shop this navy oversized blazer, navy lace tank, and leopard print mini purse on Lulus. Finish off your look with these snakeskin sandals from Vionic.
4. Vacation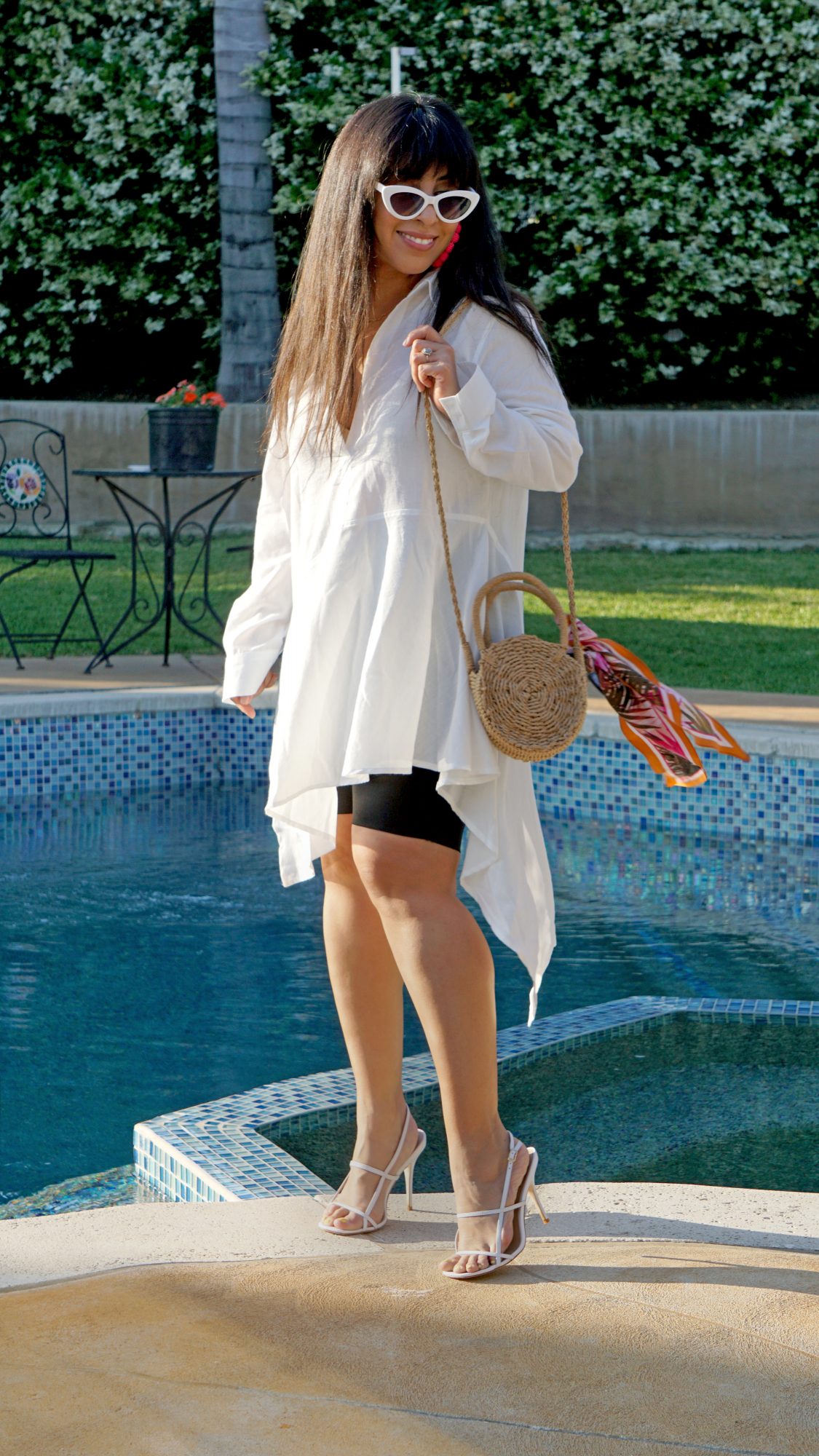 Is it just me or is a pair of stretchy shorts the only way to prevent thigh chafing in a tropical locale? I can't step out of my hotel room without hiding a pair under my dress. But why hide such a trendy fashion piece, amirite? Pair a dark or printed biker short with a sheer button-up and pile on the vacation vibes via some cute accessories. Shop this sheer shirt dress on Akira and slip into these dainty sandals from Reformation.
5. Formal Event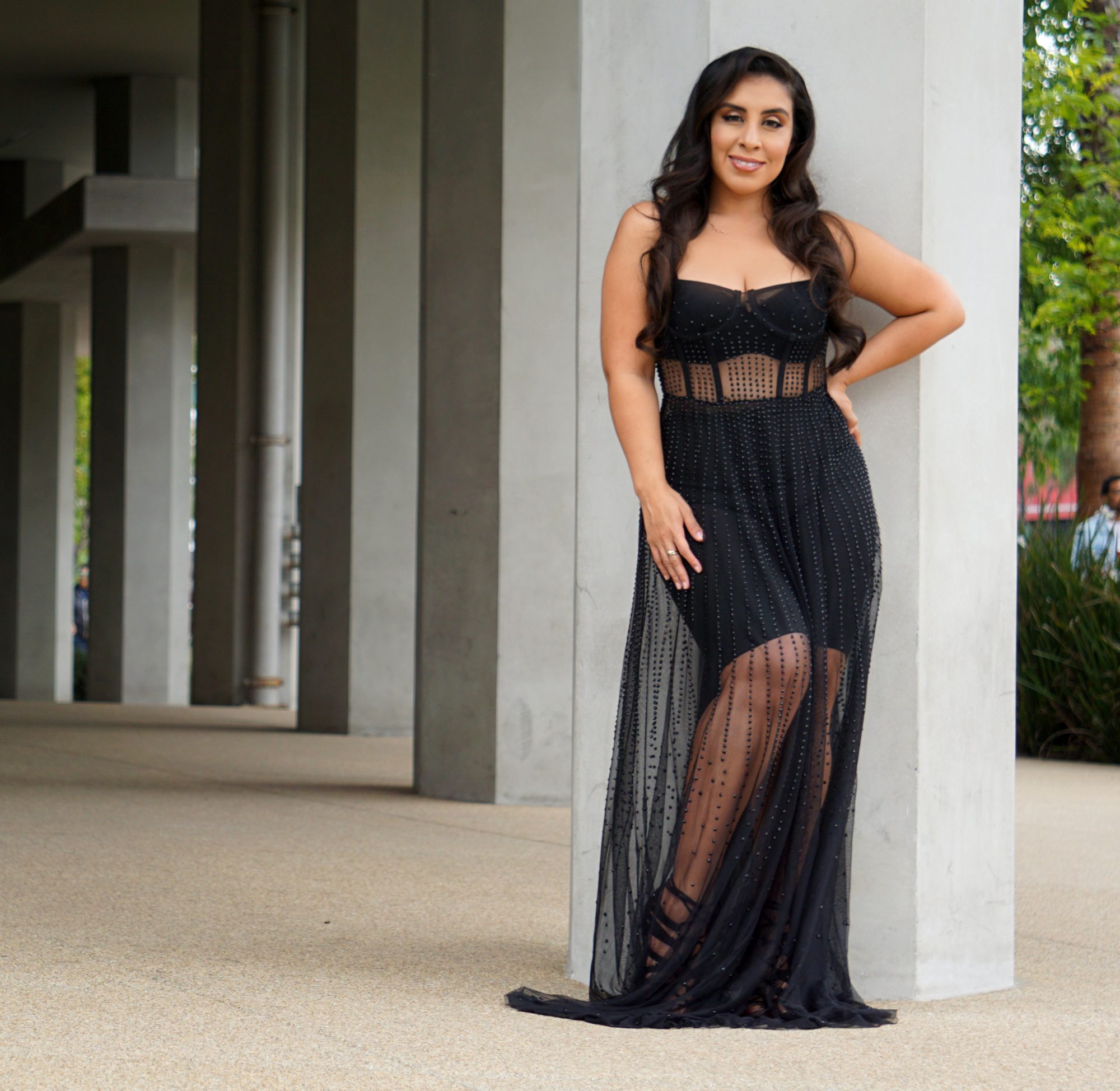 Who said biker shorts can't fit in at a black-tie wedding, prom, or a red-carpet event? It's no secret sheer dresses are majorly trending right now, but if you're anything like me, you would never step out with only a pair of underwear underneath a see-through gown. These high-waisted shorts give you the same layering effect, without showing off too much of the goods. Shop this studded mesh gown from Fashion Nova.