Research shows that THIS is the biggest fashion faux pas you can make on a date — and it's so avoidable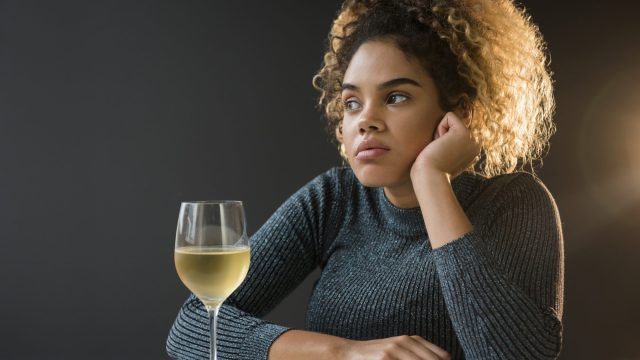 As horrible as it is, we're all judged by our appearances, from the style of our dress to how we wear our tresses. And especially in today's swiping dating culture, snap judgments are common. So it's only natural that we all want to put our best foot and face forward, especially when it comes to dating. While you probably have your go-to date outfit (maybe even one based on your zodiac sign), there's one fashion faux pas that's a major turnoff for singles.
The dating site Zoosk recently released a study about fashion and dating that gave us tons of insight. Some of the stats made sense. Such as, the majority of women surveyed take an hour to get ready for a date, while 40% of men only need half that time. Or that more than 80% of people feel it's important to dress up on a first date, but slightly fewer millennials (76%) agree.
But it's the dating fashion faux pas that really had us saying ahhh and ohhh and oh no. And the biggest fashion no-no is something you definitely may have been guilty of before.
66% of surveyed singles said wrinkled clothing was the biggest style "don't" on a date.
Yes, wrinkles. It's not exactly what you wear, but how you wear it, and if it looks like a crumpled mess. The great thing, though, is that this is totally fixable with just a few passes of an iron. Even if you're running a few minutes late, your date will understand.
Rounding out the top dating deal breakers are socks and sandals (55%), Crocs (53%), and baggy clothes (50%).
Here are the top ten fashion faux pas for singles.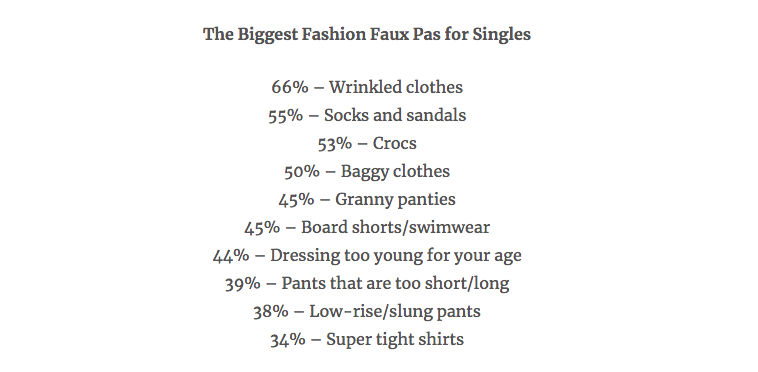 While the survey of more than 6,000 singles made it clear that many are turned off by a sloppy, wrinkled mess, the results also confirmed that a casual look is certainly a-okay. More than a third of daters said the classic, comfy combo that everyone has in their closet (jeans and a tee) is perfect for feeling confident. Also, men skewed toward a simple button down shirt, and 40% of women love all black everything.
Whatever you wear, have fun and be you. Oh, and remember to iron!