The women of Big Little Lies finished filming Season 2, and they shared the most glorious pics from set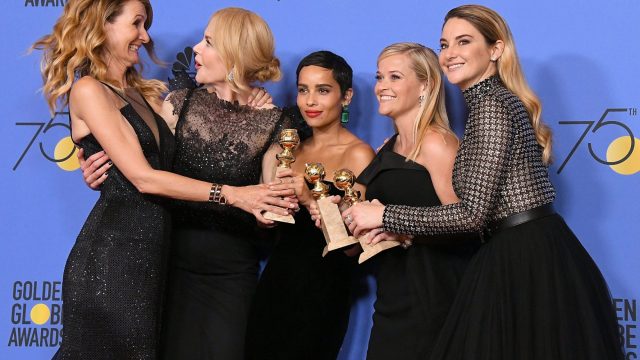 Ever since we laid eyes on the first photo from Season 2 of Big Little Lies, our appetites for info have been dialed up to 11. And now, the goddesses of the award-winning HBO series have answered our prayers by sharing a few killer photos on social media to celebrate the wrap of Season 2.
Stars Reese Witherspoon, Nicole Kidman, and Laura Dern took to Instagram on Saturday, August 18th to share a few behind-the-scenes pics, Entertainment Weekly reports. And now, we're seriously hyped for Big Little Lies to return to the small screen—even though it probably won't happen until 2019. (Insert sad-face emoji.)
The new photos come on the heels of one especially juicy pic that showed Witherspoon's Madeline Martha Mackenzie seemingly throwing a (delicious-looking) ice cream cone at the one and only Meryl Streep. The Oscar-winning Streep is playing Perry's (Alexander Skarsgard) mother, Mary Louise Wright. Mary Louise reportedly arrives in Monterey in search of answers surrounding her son's Season 1 death. And from the looks of it, she makes a pretty quick enemy of the scheming Madeline.
Without further ado, let's feast our eyes on the latest pics featuring the magnificent ladies of Monterey.
https://www.instagram.com/p/BmmagWSn3vD
"Feeling so grateful to my #BigLittleLies family on our last day of shooting Season 2! You have all inspired me, supported me, made me laugh & cry," Witherspoon wrote. "Making the second season even more exciting than the last (I can't wait for y'all to see it!!) Thank you @HBO and our amazing Director Andrea Arnold! Big love to my sisters @nicolekidman @lauradern@shailenewoodley @zoeisabellakravitz and #MerylStreep."
Meanwhile, star Nicole Kidman shared an image of herself donning a shirt showcasting the names of the show's badass female characters.
We love the sly nod to the word "lie" at the bottom.
https://www.instagram.com/p/BmmBcIMFaCk
"That's a wrap on #BigLittleLies Season 2 filming! What a beautiful journey this has been with my Monterey 5 sisters and our passionate dedicated crew," Kidman wrote. "Thank you HBO for the amazing opportunity and thank you Andrea Arnold for being our fearless leader, and of course the one and only Meryl Streep for believing in us. I love you all. xx."
Finally, Laura Dern gave a special shoutout to Big Little Lies Season 2 director Andrea Arnold in her own Instagram post.
https://www.instagram.com/p/BmmExbpn7kZ
"Andrea Arnold. Wrapping our Big Little Lies journey today," Dern wrote. "Loving you and my tribe of sisters."
We love seeing this tribe of fabulous women band together offscreen, and we can't wait to see what shenanigans their onscreen personas get into next. The countdown to Season 2 starts now.