Pop a bottle of rosé, *everyone* in Monterey is now returning for "Big Little Lies" Season 2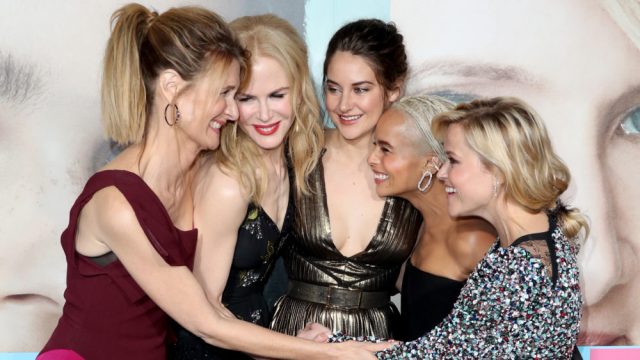 When Big Little Lies was first announced, it was a limited series. It was supposed to be one season, and one season only. We all knew that, and welcomed that fact with open arms. In fact, a close-ended season of television sounded divine. It followed the novel upon which it was based down to the letter, and when it ended, the story was over. That was it, case closed.
One insanely successful awards season run later, and — surprise, surprise — HBO decided it couldn't let its cash cow die in peace. Big Little Lies was renewed for Season 2. "One-and-done no mo'" was the official announcement, I'm pretty sure in those exact words too. Since Season 1 was based on Liane Moriarty's novel, then Season 2 will be based on a new story by the same author. David E. Kelley is returning to write and executive produce along with Jean-Marc Vallée. Reese Witherspoon and Nicole Kidman will return to star as well as executive produce.
And HBO even attempted a mic drop to silence all those criticizing the walk back on the limited series decision by casting Meryl Streep as Mary Louise Wright, the mother to the late Perry (Alexander Skarsgard, who will also return despite his character's onscreen death). As of press time, this writer is still unsure of whether we need another season or not. The jury will still be out until I get to see the entire Season 2. I just don't see why we couldn't leave the story where it ended. It was beautiful, it was intelligent and it just made sense. Why risk sullying a perfect series of television by potentially delivering a sophomore slump of another season? I'm still erring on the #keepit side of things, but I'm also keeping an open mind, because I'm just *super chill and fair like that*.
But what about the rest of the fierce ladies who helped make Big Little Lies such a success that HBO just couldn't leave things at only one season? Don't you worry, they knew they'd be an idiot to miss out on another season of gloriously feminist and revolutionary TV. Laura Dern, Zoë Kravitz and Shailene Woodley are all officially returning for Season 2, HBO announced today. That means the whole gang is back together! At least if we're getting an unnecessary new season, they're doing it right by bringing all the ladies back.
HBO also did us a solid and revealed some new intel on where all the ladies of Monterey are when Season 2 picks up. In the second season, while processing Perry's sudden death, Jane is trying to build a new life for herself and Ziggy. Renata is now faced with new challenges in her marriage, while Bonnie struggles with Perry's death and is forced to face demons in her past.
*Sniff sniff* what's that? I smell more Emmys and Golden Globes in everyone's futures.