Madeline and Renata are clearly scheming in the first picture from "Big Little Lies" Season 2, so please keep your kids at home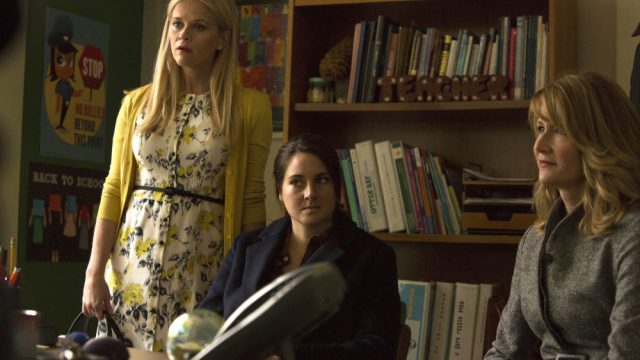 The Monterey moms have officially reunited as Season 2 of Big Little Lies began shooting this week. And while there are no signs of Meryl Streep just yet, it seems the Season 1 truce between our favorite frenemies has stuck — for now.
The final scene in Big Little Lies Season 1 marked the beginnings of a friendship between Renata Klein (Laura Dern) and Madeline Martha Mackenzie (Reese Witherspoon) — following that Perry Wright incident — and based on the first photo from Season 2, the two have joined forces and are ruling all of Monterey together.
Yesterday, March 19th, Dern and Witherspoon took to Instagram to post twin shots of themselves sitting outside Seaside Coffee Shop — the beachside cafe that Madeline rules over with an iron fist. In the photo, the pair is throwing the camera a smize so powerful even Tyra would bow down. The Wrinkle in Time actress captioned the photo with the very apt, "Watch out Monterey, here we come."
We are here for Renata and Madeline coming together to take down anyone threatening their mom circle.
While the Big Little Lies stars were definitely missing Nicole Kidman, who left enthusiastic comments on both Witherspoon and Dern's photos, it's clear everyone is so excited to see the series returning. As if we needed any more reassurance that Big Little Lies Season 2 is going to be out of this world!!!
https://www.instagram.com/p/BghzhldBgIo
Last week, Shailene Woodley and Zoë Kravitz teased their return to the critically acclaimed HBO series, posting photos of themselves getting back into character. Also exciting: Adam Scott, James Tupper, Jeffrey Nordling, and Iain Armitage are returning to the series, too. And let's not forget, Streep will play Mary Louise Wright, the mother of Perry Wright (Alexander Skarsgård), who comes to town with a lot of questions about her son's death.
While the final shot of Season 1 saw the Otter Bay moms finding peace after covering up Perry's murder, it seems that peace is not going to last.
According to HBO, the second season of the hit series picks up where the first left off and "will explore the malignancy of lies, the durability of friendships, the fragility of marriage and, of course, the vicious ferocity of sound parenting. Relationships will fray, loyalties will erode…the potential for emotional and bodily injury shall loom."
Big Little Lies is slated to return sometime in 2019.