Perry will be back for "Big Little Lies" Season 2, and I have about a million questions
Big Little Lies is finally heading back into production for Season 2 this spring, and it appears nearly all our favorite Monterey moms will be back — as will, reportedly, the character we least expected.
While HBO is keeping mum on what to expect from the second season of the HBO hit series, according to TVLine, David E. Kelley will write the seven-episode season, with Big Little Lies novelist Liane Moriarty creating the story. But that's not all. It appears in addition to Nicole Kidman and Reese Witherspoon, another cast member is reportedly returning to the series…and I have a lot of questions.
As the second season is likely centered around his murder investigation — which the final scene of the first season seemed to indicate — it seems Perry will reappear via flashbacks. This certainly makes sense as it would continue to unpack his abusive marriage to Celeste (Kidman) and she's hopefully able to finally move on. It also wouldn't be surprising if Skarsgård is needed to film flashbacks scenes between Perry and Jane (Shailene Woodley), considering that it was revealed her raped her at the end of Season 1, and Ziggy is his child.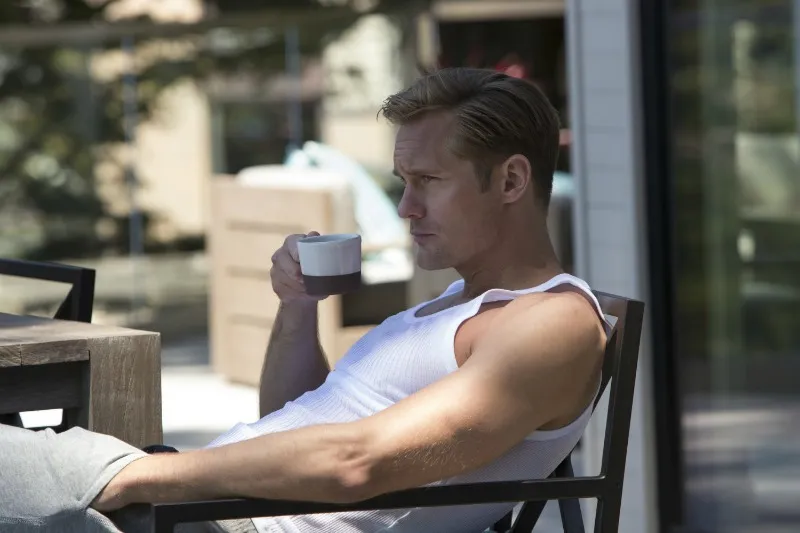 But Skarsgård, who has picked up numerous awards for his terrifying portrayal of Perry, recently teased NBC with the notion that his character may not be dead after all. On the red carpet for the Golden Globes, he reportedly said of whether he'd be returning for season two, "I don't even know if I'm really dead or not. I feel okay right now but we'll see."
We're going to go out on a limb and say he's just messing with us because we say season one, and Perry seemed *pretty* dead to us — especially considering he had a funeral and everything. While I've definitely seen enough soaps to understand that a funeral doesn't necessarily mean he's dead,  it would be a terrible idea for the BLL heads to decide to fake us out. So let's all hope he shows up in flashbacks and only flashbacks.
Or maybe as a ghost…? Ghost Perry? Perry Stoneheart?  Just an idea, HBO!
Big Little Lies season two is expected to air in 2019.