Zoë Kravitz Says 'Big Little Lies' Won't Return For This Reason: "It's Done"
The second and final season of the HBO series aired in 2019.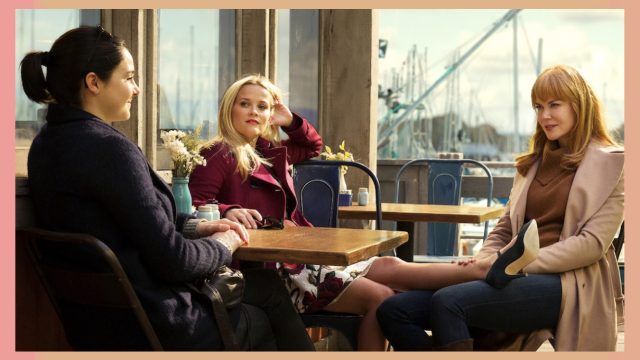 It's officially over for the Monterey Five. Zoë Kravitz, who plays Bonnie, delivered the news and the "heartbreaking" reason why the hit series won't be returning while answering fan mail in a TikTok for GQ.
"'When is Big Little Lies coming back?! Quit playing w me,'" Kravitz read from a fan, responding, "I know. I don't think it is."
It's not for a lack of wanting to continue the storyline, Kravitz explained in the TikTok posted by GQ on Tuesday, Nov. 15. "We talked about doing a season three a lot and unfortunately, Jean-Marc Vallée, our incredible director, passed away this last year and I just can't imagine going on without him," the actress explained.
"He really was the visionary for that show. So, unfortunately, it's done," Kravitz said.
HBO's Big Little Lies, which is based on Liane Moriarty's novel of the same name, was an instant hit. The 2017 show was originally slated to be a miniseries, but after clinching 16 Emmy nominations, it was clear Vallée was on the brink of TV gold.
RELATED: 20 Best Date Night Movies to Watch With Your Partner
The psychological thriller series centers around five moms living in Monterey, CA, and the unlikely ways in which they're all connected. Chaos ensues when a parent ends up dead at a school fundraiser. In addition to Kravitz, the Monterey Five included Reese Witherspoon, Nicole Kidman, Shailene Woodley, and Laura Dern. Meryl Streep joined the cast in season two.
When it comes to a possible Big Little Lies revival, it seems the Monterey Five are all on the same page. In a September interview with The Hollywood Reporter, Witherspoon echoed the same sentiment as Kravitz.
"I talk to Nicole Kidman about it all the time, too. And Laura Dern. And Zoë Kravitz. And Shailene Woodley. Somebody asked me the other day, 'What co-stars do you talk to more than any other?' It's absolutely the Big Little Lies cast. We're always talking and texting," Witherspoon said.
"But [director] Jean-Marc Vallée's passing was really hard on us. He was our collaborator. He was our friend. He was our brother," Witherspoon continued. "So much of that series was born of his imagination and his creativity, so it is hard to imagine a future without him. But there is certainly a deep desire for all of us to connect and create those characters again."
Although this news makes us want to pull a Renata and smash a thing or two (or several dozen), we're grateful for the memorable seasons Vallée and the cast gave us. 
Emily is a NYC-based freelance entertainment and lifestyle writer — though, she'll never pass up the opportunity to talk about women's health and sports (she thrives during the Olympics).
Read more