Big Freedia talks advice for young queer kids, the freedom of bounce music, and the MeUndies Pride campaign
Big Freedia is the one and only Queen Diva. Hailing from New Orleans, you may also know Big Freedia as the Queen of Bounce, a genre of music described as "a vibrant twist on hip-hop… characterized by call-and-response lyrics over rapid-fire beats and booty-shaking," on the larger-than-life musician's website.
Big Freedia has already released four studio albums, with another on the way, and you can watch a day in the Queen's life on the Fuse reality show, Big Freedia: Queen of Bounce. But if you haven't yet heard "Explode," "Drop," "Duffy," "Make it Jingle," or any of Freedia's many amazing tracks, you'll surely recognize the rapper's unique voice from somewhere else. Does "I did not come to play with you hoes. I came to slay, bitch!"  sound familiar? Because that's Big Freedia, calling on you to get in formation on your favorite Beyoncé song.
Big Freedia, an LGBTQ icon, is also one of the queer influencers modeling for MeUndies' Celebrate Yourself PRIDE campaign in collaboration with the Los Angeles LGBT Center.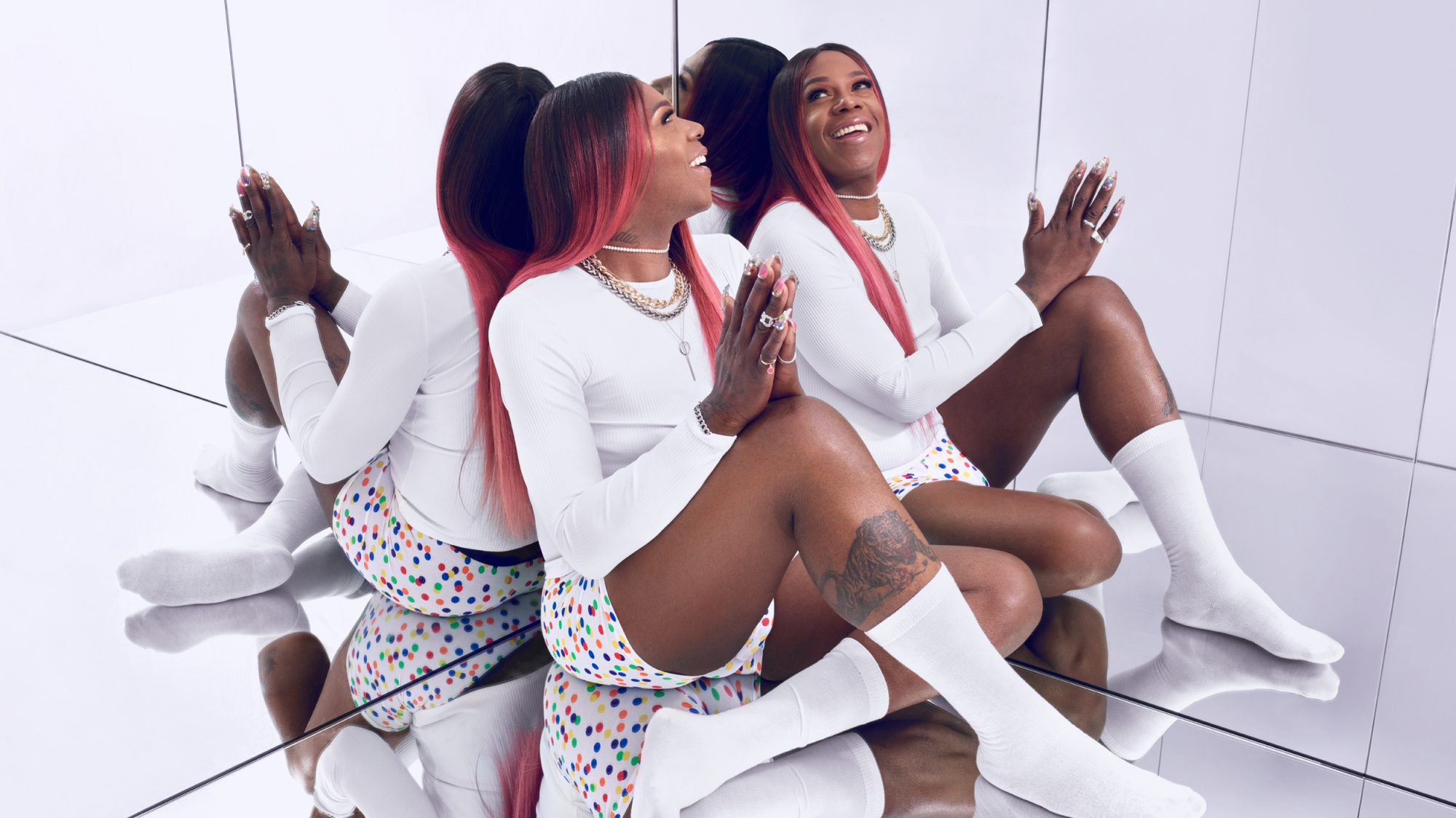 For Pride Month, the sustainably-produced underwear brand released rainbow underwear (called the "Celebration" print), and will donate $1 to the Los Angeles LGBT Center for every pair sold. Along with Big Freedia, the campaign also features LGBTQ celebs like musician Haley Kiyoko, blogger B. Scott, and skier Gus Kenworthy.
You can see Big Freedia's empowering video for Celebrate Yourself here, and read our chat with the musician about MeUndies, bounce music, and what Freedia wants queer kids to know.
HelloGiggles: How did you get involved with MeUndies?
Big Freedia: They reached out to me and my team, and they wanted us to do their campaign for the underwear line and for Pride Month. And I was just very honored to be a part of it.
HG: One of the striking things about this campaign is that we see so many beautiful, diverse bodies in a very intimate way. Can you talk about why these kinds of images are so important?
BF: It just shows every walk of life, you know? It's a diverse bunch of people who come from all types of different backgrounds. And we're all showing our pride, we're there for the same purpose, the same reason. It's important to me to show people that, no matter who you are around the world, be yourself, be you, and be proud to be you.
HG: What is your advice for young queer kids who are just starting to embrace their identity?
BF: Just take their time. First and foremost, take their time. Don't try to grow up too fast… Each year, you will progress in your process to become who you are. Continue to stay focused, continue to work hard, and continue to be yourself.
HG: When you talk about the freedom of bounce music in your MeUndies video, you discuss "the power of the ass." Can you talk more about what the "the power of the ass" means in terms of liberation?
BF: When people are on the dance floor, they use the power of the ass to be able to translate different messages, and to be able to express themselves and feel liberated on the floor, to express themselves without being judged… People being able to feel comfortable about that on the dance floor — women, men, gay, straight, whomever, however. That's just very important to me — you use your body in a very positive manner. It's nothing too sexual — it's a fun, happy dance to happy music. That's what I do, and I love to do what I do.
HG: What new projects can we look forward to?
BF: I have Season 6 of Big Freedia: Queen of Bounce; it airs on September 12th. I also have new music, a new album coming out really soon. I'm working on my Big Freedia cookbook. I have a lot of projects in the fire. Right now, there's a lot of touring going on. If you wanna see me anywhere, just go to BigFreedia.com for all tour dates. I'm just trying to stay focused on my career — we'll see what's in front of me.
Go here to shop the Celebrate collection at MeUndies.