A dog named Flynn just won Best in Show at the Westminster Dog Show, and OMG THE PICTURES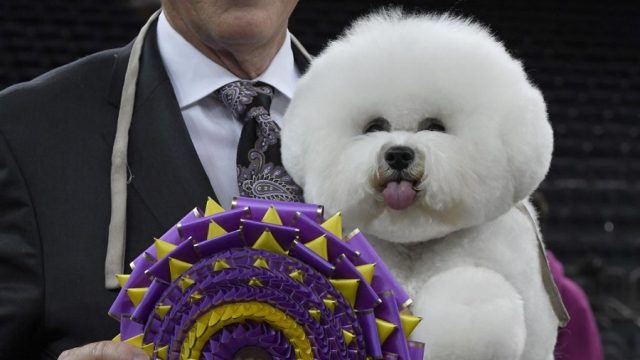 Let's get one thing straight: There are a lot of good doggos out there. And while the Westminster Kennel Club Dog Show is a great way to award a single dog, they're all winner in our eyes. This year, the honor of Best in Show went to a Bichon Frise named Flynn, and we're pretty thrilled based on the pics alone.
But before we get to those, let's take a minute to talk about Bichons, in case you're unfamiliar. The Bichon Frise is a small, mostly hypoallergenic dog that happens to be incredibly family-friendly. Not only are they cheerful pups, but they're pretty smart. So it should come as no surprise that one of them was crowned the winner. 
Flynn was up against a pug named Biggie, a border collie named Slick, Bean the Sussex Spaniel, a giant Schnauzer named Ty, a Borzoi named Lucy, and Winston the Norfolk Terrier, all of whom won best in their breed. NPR reported that 2,882 dogs competed this year, and 202 breeds were represented.
While cuteness isn't a category in the competition, we think Flynn may have gotten that title as well.
Here's another photo of Flynn strutting his stuff:
And here he is, looking proud:
So much fluff!
"It feels a little unreal," his handler, Bill McFadden, said according to The New York Times. "I came in expecting nothing and just hoping for a good performance and I think I got it."
https://www.youtube.com/watch?v=uNUoJ8tDuHw?feature=oembed
Last year, a German Shepard named Rumor was crowned Best in Show, proving that the award can go to any breed of pup.
We hope Flynn enjoys his moment in the spotlight. Congrats!