BH Cosmetics is launching a new galaxy-inspired eyeshadow palette, and it's out of this world
BH Cosmetics has a brilliant eyeshadow palette on the horizon that will serve up some serious solar glam this summer!
The blogger-beloved brand always brings affordable quality to their wide range of products and shades. This year they've already released a summer brights shadow palette with 28 shades for just $12.50. That's not the only hotness planned for the season. BH's next offering is the Solar Flare Baked Eyeshadow Palette, launching June 14th.
BH did some cool-toned moonchild-worthy highlighters, but Solar Flare is way more, well, warm. Inspired by the big, bright star at the center of our solar system, the metallic shadows include golds, oranges, pinks, purples — from sunrise to sunset, you're covered.
A peek…
The cover of the palette resembles the opening credits to a science fiction movie or space documentary, and the contents are just as awe-inspiring. The shimmery shades bear names like Photosphere, Gamma Ray, and Chromosphere, proving that BH did their research on the blazing orb.
Here's a closer look.
Yup…this palette is hot. Maybe not 15 million degrees Celsius hot, but it'll definitely light up your look, day or night. The 18-shade set follows the brand's other outer space-themed palettes, Galaxy Chic and Supernova. All three retail for $15.99.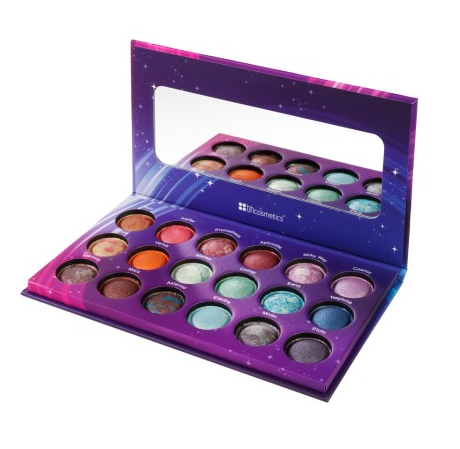 Galaxy Chic contains the shades you might think of when you hear "galaxy" in reference to beauty trends. Supernova's shades are little more subtle but just as gorgeous.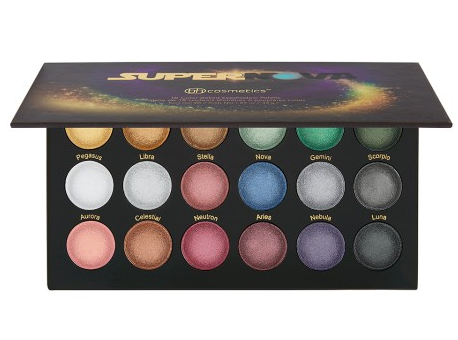 Solar Flare will be the perfect addition to our shadow universe. We're planning to wear it for the next 5 billion years, or at least through autumn.
The BH Cosmetics Solar Flare Baked Shadow Palette will be available on June 14th on bhcosmetics.com.