The new eyeshadow palette from BH Cosmetics reminds us of our favorite childhood book, "The Rainbow Fish"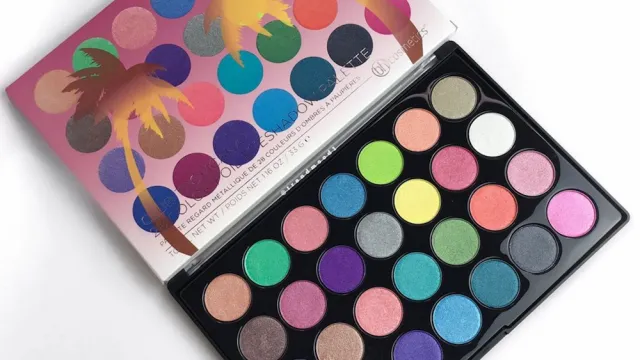 It's never more clear that we're on the precipice of those steamy summer months than when beauty brands start to shower us with brightly colored palettes reminiscent of a tropical vacation. BH Cosmetics's upcoming eyeshadow palette is no exception, and their attempts to lure us in with vibrant, beachy hues is working. Doesn't the palette remind you of "The Rainbow Fish" book we all read when we were younger?
This palette contains a whopping 28 shadows in the brightest, most gorgeous shades that are seriously bringing the shimmer. There are countless different ways to mix-and-match these shades for a glorious summer look. Can't you just see yourself vibing out with these on a hot summer night?
The BH Cosmetics Club Tropicana Eyeshadow palette will be available on May 22nd for $12.50.
This is a limited-edition palette, so you'll have to keep your eagle eyes open so you don't miss your chance to snag one for yourself.
We're digging all the variations on these rich-looking shades — you could mix it up for a bold, multi-colored look or go monochromatic chic.
https://www.instagram.com/p/BUIhKMnF5Lh
Can't you just picture yourself drinking a piña colada while lying in a hammock in the world's most adorable sundress, rocking these shadows on your lids? The world is truly your oyster.
BH Cosmetics goes ALL OUT when it comes to their eyeshadow palettes, so we can't say we're surprised to see such a radiant creation coming from their corner. We are still drooling over the gigantic Third Edition palettes.
Now that is a next-level beauty palette, y'all!
Be ready come Monday, the 22nd — you definitely don't want to miss out on this delightfully divine color scheme. In the meantime, head on over to BH Cosmetics' social for some inspo, so you'll be ready once this beauty drops.