8 off-the-beaten-path road trips to take with your BFF this summer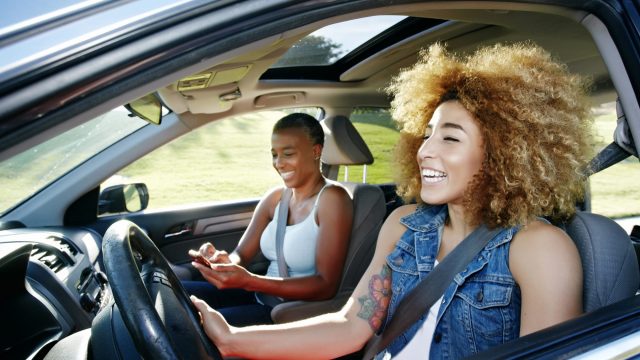 It is officially summer, y'all, and if you're looking for a good way to spend a long weekend — especially if you have some extra time off around the Fourth of July! — why not gather up your BFF, your best snacks, a car full of tunes and head out on a road trip?
I've personally loved taking road trips since I was a kid. Around this time each year, my parents would schedule a vacation for us to keep the family unit close. And it worked — my sister and I are best friends and have managed to keep that summer road trip tradition alive. We've gone on several great adventures together and are planning a few more; my favorite is one we took to the Ventana in Big Sur, California. It's a definite must-do, especially if you're into glamping.
Road trips with your best friend are great for so many reasons. Nothing beats the bonding experience or the shared memories you two will make. So if you're looking to get away at some point this summer, here are some great road trip destinations for you and your bestie to enjoy.
1 Leave the city of Seattle behind and take a drive to Washington's Playground 
If you're looking to take a drive up in the Pacific Northwest, there are a ton of really great hot spots to hit. But if you're looking for something other than your typical go-tos, like Seattle or Portland, Washington's Playground is known for being a hidden gem located in North Central Washington. Visit some of the region's vineyards and craft breweries, take a hike and check out the scenery, or just relax on paddle boards in the middle of Lake Chelan.
2 Make it interesting with the Haunted History Trail of New York 
Obviously Halloween is still a few months away, but you can get yourselves excited for the holiday by going on the Haunted History Trail of New York. It's a year-round experience that features over 80 attractions, all of which are filled with spooky stories from history. The best part is that it's a pretty customizable ordeal. Choose from among different historical hotels, museums, restaurants, and even an asylum, or join a ghost-hunting group at the Dunkirk Historical Lighthouse & Veteran Park Museum.
3 Make a stop at the Shenandoah Valley of Virginia for a hot air balloon festival
One of the best parts about going on a road trip is getting to make stops at places you've never really planned to visit. If you happen to be driving up the East Coast this week, here's a stop you should put on your itinerary: On July 6th and 7th, Balloons Over Rockbridge will hold its annual Hot Air Balloon Festival to raise funds for a local charity. This year's balloon ride will help benefit the Hoofbeats Therapeutic Riding Center, which offers equine therapy (horse therapy) to those who suffer from mental, emotional, and physical disabilities. Enjoy live music, food, drinks, and balloon rides, of course — they take place at dusk and dawn, so you can comfortably enjoy views of the countryside.
4 Party from one end of South Florida's coast to the other 
If you're looking to take a wild summer road trip, start the party at one end of South Florida's coast and end at the other. Heading out for the Fourth? Check out a brand new, art-focused hotel in Sarasota called the Art Ovation Hotel. This July 4th, the hotel is going all out with mermaids, special drinks, and a street taco station. The best part is, you can watch the fireworks from the roof or right there at the beach. To keep the party going, take a three-hour drive down to Miami, where you can celebrate at any of the city's beautiful resorts.
5 Take a "summer reading" road trip 
If you and your BFF met at a book club or just have a shared love of reading, this "summer reading" road trip,  might be your thing. If you're on the East Coast, you can visit the Gold Coast mansions in Montauk, New York, which served as inspiration for F. Scott Fitzgerald's classic The Great Gatsby. After that, make your way to Louisa May Alcott's Orchard House in Concord, Massachusetts, where she wrote and set Little Women.
If you're on the West Coast, take a trip up to Forks, Washington, where you can maybe find yourself in the middle of your own vampire-werewolf love triangle, like Bella Swan did in Twilight. Or just make a list with your bestie of books you both loved and design a road trip around them. You can do this with movies or TV shows you both loved, too.
6 Celebrate the Fourth with a road trip to Estes Park in Colorado 
If you and your best friend want to spend Independence Day out in nature, why not head to Estes Park? It's a small Colorado mountain village that's known for having the "most scenic celebration," called Independence Day Fun. Throughout the day, you can go hiking, bike riding, or pedal boating, or check out a big car show, concert, and of course fireworks to close out the celebration.
Sure, you can do those things anywhere you go, but Estes Park is known for its majestic views. It just has that perfect backdrop for celebrating America, and it's something you and your best might really enjoy together. Just think of the Instagram photos.
7 Drive up the coast of Rhode Island
If you're coming from New York City, Rhode Island can be a really great weekend getaway for you and your BFF. Gaze out at picturesque views of the Atlantic Ocean, try some local seafood places, and crash at the super cute Lilly Pulitzer Suite at the Watch Hill Inn. Just look at that suite. It has girls' weekend written all over it.
8 Do a wine and besties weekend in Napa Valley
If you're in the Los Angeles area and want to get away but not go too far, take a drive up north to Napa Valley. There are so many different resorts, hotels, and super cute bed and breakfast places to choose from. You can visit beautiful wineries, such as the Trinchero Napa Valley in St. Helena or the Cakebread Cellars in Rutherford. You can even take the Napa Valley Wine Train, which takes you on a 36-mile round trip with stops at iconic wineries along the way.
As you can see, there's a little something for everyone. So pack up, grab your best friend, and have an amazing summer.