Beyoncé's Grammy dress had her face on it and we can't believe we missed it
We're still reeling over The Grammys — specifically over everything Beyoncé — namely  her performance and the drool worthy beaded gown that she wore during it. Queen B looked like a Goddess thanks to Peter Dundas, the incredible designer behind her dress, who totally surprised us with one sneaky detail that we missed the first time we saw her perform; Peter literally put Beyoncé's face on her own dress. If you look closely at the bodice of her gown, you can see a beaded portrait of Bey on her sternum, looking timidly down at her growing belly. According to an exclusive interview with Vogue Runway, Peter said his inspiration for the gown came from Gustav Klimt and Art Deco, as well as Oshun, a West African Goddess of love and sweet waters. The look was also inspired by lyrics from Beyoncé's song "Love Drought" which she performed during the event.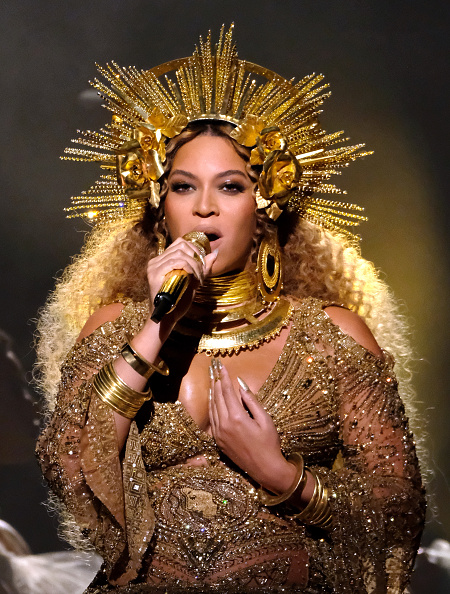 With her golden headdress of roses, her beautiful skin bronzed to the nines and a divine glow around her, we can't say we're shocked we missed this detail on Beyoncé's gown. After all, when there's so much beauty to take in, where do you start?!  We also love that Peter included two cherubs on each of her hips, perhaps guardian angels of love to watch over her twins?
Either way, we love this look and the confidence Queen Beyoncé always exudes. She is a prime example of how love has to start within, but how it doesn't hurt to look beautiful to feel beautiful, either.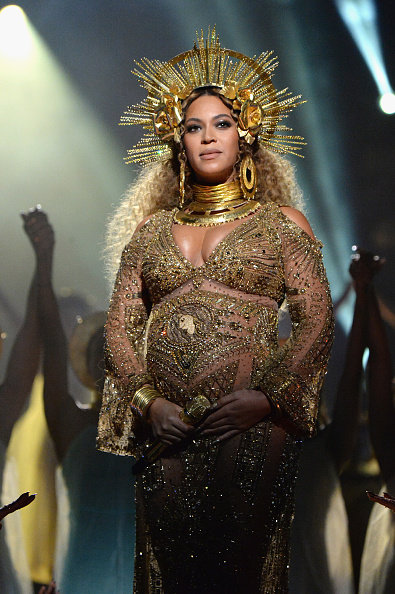 Honestly, we think this is one of Beyoncé's most iconic performances, and we will always remember watching it.