Beyoncé wore the best outfit to meet Hillary Clinton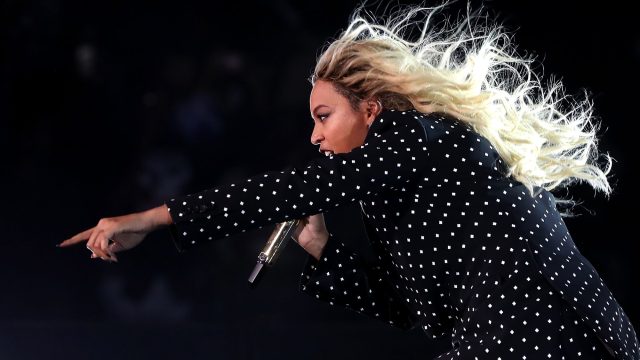 It's official: we can add Beyoncé to the elite group of women who can rock a well-tailored pantsuit. Last night, the first family of hip hop hit the campaign trail and Beyoncé's outfit to meet Hillary Clinton was perfect. It was an action-packed night in Cleveland, as Queen Bey and Jay Z formally endorsed Hillary Rodham Clinton. Between the pics from backstage with the presidential nominee to performing "Formation," it is very clear that #BeyoncéIsWithHer, just in case you were wondering who Mr. and Mrs. Carter are voting for this Tuesday.
As for the night's attire, Beyoncé donned a chic black and white polka dot pantsuit during her time on stage. A tapered waistline and perfect tailoring made Beyoncé look like she had a flawless waist and legs for days. Slay, Queen Bey, slay. When Beyoncé's dancers joined her on stage for her performance, they all wore pantsuits as well. The blue suits paired with Beyoncé's custom #ImWithHer shirts made it obvious that Queen Bey takes her endorsement — and great tailoring — seriously.
Beyoncé took the stage saying that she hoped voters would remember that there's still progress to be made. "Eight years ago, I was so inspired that my nephew, a young black child, could grow up knowing his dreams could be realized by witnessing a black president in office … and now, we have the opportunity to create more change."
I want my daughter to grow up seeing a woman leading the country. That's why I'm with her," she continued.
Clinton introduced Beyoncé as "a woman who is an inspiration to so many others." She also thanked Jay Z "for addressing in his music some of our biggest challenges in the country: poverty, racism, the urgent need for criminal justice reform."
The Democratic presidential nominee said, "When I see them here, this passion and energy and intensity, I don't even know where to begin because this is what America is, my friends."
Other A-list guests of HRC's #GetOutTheVote concert in Cleveland included Big Sean and Chance the Rapper. NBA star Lebron James is expected to close the weekend on Sunday by showing his support for Clinton as well. The Carters have made their political leanings clear over the years. As a result, it's no surprise that Beyoncé is a loyal supporter of Clinton, girl power,  and a pantsuit now and again. Queen Bey herself said it best: "Who run the world? Girls."