Beyoncé wore Glossier's unreleased eyeshadow at the 2018 Grammys, and we have FOMO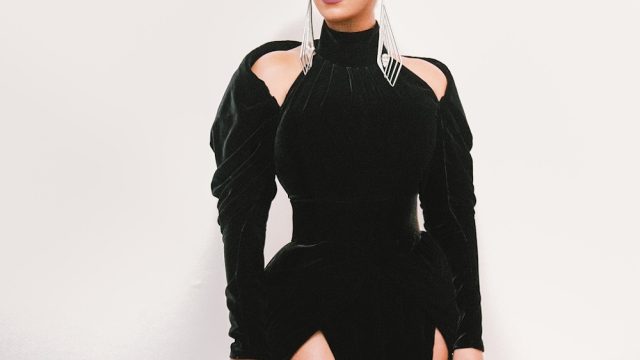 All our favorite musicians were out in their Sunday finery at the 2018 Grammys and we are still in awe of these glamorous, creative looks. However, everyone's eyes were peeled for Beyoncé's arrival, and she showed up looking like the queen she is while wearing Glossier's upcoming rose gold eyeshadow.
Our Queen B snuck in mid-show with Blue Ivy while wearing the fiercest head-to-toe black ensemble of the night. Her makeup was absolute perfection, making us ultra-excited for Glossier's impending launch.
Bey was rocking quite a bit of Glossier last night, and thanks to celebrity makeup artist, Sir John's, Instagram and Allure interview, he shared the products he used one Beyoncé. She was wearing Glossier's Skin Tint for her complexion as well as the Cloud Paint in Beam on her cheeks and a YSL lipstick and L'Oréal on her lovely lips. But it's that gorgeous, subtle yet dramatic eye makeup that has us swooning.
Upon thorough inspection, this glimmery lid looks like it might be the result of a cream or liquid shadow, which would be right in keeping with Glossier's aesthetic. No word yet on when this glamorous new shade makes its debut, but if you head on over to Glossier's site, it seems to be coming out soon.
We can't wait to get more details on the Glossier Rose Gold eyeshadow that Beyoncé was wearing at the 2018 Grammy Awards.
Doesn't she look divine?
Does this mean we can expect an entire eyeshadow collection courtesy of Glossier? If the shades are anywhere as gorgeous as its Cloud Paint Blush selection, it's going to be absolutely stunning.
You better believe we have our eyes peeled for more information on Glossier's end about this impending launch.
If Beyoncé's stunning Grammy look is any indication, we are in for a world of gorgeous beauty delight. Sign up here for updates straight from the team at Glossier. Stay tuned!