Beyoncé wore our favorite drugstore mascara to the 2018 Grammys, and it's under $10
If you're still bowled over by Beyoncé's gorgeous 2018 Grammys look, you're going to be absolutely delighted to learn that she's wearing an incredibly accessible drugstore mascara. Like the queen that she is, she showed up to music's biggest award's show wearing the L'Oréal Paris Voluminous Lash Paradise mascara.
We'll give you a moment here to run out and grab one real fast. Hi, welcome back. This cult-fave mascara has been popular with beauty lovers since its inception because it gives you the featheriest, fullest lashes you could possibly dream of.
Beyoncé's entire beauty look last night was glamorous yet accessible and affordable (with a few high-end products thrown in — she IS Beyoncé, after all). According to Allure, she was wearing a lot of Glossier, YSL, and L'Oréal, a perfect combination of high and low.
Celebrity makeup artist Sir John told Allure that Queen B wore the upcoming Glossier eyeshadow, which was perfectly accentuated by the big L'Oréal lash effect. What's incredible about this mascara is that it gives you a falsie look that dramatically volumizes and lengthens lashes, but the black pigment is specially formulated to give a soft, feathery look and feel.
Stunning.
If you want to get your hands on Beyoncé's fave mascara, you can pick up the L'Oréal Voluminous Lash Paradise Mascara for less than $10.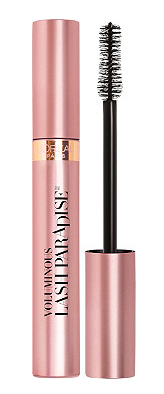 Snag it at Ulta, Target, Walmart, or your nearest drugstore.
We're always looking for a new mascara to open up our eyes and make our lashes sky high, and this is definitely the answer to our prayers. If it's good enough for Sir John to use on Beyoncé, it's good enough for us.
What was your favorite look of the night? It's always hard to top Queen B, but everyone looked truly spectacular.