Beyoncé visited her hometown to lift spirits and raise hope after Hurricane Harvey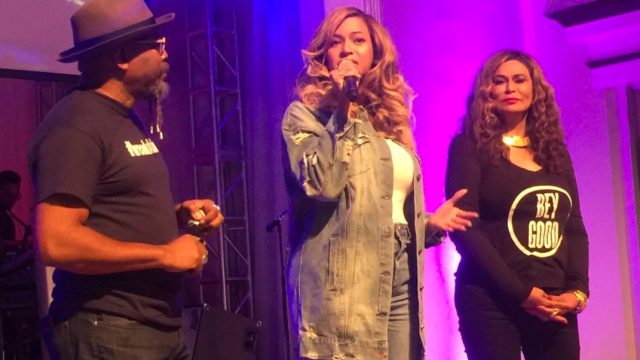 We already know Beyoncé is the best. But all jokes aside, she really steps up when she needs to. This week, Beyoncé visited her hometown of Houston to deliver a message of hope to its residents. Houston was hit hard by Hurricane Harvey, which claimed at least five lives right off the bat. The hurricane has been awful, and though there has been an outpour of support from celebrities like the cast of Superstore and some of our favorite beauty brands, it's even more important when a local resident speaks out.
Especially when that resident is Beyoncé.
At St. John's Church, Bey spoke to a gathering of survivors.
https://twitter.com/udfredirect/status/906258287762526209
"This church is my home. I was maybe nine or 10-years-old the first time I sat there where my daughter is sitting. I sang my first solo here and I just wanna thank you for lifting my family up, for praying for me, and for being such an incredible example of what light and love is."
And yes, we're crying.
Bey's passion and spirit, and her ability to lift people up in the darkest of times, is one of the many reasons she's so beloved. It is clear from pictures of the event that Beyoncé's words meant more than we could ever imagine to the residents of Houston. false
Beyoncé was joined at the church with her mother and daughter, and her team of "Bey Good" people. After her reassuring speech, the group served food to survivors. false
She showed up, made a speech, served food, and joyously took pictures with anyone who approached her.
We give Bey a lot of credit.
We view her as more than a musician, entertainer, queen, and fabulous famous person. She is so much more, and then some.
Thank you, Beyoncé, for always showing up. Thank you for always being there. If you want to help the victims of Hurricane Harvey, here's how to contribute.