Beyoncé posted a touching #tbt tribute video in memory of Aaliyah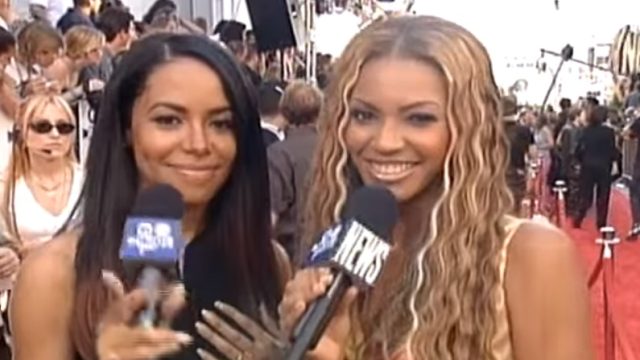 Beyoncé travelled back in time while simultaneously sharing a pretty incredible moment on her Instagram today. It's a video from way back when, in which she briefly got to interview Aaliyah on the red carpet for the 2000 MTV Movie Awards. At the time, Queen Bey was still in Destiny's Child. As for Aaliyah, her career was in the midst of blossoming – while she already proved that she was a talented and innovative musician, she had just released Romeo Must Die (her first big movie as an actress) and wowed critics everywhere.
Without a doubt, Aaliyah was destined to be a shining star. 
The video was shared to honor the anniversary of Aaliyah's unfortunate passing, which occurred on this day, August 25th, back in 2001. She was only 22 at the time.
What makes this video clip great? Well, there are a few reasons as to why it's a must-watch (or even a must-loop.) For one, it shows that Beyoncé and Aaliyah definitely had a personal friendship. It's clear that the two interact just like old pals, and it's adorable that they both can't wait to see D'Angelo perform live.
Second, it's sweet to know that no matter how much Beyoncé's career has grown since 2000, she still remembers the people who helped her shine, and who inspired her to continue making incredible music. And thirdly? It's simply an A+ blast from the past — I mean, Sisqó was helping run the red carpet as well. Remember him?
Here's the full video, which shows Aaliyah beaming over her Gucci shoes, and sharing a bit more about her upcoming projects.
https://www.youtube.com/watch?v=vXIgolVohUA?feature=oembed
We miss this girl – no doubt about it – and will continue to admire her influence for the rest of time.