The significance of Beyoncé using massive platforms like Coachella to celebrate Blackness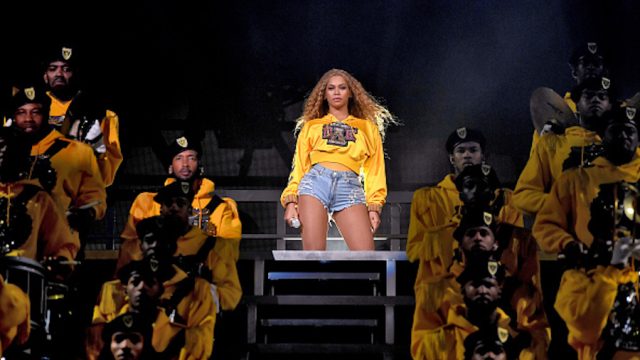 You likely remember when Beyoncé was villainized (mostly by white people and police unions) after she performed "Formation" while honoring the Black Panther Party for Self Defense at the 2016 Super Bowl; police officers even called for people to "boycott Beyoncé." (That moment in time was almost prophetic of the mess to come in the NFL — you know, that unjustifiable uproar over Colin Kaepernick's right to kneel during the National Anthem in protest of police brutality).
Then, on the night of April 14th, Mrs. Carter honored her people's history once again — doing everything but serving chilled sweet tea and forming a Soul Train line on stage — at the biggest, whitest music festival in North America, Coachella.
Like the Super Bowl, Coachella is a big ol' vanilla space. We participate in both, but neither event is about Black folks. Yes, there are hugely successful Black artists who have performed at Coachella — like Dr. Dre, Snoop Dogg, Kanye West, and Nas — but the festival has historically catered to white artists and white fans. I mean, the fact that Beyoncé is the first Black woman to headline Coachella in the nearly 20 years since the festival has been around ("ain't that 'bout a bitch?" as Bey said on stage last night) is a testament to how Black performers and their art have been undervalued in that realm.
First, she ripped our hair clean out of the roots with her first costume — a leotard and crown that was more than a nod to Queen Nefertiti of Egypt.
Bey's interpretation of the royal look also exuded Louisiana majorette vibes, which set the tone for her incorporation of Black Greek life and HBCU marching band culture throughout the rest of the performance. What makes the former especially interesting is the documented passion that ancient Greeks had for Egyptian culture — so the civilization that influenced Western concepts of college fraternities was informed by Black thought processes. Further proof that we really run everything.
Additionally, the marching band is a central part of the southern HBCU experience (as seen in the 2002 film Drumline). It was beautiful to witness Beyoncé celebrate the legacy of Black sound on a platform like the Coachella stage.
All of Beyoncé's costumes throughout her Coachella performance were breathtaking, but the sheer glory of the Beyoncé crest emblazoned on her outfit had me hollering internally. For her to take an emblem of white ancestry and make it as Black as possible is just…*chef's kiss*. Each symbol on the crest was selected with such care — The Eye of Horus, Queen Nefertiti, a Black Power fist, a black bumblebee, a black panther… — and that's just one small sign of all the Black brain power that went into the show's production.
From the visuals indicating the history of Black spirituality to a reworking of the Black Panther Party's logo, Beyoncé's crest was a bold statement that said "Yes, I'm Black. My whole gang is Black. Get into it."
Beyoncé's tribute to Black culture went beyond her carefully selected costumes and her incorporation of over one hundred live dancers and musicians.
She also gracefully subverted the National Anthem by singing "Lift Every Voice And Sing" (which has been dubbed the Black National Anthem). She honored the legendary Nina Simone, who was inducted into the Rock & Roll Hall of Fame the same night, she mashed up her 2006 hit "Deja Vu" with Fela Kuti's "Zombie" — a pioneer of Afrobeat music, and she referenced 2000s rap songs by artists like D.R.A.M, Lil Yachty, Drake, Future, The Hot Boys, and F.L.Y. false
When Beyoncé released "Formation" as a single in 2016, I remember a few people tried to tell me that her moves were superficially meticulous and part of a huge marketing scheme. I believe they were trying to say that her Blackness felt inauthentic. Too timely. Too profitable. After all, Solange had just dropped A Seat at the Table, a successful collection of anthems chronicling the Black experience. It was also around the time of the 50th anniversary of the Black Panthers. Still, when I heard these accusations, I said, fuck off.
People who have long been invested in Bey's career know that she has never tried to hide the fact that she is a Black woman (Destiny's Child's "Soldier" and her crip walk in the music video, her collaboration with fellow Texan hustlers Bun B and Slim Thug in "Check On It," and the entire "No Angel" music video come to mind).
Like I said, Beyoncé knew exactly where she was performing. She feels the uneven relationship between Black people and Coachella. She felt the weight of 20 years go by without a Black female headliner until she set foot on that stage.
Beyoncé gave us an experience that was for Black people. She could've done anything on stage — but she chose to make her entire set about different facets of Black culture.
Coachella has a dark past of excluding Black artists, appropriating and disrespecting marginalized cultures, and its owner supporting anti-LGBTQ politicians — but Beyoncé was wise enough to know that headlining this festival was a historic opportunity to uplift her people and community. While the majority of the people who could afford to witness Bey's set live were not aware of the multitude of details that went into her performance, it didn't matter. Her true fans — those who could understand in full — watched at home for free. Ha. false
I am grateful to Beyoncé for not only making history for herself, but for Black people everywhere. What a legend.