Beyoncé paid homage to Toni Braxton for Halloween, and it will unbreak your heart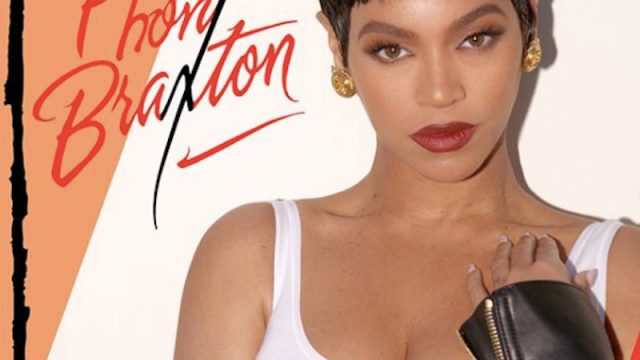 It's that time of the year when Beyoncé shuts down the internet with her glorious Halloween costumes. This year, queen Bey paid tribute to the iconic R&B singer Toni Braxton. It wasn't just any fashion and beauty recreation, either. Beyoncé copied Toni's 1993 debut album and cover art from the single "Another Sad Love Song." Both of Toni's covers look like they're from the same shoot.
Beyoncé took to Instagram on October 30th to share her costume, writing, "Sending love and adoration to one of our talented legends. Thank you for the countless bops. Your tone, your beauty, your range, and your God-given talent is treasured. Loving you always. Have a Happy Halloween my Kings and Queens."
Of course, the "Drunk in Love" singer's Halloween costume was spot-on, even though she jokingly dubbed herself Phoni Braxton.
https://www.instagram.com/p/BpkdYQqHqzv
Don't think Beyoncé's costume went unnoticed, because the one and only Toni saw it. She wrote on Twitter: "Phoni Braxton!? NEVER!!! How do you look better than me on MY album cover? I LOVE IT, Such a superstar! Thanks for the love sis! Happy Halloween."
For the beauty part of her look, Beyoncé sported a black pixie, red lips, and white nails. She added gold studs, a white tank, '90s-inspired mom jeans, a gold-chain belt, and a black leather jacket to finish off the ensemble. Her "On the Run Tour II" makeup artist Rokael Lizama did her Halloween makeup, while celeb stylist Zerina Akers put the fashion pieces together.
https://www.instagram.com/p/BpkdcwUHjwT
This isn't the first time Beyoncé has paid tribute to legendary musicians before her. Last year, she recreated five different versions of Lil' Kim. In 2016, she dressed like the rap group Salt-N-Pepa with her mom, Tina Lawson, and daughter, Blue Ivy.
https://www.instagram.com/p/BMNpbvrAZnT
We can't wait to see who she honors next year. Perhaps Whitney Houston or Tina Turner? Either way, we'll keep our eyes peeled for more images. We're sure Beyoncé has more Halloween-themed #content for us in store.